black & white thinking
How The Fire Fell: A Literal "Cult Film"
Edward Pack Davee's locally-made movie revives a religious offshoot's tawdry tale.
How, indeed.
The fire falls on Maren Mcguire's chiseled cheekbones with mingled severity and grace, as Joe Haege launches unending spitting tirades of passionate rage, the words of which are quickly slurred into slo-mo and drowned in a woozy wave of drones and drumbeats. Religious reveries, firelit orgies, and more than one smoking gun punctuate the long black-and-white silences of the stark, stunning film that Hollywood Theatre will show next Monday. How the Fire Fell is an excruciatingly slow-paced psychological thriller that's probably best filed between An Occurrence at Owl Creek Bridge and Lord of the Flies. (Which is to say, this 2011 film hearkens back to 1960's films that covered, respectively, 1890's and 1930's plot content—for those keeping score at home.)
As much a forum for gorgeously-composed high-contrast outdoor tableaus as for storytelling, this film could be shown with the sound off, were it not for the equally ambience-enhancing soundtrack produced by—believe it or not—the leading man himself. If anyone is poised to court a cult following onscreen and off, it's actor/musician Joe Haege.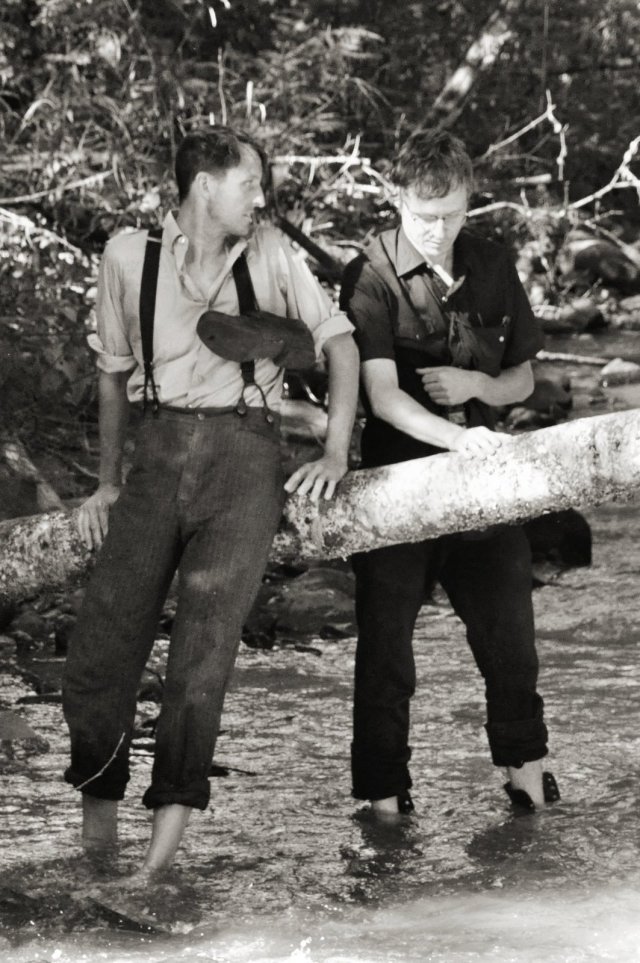 Director Edward Pack Davee
Davee, a pensive introvert who works in Reed College's AV department, started to obsess over the "Brides of Christ" cult, a sect that was active (and destructive) in his native Corvallis in the early 1900's, after reading a book about it in 2008. Once his musings congealed into a film project, he flung himself into writing, fundraising, and kickstarting, shooting scenes as weather permitted with a skeleton cast and crew. From the get-go, he says, his vision was to make his film rich with sensory splendor and short on words:
"With the exception of the preacher, there is actually no direct dialogue until 2/3 of the way through, and only after the preacher goes on the lam, do you finally begin to hear the voices of others. I also should note that, stylistically, the film certainly drew some inspiration from the silent and semi-silent films of Carl Dreyer as well as from visually minded directors such as Tarkovsky and Bresson (to name a few), who certainly had a wonderful sense of the importance of quiet space in film. My hope is that How the Fire Fell will give viewers a sort of "fly on the wall" experience—that they'll feel distant, yet uncomfortably surrounded. I want their skin to crawl, but their hearts to be broken."
Notes from a "Fly on the Wall"
I first heard of Davee's effort via an all-hands-on-deck Facebook callout, recruiting extras for a church congregation scene. I showed up at The Old Church (and later, in a few seconds of film) and actually sat through a sermon from Haege, in the David Koresh-esque role of Edmund Creffield. I'd seen Joe play in bands before (Tu Fawning and 31 Knots), but this was my first experience watching him act.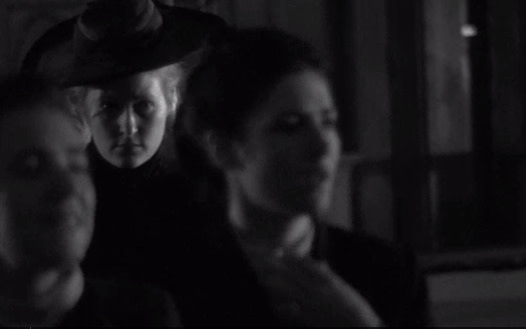 As the scene was being shot, I privately harbored a few concerns: 1) Joe's speech seemed too repetitive and improvised, and his presence seemed so angry, it was hard to imagine his character attracting followers. 2) I worried about the extras' (and especially my own) etiquette and semantics. Our Edwardian garb looked pretty perfect, but many of us weren't sure what to do with ourselves. When asked to fake small talk with fellow parishoners, I heard myself blurt modern, casual slang like "cool" and "hey." I pawed awkwardly at the arm of my assigned "husband," and wished for a quick manners lesson with helpful hints like, "When you sit, lightly clasp your hands in your lap," or "Don't start walking until he takes your arm." I worried that without such coaching, it would be obvious that we were present-day people, and the illusion of the era would be lost.
Now that I finally get to see the film, I understand why Davee didn't demand historically perfect takes. He knew that soundscapes would be ambient, shots would be artistically blurred, and the pieces that didn't fit could be easily omitted from what was essentially a moving picture-book. And Haege's apparent anger in his preaching scene, is mitigated as the film wares on by more intimate moments, where firelight illuminates a smoldering melancholy in Creffield's character that could believably inspire a group of "brides" to spiritually (and sexually) serve the madman. When music isn't humming and droning and hypnotizing, hyper-realistic sounds—the pops of a crackling fire, footsteps and swooshes of fabric—make the audience commiserate with the hyper-sensitivity of a brainwashed, sleep-deprived believer who is terrified of invasion by the outside world.
The real shocker is David Poland's closing monologue as O.V. Hurt—which helps explain why the film's original working title was The Story of Hurt. This reserved character, who spends almost the whole movie on the sidelines steeping in helpless silence, suddenly claims the story as his own with a tearful, soul-searching plea. "It's a solemn thing to take a human life, but it is also a solemn thing to enter a household and take the light and happiness out of it, or to enter a mind and take its sanity away."
Like the cult it chronicles, this film will gradually envelop your mind if you let it.
"How The Fire Fell" will screen at Hollywood Theatre at 7:30 on June 20, followed by a Q&A with the director. For more about Portland arts events, visit PoMo's Arts & Entertainment Calendar, stream content with an RSS feed, or sign up for our weekly On The Town Newsletter!