the hive mind
PAM Awards John Grade
A Seattle sculptor wins the Schnitzer prize for pieces that weather in the elements.
According to Portland Art Museum, John Grade 's sculptures are "rigorous conceptual framework articulated by beautiful and elaborate sculptural forms." But to insects and birds, they're food!
Last weekend, PAM opened its second annual Contemporary Northwest Art Awards exhibition, announcing Grade as the recipient of the prestigious $10,000 Arlene Schnitzer Prize. The Seattlite was chosen from the seven artists featured in the exhibition by the Museum's curators and PAM's executive director Brian Ferriso, who cited the sculptor's commitment and skill.
While Grade's installations have an undeniably organic feel (see a slideshow to the left), his vision goes beyond mere mimicry of nature, and actually incorporates the elements: He buries wooden sculptures, allowing them to be gnawed by termites. He suspends rice paper structures in treetops, inviting birds to peck them to pieces. He leaves a ceramic statue on a snowy mountaintop, allowing it to crack and erode like the mountain itself. Grade's zen-like resignation to his own monuments' rise and fall, is easily as compelling as the structural and aesthetic appeal of the work itself.
More from PAM:
A long time Northwest resident, Grade has traveled extensively and his exposure to diverse cultures has deeply shaped his artistic vision. The land, and its propensity for change, has had a profound effect on his work. His often massive, site-related constructions involve the passage of time and performance while engaging natural elements and random change to ultimately complete his sculptural works. The centerpiece of his installation in the Contemporary Northwest Art Awards exhibition is Fold (2011). With its intricate lacelike gridded form it mirrors patterns found in nature such as honey combs, metamorphic rock, and cross-sections of wasps' nests. The sculpture also references the ancient grave sites and eroding villages Grade observed during his world travels shortly after his 1992 graduation from Pratt Institute in Brooklyn, New York. Constructed of wood and resin that the artist pre-tested to determine its attraction to termites, the sculpture was designed to be transported to a termite infested area, and buried. It is one of a number of such works currently buried around the American west. Grade's work sends an eerie reminder that even mankind's most ambitious works may eventually succumb to nature's forces.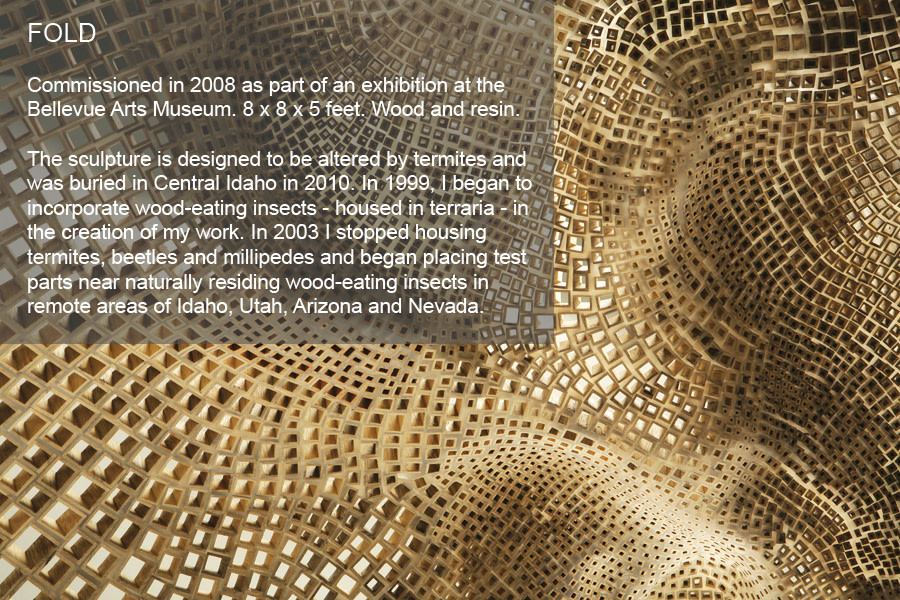 Grade will lead a tour of the installation and talk about his work on July 15 at 6 p.m. at the Museum. For more about Portland arts events, visit PoMo's Arts & Entertainment Calendar, stream content with an RSS feed, or sign up for our weekly On The Town Newsletter!