Culturephile
Farm to Stage
In a St. Johns backyard, a homegrown version of Japanese dance takes root.
FROM DEEP IN A PATCH of backyard grass on the near-rural edge of St. Johns, Mizu Desierto's arm emerges, goose-like, her fingers spread open like a flower. Lashing damp hair against her back, her head emerges, eyes shuddering open and rolled back in a gesture known as "white eyes"—an evocation of the blind, spectral face of butoh, the Japanese dance form that gazes inward even as the body strains for heaven and earth.
Where Desierto's gestures are bold and pointed, those of her nearby collaborator, Emily Stone, are more studied and subtle. Birds tweet as Stone flutters her fingers and sweeps her arms through the air. She creeps, eyes shut, toward a slab of plywood, and kneels on it. Desierto, blindly sensing her partner's trajectory, mimics some of the movements and then creeps toward the makeshift stage. Sumi, Desierto's black-and-white cat, named for a butoh master, seems to stride in on cue, causing the neighborhood dogs to erupt. But the dancers and cat retain their focus and poise until, minutes later, the piece is mutually sensed to be "complete."
These are early explorations for the summer sessions of Desierto's non-profit, Water in the Desert, during which this charming backyard will be transformed into Prior Day Farm, a setting for several site-specific dance and permaculture events. Desierto invited world-renowned butoh practitioners to host outdoor master workshops designed to help dancers get down and dirty with their connection to the land and their senses. For lighter fare, she'll host family-style potlucks, a locally sourced Japanese feast, and a harvest festival. She's also spending plenty of time downtown, coordinating the 1 Festival, a showcase of solo works by "New Women in Butoh" (including Desierto, Vangeline, and Sheri Brown) and presenting the performance Local Culture at Portland Center Stage as part of the JAW Festival. Desierto's white-eyed gaze inward seems to be projecting a grand vision.
"Mizu is just very inspired, brave, and generous about creating these festivals so people can see what butoh is in a larger way," says Linda K. Johnson, one of Portland's most accomplished dance artists, who also developed a piece for Desierto in 2009. "Butoh's been here in Portland in a small way for a long time, but her work has brought it to the surface in a way that it wasn't before. It's a fantastic thing for the city, and she just does it so elegantly."
Born in Colorado in 1973 and raised in the Midwest with a more Anglo-American name she prefers to not reveal, Desierto discovered butoh among many postmodern brands of dance she studied at the very experimental Prescott College in Arizona. Her father's death drew her more deeply into butoh's elemental movement. "What attracted me to the dance," she recalls, "was a philosophy that incorporated the entirety of the life cycle, dancers as they age, and the beauty of the dying experience."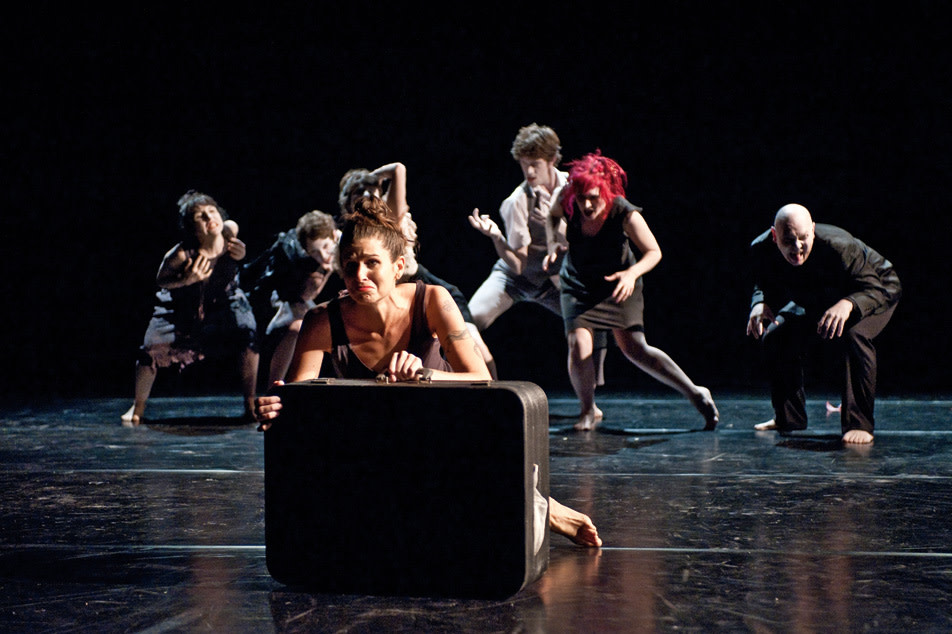 Though butoh emerged from the reject-all-tradition context of post–World War II Japanese art, it has gradually grown into a globally practiced dance ethos. Desierto has studied with practitioners ranging from the son of one of the form's founders, Kazuo Ohno, to the Mexican master Diego Piñón. "I define something as butoh when I perceive an authenticity," she explains of the dance's ethereal code. "The dancer or performer is not acting, not trying to be something, but actually becoming something."
And her adopted name? "An old Japanese man came to me in a dream," she recalls, "an iconic, classic Japanese figure, with a scroll. He showed me the scroll, and he wrote 'Mizu' in kanji, then 'Desierto' in Roman lettering, and he said, 'This is your name; it means "water in the desert."' At that time I was living next to water, in a desert. And, by the way, I wasn't on drugs."
After spending 15 years with Arizona's Human Nature Dance Theatre and cofounding San Francisco's Carpetbag Brigade Physical Theatre, Desierto arrived in Portland in 2006. Here, she has worked on projects ranging from choreographing movement for the Classical Greek Theatre of Oregon to orchestrating a 70-person butoh version of Shakespeare's A Midsummer Night's Dream in Peninsula Park. She bought her St. Johns property last year to create what she calls a "dance farm." This summer's season at Prior Day Farm has garnered the support of entities as diverse as the Portland Center for Japanese Studies and the PSU Institute for Sustainable Solutions. The performances will double as a course she's teaching at Portland State University, called "Butoh and Permaculture."
As collaborator Stone puts it, "I think of Mizu as the hub of a wheel." For Desierto, the manifold activities that constitute her interpretation of butoh all come back to the land. "In ancient cultures, why did dance come to be?" she asks. "It was a celebration of harvest; it was all related to food cycles. It was deeply connected to the seasons, and those relationships to our food and our community. And that's what I'd like: to re-create a contemporary context for us to dance in relationship with handmade life—and chickens."