bard-watching
Summer Shakespeare: An Abridged Field Guide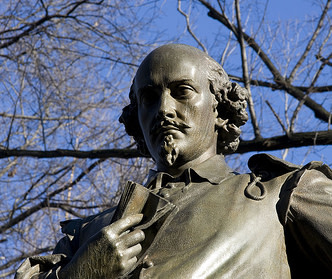 You know it will hardly be summer if you don't, at some point, see some Shakespeare. Whether that means a pilgrimage to Ashland's vaunted halls, a night out at Artists Rep, or simply unfolding your picnic blanket at the nearest park to watch a comedic romp alfresco, is completely up to you. All we're saying is: with this many productions at this many locations, you might as well surrender to the Tudor Dynasty. Here are the Shakespeare offerings we've found for this summer. If we've omitted some, feel free to let us know and we'll update the list.


---
THE BIGGIE: Oregon Shakespeare Festival
THE LOCALS: Portland Shakespeare Project | Portland Actors Ensemble | Original Practice Shakespeare Festival | Bag & Baggage | Willamette Shakespeare | Post5 Theatre
Portland Theater
The avid indoorsman has one mosquito-free option.
Artists Repertory Theatre
As You Like It
July 15, 16, 21-23, and 28-30, at 7:30pm
$24 adults; $15 students
Portland Parks
Consult this list, then gaily gambol over to a park near you. The following shows are FREE.
Director Park July 22, 7pm Twelfe Night
Gabriel Park
~ July 30, 2pm Twelfe Night
~ Aug 20 and 21, 3pm Much Ado About Nothing
Irving Park July 10, 2pm Twelfe Night
Laurelhurst Park
~ July 16, 2pm Twelfe Night
~ July 17, 2pm Much Adoe About Nothing
~ July 30 and 31, 3pm Much Ado About Nothing
Lents Park July 31, 2pm Twelfe Night
Lovejoy Fountain Park July 1, 2, 7-9, and 14-16, at 7pm The Tempest
Lynchwood Park Aug 7, 3pm Much Ado About Nothing
Milepost 5 Courtyard Aug 5-7, 12-14, 19-21, 26-27, at 7pm Romeo & Juliet
Washington Park Aug 13 and 14, 3pm Much Ado About Nothing
Portland College Campuses
Starving scholars, lest you fret, these shows are also FREE.
Concordia University Aug 28, at 3pm Much Ado About Nothing
Reed College
~ Sep 3, 4, and 5, 3pm Much Ado About Nothing
~ Aug 5 and 6, 7pm; Aug 7, 6pm All's Well that Ends Well, Cerf Ampthitheatre
Marylhurst University
~ July 29, 6:30pm, A Midsommer Nights Dreame
~ Aug 27, 3pm Much Ado About Nothing
BEYOND

PDX
These are listed by town and date. When the Bard cometh, be ready.
Ashland, OR Oregon Shakespeare Festival. As noted above, this is "the biggie." Click the link for details.
Beaverton, OR July 24, 6pm, Twelfe Night Carolwood Park
Dayton, OR Aug 12 and 13, 7pm; Aug 14, 6pm All's Well that Ends Well, Stoller Vineyards
Forest Grove, OR Aug 19 and 20, 7pm; Aug 21, 6pm All's Well that Ends Well, Montinore Estates
Goldendale, WA Maryhill Museum, August 6, 7pm Much Ado About Nothing
Gresham, OR Aug 14, 1pm Twelfe Night, Gresham Plaza
Hillsboro, OR July 28-Aug 13, 7pm The Tempest, Tom Hughes Civic Center, $14
Lake Oswego, OR Aug 6, 2pm Twelfe Night, George Rogers Park
Nehalem July 9, 1pm Twelfe Night, Nehalem Bay
Sandy, OR July 3, 6pm: The Tempest, Meinig Memorial Park
Vancouver, WA Aug 20, 2pm Twelfe Night, Esther Short Park
Looking Forward
Portland Playhouse's Fall Festival of Shakespeare in October.
For more about Portland arts events, visit PoMo's Arts & Entertainment Calendar, stream content with an RSS feed, or sign up for our weekly On The Town Newsletter!