Long Story [Short]
The Hopeful
Dan McLaughlin, 32.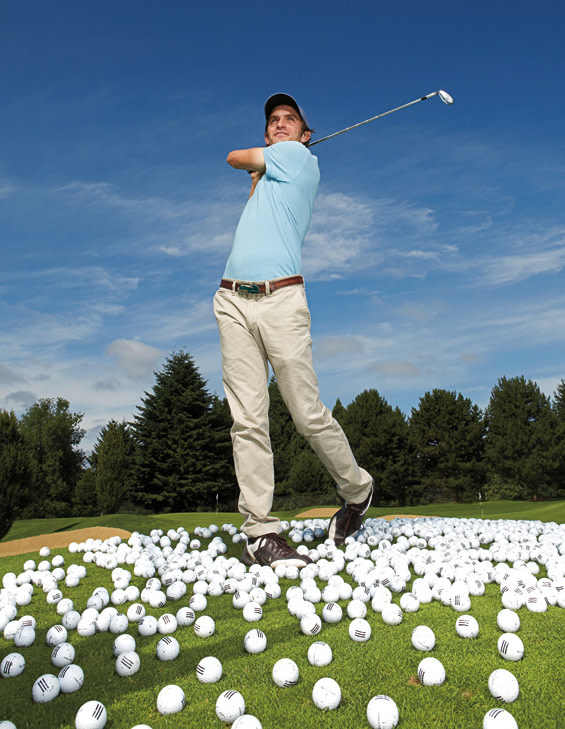 Last year, commercial photographer and golf novice Dan McLaughlin quit his job to pursue what he calls "the Dan Plan." The plan is simple: spend about 10,000 hours over the next five years mastering golf with the goal of making the PGA tour. The execution? Anything but. Still, with a coach, a psychologist, a physical therapist, and a statistician helping him, McLaughlin hopes to prove that it's never too late to reinvent yourself.
As told to Sarah Skidmore
• • •
A COLLEAGUE GAVE ME Malcolm Gladwell's Outliers in 2009. Through that I found Geoff Colvin's book Talent Is Overrated, and then talked to Dr. K. Anders Ericsson, a psychologist at Florida State University. Dr. Ericsson says that if you track anyone in any given field, they become successful after putting in 8,000 to 12,000 hours.
I DON'T WATCH GOLF ON TV; I wasn't a fan of any sort. It was just something that I got in my mind. Golf is universal. It's easily measured in numbers, and you know when you are in the success zone. I like the challenge; I like that you never have the same shot twice. I like that you have to be focused on every shot. As soon as you lose focus, it costs you two or three strokes.
I WANTED TO SHOW PEOPLE that anything is possible with hard work. I would go into these offices and everyone had a story of what they really wanted to do, and they all had excuses about why they didn't do it. I realized if I could do it, then I could prove it to them. It was a time in my life when I wanted to do something different.
IT DOESN'T SEEM LIKE I'm helping anyone, but the overall message is a hopeful and positive one. If you can statistically show that you can do something if you put your mind to it at any age—that does help people. And it's been more fulfilling than I thought it would be. Now I hear from people daily who are picking up something they've always wanted to do.
FOR THE FIRST FIVE MONTHS, all I did was putt. I was one foot out, then three feet out, and once a certain percentage of my shots made it, I could move on. I only have six clubs so far: a putter, three wedges, an eight iron, and I just got a six iron. I'm playing with an eight iron and hitting from 140 yards out. I've learned a lot about patience—but the most important thing I've learned is you've got to get the ball in the hole.
I PRACTICE SIX DAYS A WEEK. It's about 30 hours a week actually over the ball. Burnout is the biggest risk. There are breakthroughs every day; then there are negative breakthroughs. There are times you go out and nothing is working. It's just gone. There are times that I think, "This is so hard; I'm not improving." But there's never been a time that I've questioned my decision.
PEOPLE ALWAYS ASK how I'm paying for this. I worked. I saved up money. I live modestly. I have a house, but I have roommates. Right now no one is paying for it, some people have helped out, but it's informal. I recognize at some point I may need to get a sponsor—I just want to keep complete control as long as possible.
I NEVER THOUGHT of a backup plan. I'm not going to do 10,000 hours and stop. The whole process is about the journey. If I don't make it, I'll be disappointed, but I will have learned so much about my capabilities.
MY FAMILY IS SUPPORTIVE. My dad thought it was a crazy idea for a while. My mom, being a mom, wants me to get married, have lots of kids, and live next door with a secure job. Instead, I'm single, I live more than 2,000 miles away, I'm unemployed, and I play golf all the time.