Feature
Fall Arts Preview 2011
From theater and dance to a 16th-century masterpiece painting, the fall season of arts offerings is ripe with couples' collaborations.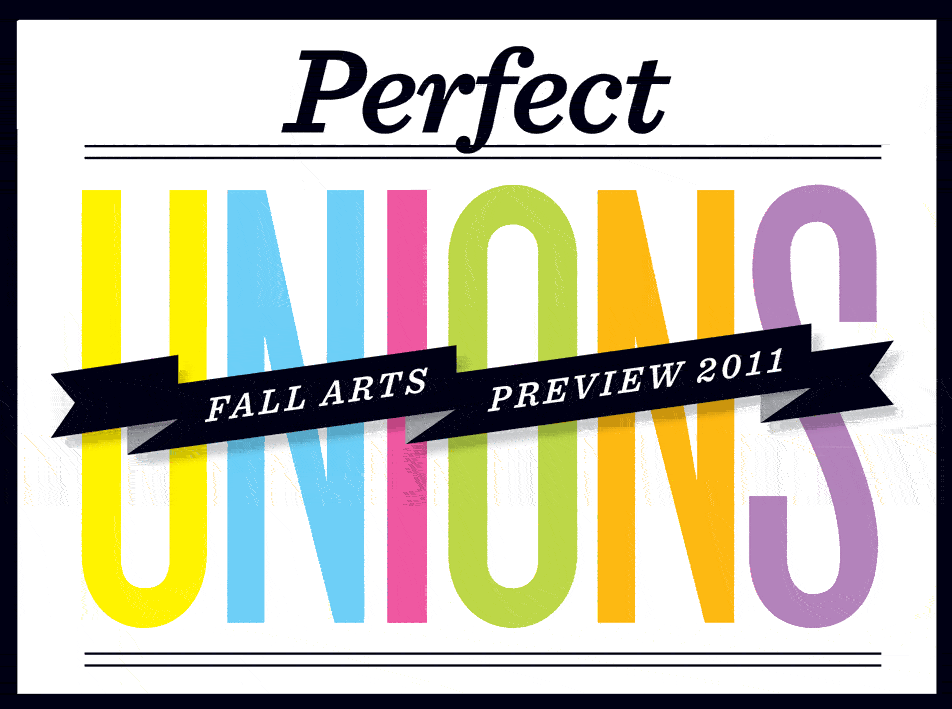 In the history of the arts, individual genius reigns supreme. But this fall, solo acts are giving way to duets as some of Portland's most creative couples put heads and hearts together. From the stage to classical music to the visual arts, we introduce you to six pairs whose love for each other is inextricably bound up in their love for their art.
Concerts
Empire of Two
Jared and Brianne Mees
Tender Loving Empire
For Jared and Brianne Mees, the giant upside-down cardboard city-scape hanging from the ceiling of Tender Loving Empire's retail store is typical of the record label's crafty, DIY aesthetic. But it could also serve as conspicuous symbol of their stubborn tenacity as a small business during tough economic times: "It used to fall down all the time," says Jared, "and then one day it just stopped falling."
If times are better now, it's because the Meeses have gradually built and fortified their "empire" on the strongest bedrock they could find: their deep love of music and crafting. "Our excitement about an album can come through because we're right there handing it over the counter," gushes Brianne. Indeed, browsers who are lured into their SW 10th and Alder retail store in search of crafts often find themselves purchasing music instead, without having heard any of the label's bands before. "We'll play albums for them on the spot, and they can decide if they like it," Jared says.
These days TLE doesn't have much difficulty finding love for their music. They recently booked arena-folk act Typhoon on Late Night with David Letterman, while other headliners like Y La Bamba and Loch Lomond will have ample stage time at Portland's upcoming late-summer concert juggernaut, Musicfest NW.
But Jared and Brianne, who met in Oxford, England, and married in LA before moving to Portland in 2006, are just happy that the business is now sustaining them, though they reminisce grimly about the times when they could barely pay their bills and had to pep-talk each other through the doldrums.
As it turned out, the greatest panacea to business worries was to draw a line in the sand. "We moved our computers out of our house," says Jared of their decision to keep their sanity and happiness even as work and bills piled up. Perhaps "tender love" is a smart business strategy after all.—Anne Adams
Theater
Romance of the Theater: Brian and Nikki Weaver
The Playhouse
The temperature rose at Portland Playhouse last March as actress Nikki Weaver, playing a social-climbing Hollywood party girl, bra straps off-shoulder, pounced on actor Leif Norby in Theresa Rebeck's play The Scene. Offstage, Nikki's husband, Brian Weaver, toughed it out from the control room as the stage manager started and stopped the makeout sessions with cue lights. "He was taunting me," Brian says, "going, 'Should I stop her now? How about now? Just a little bit longer!'"
The Weavers are no strangers to such trust exercises—or to taking risks. In 2008, they relocated from Boston with Brian's brother Michael and started a playhouse in an old Northeast Portland church still fitted with old pews and a large stained-glass window. "The first play we did, one person showed up," Nikki recalls.
Undaunted, Nikki began acting with other companies and teaching yoga classes, forging invaluable contacts in the theater community, while Brian put in 60-hour workweeks as creative director, poring over scripts, applying for grants, and helping manage the house day to day. Their efforts paid off, and Portland Playhouse's audience gradually grew to almost 100 each night—but their fourth season brings new challenges.
In July, the Playhouse was suddenly (and they hope temporarily) forced to move from its sanctuary due to zoning concerns. Still, the Weavers are confident that their plan to produce six plays, mentor nine acting apprentices, and guide eight high schools through performances of Shakespeare's Hamlet will go forward without a hitch. September's offering, Gem of the Ocean, August Wilson's redemptive drama about a former slave, will be performed at the World Trade Center, as will December's Angels in America. Brian excitedly hints that audience participation might play a big role in the future.
Meanwhile, the pair maintains a united front even as their individual roles (like Nikki's onstage necking) require them to divide and conquer. "I think in a relationship you're supposed to think of lots of ways to keep the romance fresh," Brian says, "so we try to use our work as artists to do that."—AA
Classical Music
Married—with Musicians: Charles Noble and Heather Blackburn
Arnica Quartet
Husband-and-wife musicians Charles Noble and Heather Blackburn like to say that they are part of a "four-way marriage" —artistically, that is. Along with violinists Shin Young Kwon and Fumino Ando, they make up the Arnica String Quartet, one of a number of local ensembles (among them Classical Revolution PDX and 45th Parallel) developed by Oregon Symphony players as side projects.
Though all four make their living playing variously in other ensembles, the quartet plays an important role in their musical lives. For Charles, who plays viola with the Oregon Symphony, and Heather, a cellist who freelances with groups like Pink Martini, the dynamism of quartet music is reinvigorating. "Even when I'm feeling jaded from putting in the hours at the symphony," Charles says, "Heather's like, 'Let's read some chamber music!' and it gets me back in the spirit…. She's just so passionate about string quartet."
While Arnica prepares to tackle compositions by Benjamin Britten and Daniel Ott in September, the residents close to Charles and Heather's Garden Home apartment (which sports a Tchaikovsky bust on the front door) will have plenty to be happy about, too. "A lot of our neighbors actually ask us, 'Can you rehearse with the windows open?'" Heather says.—AA
Dance
The Editors
Ashley Roland and Jamey Hampton
In matching army-green jackets, BodyVox Dance Company's two artistic directors form an indistinguishable blur of movement. As Jamey Hampton takes dancers through a new routine, his wife, Ashley Roland, retreats to a loftlike structure above the stage that the couple refer to as "the nest," and begins tossing potential costume pieces out of a theater-facing window onto the stage. Ashley then jumps in for Jamey, coaching the perspiring troupe through steps that mimic a flock of sheep, while Jamey withdraws to his laptop to splice video clips together.
This jumble of motion is a fitting staging ground for the frantic energy of BodyVox's October offering, Horizontal Leanings. Multimedia to the core, the dance studio steers clear of easy formulas, juxtaposing film and sound clips with live movement. "When we finish a show and the recipe is perfect," says Ashley, "everything fits in place like a giant working clock."
Jamey's style leans toward graceful meditations on "beauty and longing," while Ashley favors absurdist slapstick à la Bugs Bunny. To keep the balance, each wields an ironclad veto. But even for this seasoned pair—who joined forces 28 years and three dance companies ago—reaching that final unity of vision means hard work and late nights. "Even if we're cooking dinner," says Ashley, "we're always throwing out ideas, constantly bantering back and forth."
That creative closeness has other benefits, too. "If I went home to someone who asked, 'What did you do today, honey?'" asks Jamey, "where would I start?"—AA
Time-Based Art Festival
24-7 communication
Jean-Michele Gregory and Mike Daisey
Monologist Mike Daisey isn't afraid to go all in. Not only did he once travel to China merely to track down the factory that made his iPod, he recently declared that his next performance will last an entire 24 hours. With this epic level of commitment, it wasn't much of a stretch for the obsessively hardworking Daisey to marry his work—in the person of his director, Jean-Michele Gregory.
This setup, of course, presents pros and cons: "When things are going great, it just feels extraordinary," says Jean-Michele. "But when things aren't going well, it's not like you can go home to your husband and complain about the a-hole you work with."
But the inseparable couple make it work, and they spend about eight or nine months a year on the road together—Mike refining his unscripted monologues through repeated live performance, Jean-Michele providing necessary perspective and criticism. "When I'm not with Jean-Michele, I'm not as smart," he says. "There are times when I'm like, 'I don't know how I feel about this or that; I'll know later when I see Jean-Michele.'"
Mike met Jean-Michele 15 years ago while doing "very bad German expressionist theater." They became instant friends, but their courtship progressed at a slow simmer. "I was so clueless at first," Mike admits. "But I eventually realized that when a girl punches you and bites you—that might mean she wants you."
Bruises and bite marks aside, as Mike gears up for the challenge of a lifetime, he's counting on Jean-Michele's counsel more than ever. In All the Hours in the Day, Mike will create and intertwine narratives from around the world in an attempt to "tell a gigantic road story, of sorts, of our entire planet and every time zone." Audacious? Absolutely.—AA
Visual Art
Model Relationship
Titian and "La Bella," the Woman in a Blue Dress
In the hall of fame for artist-model confabs, there is Alfred Stieglitz's obsessive photographic affair with Georgia O'Keeffe's body, Francis Bacon's painterly sadomasochism with his doomed lover, George Dyer, and of course Edouard Manet's more chaste relationship with voluptuous Olympia. (He died of syphilis; she did not.) But what kind of encounter produced 16th-century painter Titian's stunning La Bella we'll never really know.
The unnamed subject, historians speculate, may have been a so-called "honest courtesan," part of a class of Venetian prostitutes so beautiful, poised, and lettered they became fixtures in high society. Or maybe not. She may have been the same woman—a married duchess no less!—who sat for Titian's Venus of Urbino. Or maybe not. What is known is that after commissioning the painting, its first owner, the Duke of Urbino Francesco Maria I della Rovere, became obsessed, later famously imploring the artist to quickly finish the painting "of that woman in a blue dress." 
Nearly half a millennium later, the dazzling piece should still be the talk of the town when it is unveiled at a single-painting show at the Portland Art Museum on November 25. Not only is the portrait fresh off of a three-year-long restoration in its usual home in Florence, Italy, but it will be the first Titian to ever be exhibited in Portland.
And, in the end, the identity of "La Bella" is less important than Titian's brilliantly dexterous brushwork and his unprecedented vivid sense of color—not to mention the simple fact that when Titian sold her not as a portrait of a specific person but as a painting, he essentially created the modern art market.—Randy Gragg