newsstand companion
Brian & Nikki Weaver
Extra notes and quotes from our fall arts edition's theater couple.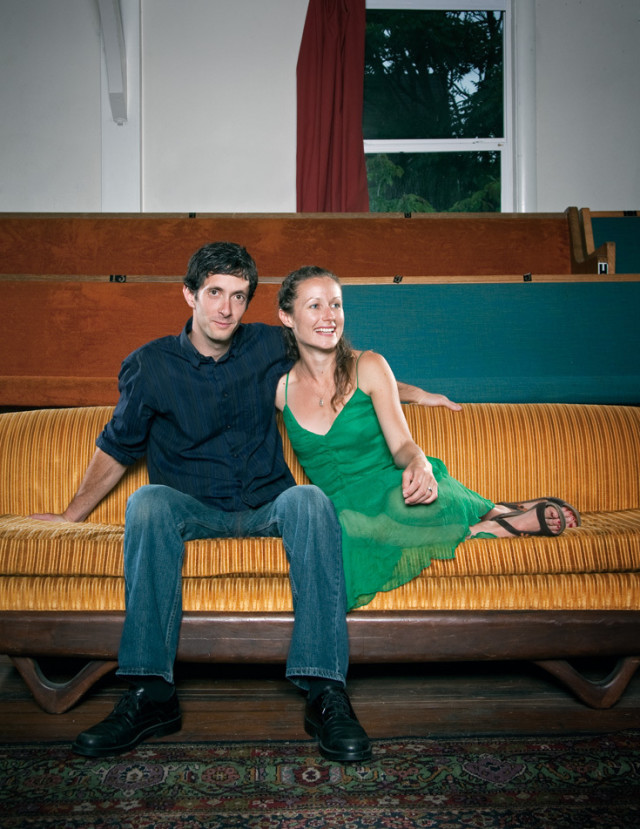 "I love her very much even though she makes out with other guys," jokes Portland Playhouse artistic director Brian Weaver, casting a mischeivous glance at his actress wife Nikki as the two recount how some of the taut, modern plays that their company favors have required Nikki to get pretty personal with her costars. While playing a social-climbing Hollywood party girl in last season's The Scene, Nikki pounced on actor Leif Norby, brastraps akimbo, while Brian toughed it out from the control room. "The stage manager could start and stop the makeout sessions with cue lights," he explains. "He was taunting me, going, 'Should I stop her now? How about now? Just a little bit longer!'" But it would seem the Weavers are no strangers to leaps of faith.
In 2007, the pair was living in Boston, Mass. While chopping Christmas firewood with Brian's brother Michael, they began to hatch a plan to move all three Weavers to a new town. "We liked Boston," says Nikki, "and Michael was living in Virginia working for the family business, making good money—but we just started to agree that we all wanted more, wanted to work with people who were passionate about what they were doing. We had this house, and a whole bunch of stuff, but we said, 'You know, let's all quit our jobs! And sell everything!' 'And then we'll figure out where we want to move.' We had talked about Seattle, Portland, or San Francisco, and Portland just seemed like a really nice hub between the two other cities, where we could bring artists from other areas if we wanted to, but where we could also afford to create something."
That "something" was Portland Playhouse, a small but serious theater company that the Weavers set up in a former church on Prescott and 6th, still fitted with old pews and a large stained-glass window. Initially, Nikki admits, it was hard to find their footing. "The first play we did, only one person showed up. After that show we were like, 'Wow, what are we gonna do?' Everybody's an artist here; everybody's some kind of creative. So it was nervewracking, especially during that first year. You know, you're trying to figure out, Do I need to get a part-time job, or can I make a living doing this….?" To strengthen bonds with the local theater community, Nikki began acting with other companies in Portland—and to sustain her stamina and cash flow, she got a few gigs teaching yoga. Meanwhile, Brian put in 60-hour workweeks at the church as Portland Playhouse's creative director, poring over scripts, applying for grants, and helping manage the house day to day. With the help of executive director Michael, the pair's efforts paid off, and their audience gradually grew to almost 100 each night.
The key, says Brian, is putting their audience on the spot. "We're trying to really step away from the 'consumer' mentality of art that we're barraged with in our regular lives—to ask the question, 'who do we want our audience to be?' Not just 'who can we get to come to plays,' but who are our audience, people we want to interact with? And the answer for me is, people who have an interest in being active participants in a question, an event, a story, a reaction to the story. It sort of just happened this way, but I believe in synchronicity…that our building used to be a church, and it's still an open community space. It's not a traditional theater, and so people have a different experience when they come to see a play here. When we put the audience on two sides, they're seeing and hearing the play, but they're also seeing and hearing each other. I think that increases the awareness that you're an active participant in the event." Challenging content like last season's Iraq-vet drama Dying City and this season's slave-trade odyssey Gem of the Ocean, also leaves audiences with plenty to chew over after the performance. "We find that after a show people like to hang out and talk," says Brian. "We welcome that engagement." (As if on cue, while they sit in the pews, a stranger wanders into the church foyer. "Can we help you?" Nikki asks. "Nah," the man responds, "Just coolin' off.")
Unfortunately, as they enter their fourth season, audience interactions may be harder to host. In July, the Playhouse was suddenly (and they hope temporarily) asked to move its fall offerings offsite due to zoning concerns. Still, the Weavers are confident that their plan to produce six plays, mentor nine acting apprentices, and guide eight high schools through performances of Shakespeare's Hamlet will go forward without a hitch. ("_Hamlet_ is a great fit for high school; all high schoolers feel like Hamlet," Nikki half-jokes.) October's Gem of the Ocean and December's Angels in America will be performed at the World Trade Center. For other updates, the Portland Playhouse Website will keep us posted.
Meanwhile, the pair maintains a united front, even as their individual roles (like Nikki's onstage necking) require them to divide and conquer. "I think in a relationship you're supposed to think of lots of ways to keep the romance fresh," Brian says, "so we try to use our work as artists to do that."
For more about Portland arts events, visit PoMo's Arts & Entertainment Calendar, stream content with an RSS feed, or sign up for our weekly On The Town Newsletter!