newsstand companion
Charles Noble & Heather Blackburn
Extra notes and quotes from our fall arts edition's classical couple.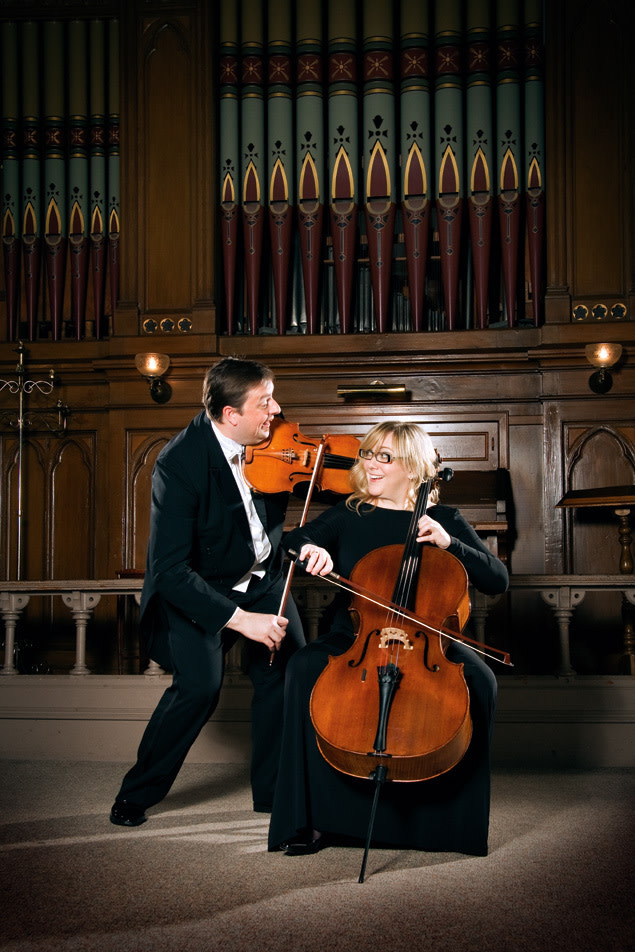 "A lot of our neighbors ask us to rehearse with the windows open," says Heather Blackburn, as she and husband Charles Noble share a post-practice snack of coffee and peach-blueberry pie. Indeed, one can only imagine that this couple, who adorn their front door with a bust of Tchaikovsky and regularly fill the noon air with symphony-quality song, make quite a welcome addition to their Raleigh Hills row house. Charles is a full-time violist with the Oregon Symphony, while Heather, a cellist, is a contractor who prefers another term: "I'm at large," she says with a wink, confessing that between part-time teaching at the Community Center and the occasional gig with the Symphony or Pink Martini, "sometimes I stay home and watch bad TV."
More often, the couple forms half of the Arnica String Quartet, which they jokingly describe as "a four-way marriage." Alongside violinists Shin Young Kwon and Fumino Ando, they're sprucing up selections from Benjamin Britten and Daniel Ott for a special in-town performance and a few dates in the Gorge and Astoria. For Charles and Heather, the quartet provides an escape—from the city limits, but also from the orchestral box. "Unlike the symphony, in the quartet it's really up to us to decide what we want to say with a piece, and how we want to execute that musicianship," says Charles.
"Heather is the brain of the quartet," reports violinist Kwon, and Charles concurs: "She can hear, better than I can, how a piece is put together. And she just really lays down the bassline on the cello." As her husband sings her praises, Heather jokingly throws up a devil-horns "rock on" symbol, but there's more to the story: Heather's intuitions in the quartet follow Charles to his day job at the symphony. "Your level of listening, and responding to what's going on around you has to be so high in the quartet that…it makes you a better player in the orchestra as well, when you bring that experience to it. I think the best orchestras play kind of like giant chamber ensembles. I mean, there is a conductor—but if the conductor keeled over, most great orchestras could keep going and turn out a pretty good performance of whatever they're doing, even if it was a really huge piece with lots of parts. Heather specifically will make me think twice about a piece, listen more carefully and appreciate it more. And even when I'm feeling jaded from putting in the hours at the symphony, she's like, 'Let's read some chamber music!' and it gets me back in the spirit."
"Here's your money," Heather interjects, miming a conspicuous handoff while clearing the table.
"But seriously, she's just so passionate about string quartet," Charles adds. "That's her reason for being."
"True," allows Heather, "I could survive by string quartet alone."
Luckily, there's also peach-blueberry pie.
For more about Portland arts events, visit PoMo's Arts & Entertainment Calendar, stream content with an RSS feed, or sign up for our weekly On The Town Newsletter!