shorthand
Craig Thompson Releases New Title
The author/illustrator of acclaimed graphic novel Blankets talks about his latest title, Habibi.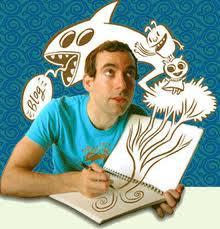 Last night, graphic novelist Craig Thompson regaled a packed Pearl Room at Powell's Books with a detailed slide show and a few words about his newest title, Habibi, an Arabesque epic that reportedly folds religious and political implications into its narrative. Best known for Blankets, an intimate Midwestern memoir, Thompson admitted that he wanted Habibi to be "bigger than himself." As he detailed his 6-year process of illustration, translation, and hand-brushing calligraphy in a language he still doesn't read, the humble and hilarious Thompson blurted some choice turns of phrase. Here are a couple that Culturephile caught:
Blankets = "Mundane Midwestern snowscapes and High School Craig."
New title, Habibi = "Desert-scapes and Arab slaves as elements of sensationalized Arabesque, the same way cowboys and Indians were sensationalized in the wild west."
Fantasy genre = "Dragon bullsh*t."
Classic comicbooks = "Superhero fantasy explosion stories."
Arabic calligraphy = "Music for the eyes."
Persian belief system = "7 layers of heaven above, 7 layers of hell below, and between them, a 15th layer of human existence, where elements of both heaven and hell bleed through."
Judaism, Christianity, and Islam = "The Abrahamic faiths. They have a lot of the same characters."
Rumi poems' core message = "Keep breaking your heart 'til it opens."
Long periods of writers' block = "A spell the book cast on itself. And within the story, you see themes of drought—emotional, sexual, spiritual—and in my case, creative."
Endings = "Something real life doesn't have. I struggled because I didn't want to write a fairytale ending, and I also didn't want to write an unfulfilling French ending, if you know what I mean."
For more about Portland arts events, visit PoMo's Arts & Entertainment Calendar, stream content with an RSS feed, or sign up for our weekly On The Town Newsletter!