newsstand companion
Jamey Hampton & Ashley Roland
Extra notes and quotes from our fall arts edition's dance couple.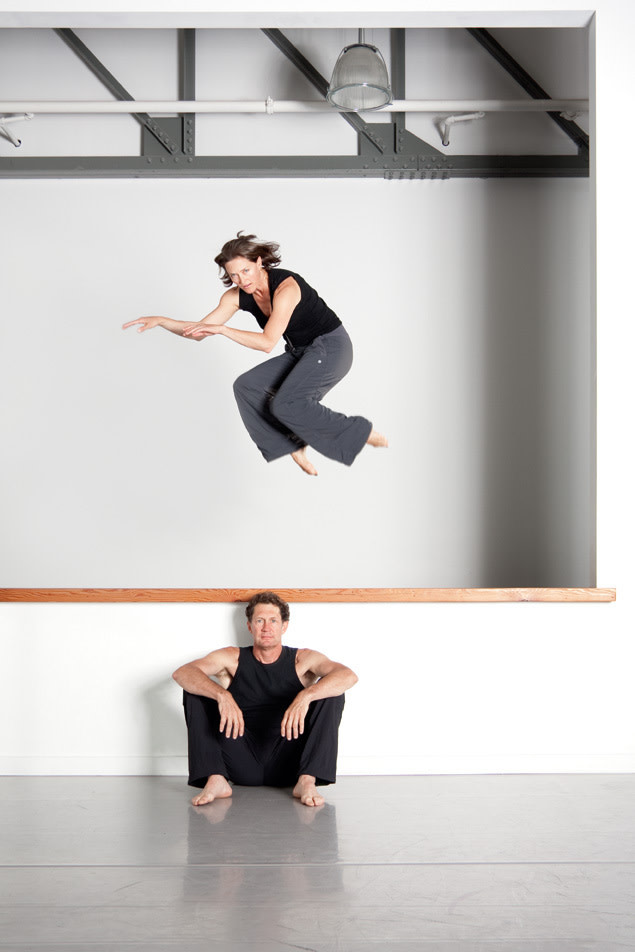 Jamey Hampton's drilling the BodyVox dancers through a set of steps, while his wife Ashley Roland rummages through potential costume pieces and tosses them onto the stage. Then Ashley takes the floor, coaching the troupe through a routine that mimics a flock of sheep, while Jamey adjourns to his laptop to splice film clips for a multimedia piece. A typical day at Bodyvox Dance Company is such a rush of movement and material that, Jamey jokes, it would be impossible to explain to a wife who wasn't there. "If I went home to someone who asked, 'What did you do today, honey?' where would I even start?"
The couple, who joined forces 28 years and 3 dance companies ago, have gradually honed a theatrical, multi-media production style with crowd-pleasing polish. "When we finish a show and that recipe is perfect…everything fits in place like a giant working clock," boasts Ashley. "Perfection" is a theme that comes up a lot as these two talk. Clad in deliberately understated his-and-hers army-style jackets, offset by fairly fancy "bling," Jamey and Ashley describe Jamey's marriage proposal as almost too perfect to be plausible:
"We finally had a bit of breathing room before Carmina [_Burana, the piece the pair was workshopping in '89]. We went on a beautiful hike, and we were talking about the show, and we were up on this big ridge overlooking Central Oregon, and there was a big heart-shaped lake in the distance, and there was a rainbow going over it—-"
There was not.
"Yes, there was!" exclaims Ashley. "I said, 'look at that lake, it's shaped like a heart—'"
"And then a little elf whispered in my ear, 'Man you should ask her to marry you, you idiot,'" says Jamey. "In September of '97 we were married. Our anniversary is 9/7/97 so we won't forget it."
Perfect.
While rainbows may occur accidentally in the wild, in the studio, the couple enforce their visions with a mutually brutal veto. "When something's not working, he'll say, 'No, that adds no value,'" says Ashley. "Her catch-phrase is 'Click, drag, delete!'" Jamey counters. "We've become very efficient I think. There's not a lot of holding onto stuff. Really, the ultimate goal is the show." The couple also confess to being so obsessed that they can't help but take their work home. "I don't think there's a waking moment when we're not working on a show," says Ashley. "Even while we're cooking dinner or washing dishes, we're always throwing out ideas, constantly bantering back and forth."
Where Jamey's creative forté is lifts, pauses, "beauty and longing," Ashley, who takes some of her inspiration from Warner Brothers cartoons, favors slapstick, absurd character development and "pathological social commentary." She sparkles as she describes one of the troupe's funniest, most scathing stories: a piece called "The Bunny" from Horizontal Leanings. "One man in orange footie pajamas plays 'the bunny,' a figure that the rest of the group is picking on and excluding. Eventually, 'the bunny' dies, so…" she pauses ominously, "a new 'bunny' must be found."
In other words, whenever something's not working—just click, drag, delete.
For more about Portland arts events, visit PoMo's Arts & Entertainment Calendar, stream content with an RSS feed, or sign up for our weekly On The Town Newsletter!