newsstand companion
Jared & Brianne Mees
Extra notes and quotes from our fall arts edition's music couple.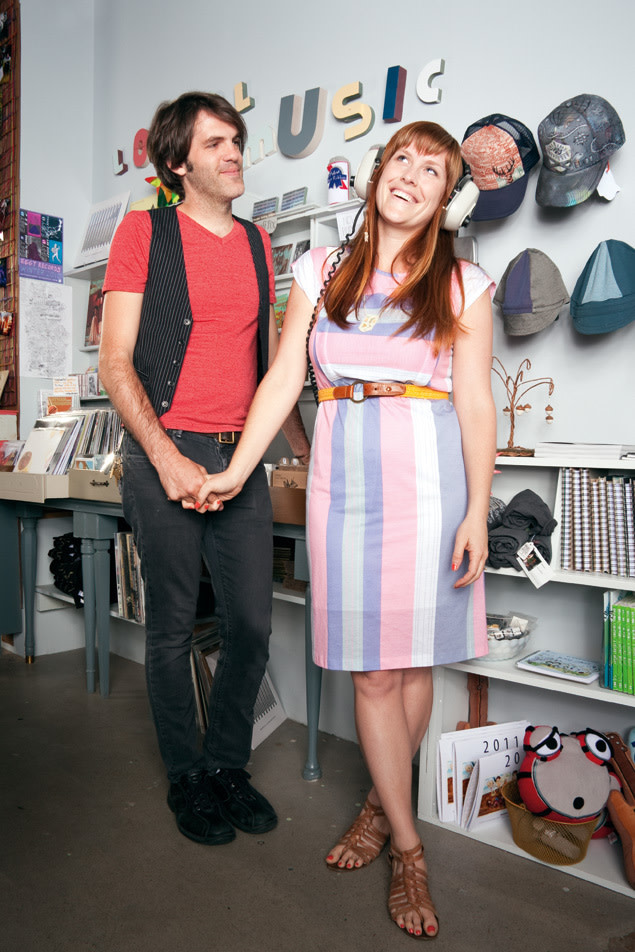 Jared and Brianne Mees moved to Portland to build their own empire out of cardboard, indie-rock, and love. And how did that pipe dream pan out? For four years and counting—absolutely fine. In a two-storey space on 10th and Ash, Tender Loving Empire, or "TLE," as it's affectionately known, has become a hub for visual and aural indie-rock aesthetics, peddling tee shirts, trinkets, and, of course, whatever music moves the Meeses. "Where most labels are behind the scenes on the internet, the worldwide web, we have this place where people can interact. Our excitement about an album comes through because we're right there handing it over the counter," gushes Brianne. Adds Jared: "I think a lot of our music buyers are people who come in to look at the crafts, but have never heard any of TLE's bands before at all. They walk in and look around and go, 'What is this place?' And then while they're looking at crafts, we can play albums for them on the spot, and they can decide if they like it."
And how does TLE decide what they like?
"Well, there's always a poppy hook.." says Brianne, "but the songs also always have something to say, a message that's moved us, that we feel is important to share. We're definitely looking for something different, quirky, off-kilter, but we also look for something that's gonna be translatable to the layman."
"—Without trying to appeal to the lowest common denominator," Jared quickly interjects. "I think that's a tough thing. It's like the holy grail of the record industry: being able to appeal to a big group of people with a band, and not alienate the snobs and go for the lowest common denominator. If you can find a band that can do that, I think you will generally sell a lot of records. If you can translate to a bunch of different people, but maintain high artistic value, you'll probably do pretty well."
Brianne typically holds the retail reins and does the accounting ("I think I drew the short straw there," she says, admitting that bookkeeping bores her). Meanwhile, Jared holes up in the store's upstairs office, brokering increasingly big deals. For instance, TLE recently booked arena-folk act Typhoon on Late Night with David Letterman, and was reportedly offered carte blanche on bookings at Portland's upcoming concert juggernaut, Musicfest Northwest. With the contracts and the stakes at an all-time high, the couple has to make a conscious effort not to let work overtake them. To that end, they staged a summer escape, returning to Oxford—the place they met as students 10 years ago—then roaming around Amsterdam and Paris, and paying a visit to Brianne's aunt's bed and breakfast in the countryside of France.
"None of that had to do with work," Brianne declares.
We've been trying to do things for our marriage, that in turn affect the store, and the way we work—rather than the other way around," Jared explains, "because otherwise we'd just end up with, like, the leftovers in the marriage. And we moved our computers out of the house, so we wouldn't have that constant distraction."
"But I've been cheating!" Brianne whispers playfully, "Sometimes I bring my laptop home."
Overall, the pair are just happy that business has picked up enough to sustain them, citing prior times when they could barely pay their bills and had to pep-talk each other through the doldrums. But like the upside-down cardboard cityscape that adorns the TLE ceiling, the Mees's Empire has proven uncannily sturdy. "It used to fall down all the time," says Jared, "and then one day it just stopped falling."
For more about Portland arts events, visit PoMo's Arts & Entertainment Calendar, stream content with an RSS feed, or sign up for our weekly On The Town Newsletter!