Article
TBA 2011: Taylor Mac
The Art of Authentic Failure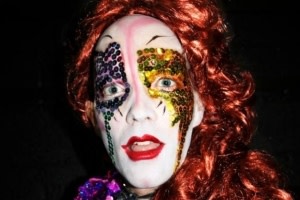 My first marathon day at TBA ended at Clyde Common with a bunch of other folks who've flown in for the festival, rehashing the night's odd-couple doubleheader: the classically trained Indian dancer Shantala Shivalingappa and the queer theater and performance art chanteuse Taylor Mac.
I don't have that much to say about Shivalingappa's show Namasya , an American premiere which means "reverence" in Sanskrit and features four short solos: two by Shivalingappa's mother, Savitry Nair, and one each by two of Shivalingappa's mentors, Sankai Juku's Ushio Amagatsu and the great German choreographer Pina Bausch. Shivalingappa is a gorgeous mover, and I have adored her classical work. But this East-meets-West tribute program felt like something of a vanity program; it was slight on choreography (Nair offered the most substantial phrase-making), heavy on piped-in music that ran the gamut from sensuous to mysterious (not in a good way) and entirely too packaged a presentation of uncomplicated beauty. You could only bathe in this beauty. There was nothing to disagree with, to make you sit up and think about. I need to work a certain amount as an audience member (even if that work is entirely pleasurable), or I lose interest.
Enter Taylor Mac. "You're all working this evening. It doesn't matter that I'm the only one getting paid," he announced at some point in his 90-minute cabaret show, Comparison Is Violence or The Ziggy Stardust Meets Tiny Tim Songbook.
It's true; this is always true in the theater. It just depends how much we, as watchers, are willing to work, and how much the artists are willing to ask of us. Mac talked about "authentic failure" being his favorite thing on stage. It's the same, I think, for those of us in the seats. I always want to give everything, to be asked everything—even if it means I fail. Otherwise, why are we all there?
"Comparison is Violence" doesn't ask everything of its audience (and at least one artistic director at the Clyde Common table felt that it didn't ask, or give, nearly enough; his crankiness wasn't helped by the venue … ummmm …. an overheated school auditorium ain't the best place for a messy-by-design cabaret show, just as Lincoln Hall was waaaaaay too big for the delicate precision of Shivalingappa. Oh the perils of architecture in the performing arts!). But you can see Mac's mind working throughout the show, as he tangles with form and tradition—and he is mining a tradition, just as much as Shivalingappa is. Seeing this work, seeing where it succeeds and, especially, where it fails, begs a certain activation and investment from any truly engaged observer.
"How is this person telling the story? Right now, in the present moment," Mac asks. He proposes one set of possible answers. The others are up to us.
For more about Portland arts events, visit PoMo's Arts & Entertainment Calendar, stream content with an RSS feed, or sign up for our weekly On The Town Newsletter!