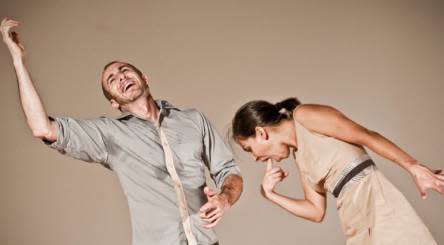 I'm not sure what the capacity of The mOuth at Zoomtopia is, but I'm pretty sure we were way beyond it for tEEth's Home Made last night. And I can't even tell you how long the lines were to get into Ten Tiny Dances. Well, I probably don't have to; chances are, you were there along with everyone else in the city. It was a lovely night at The Works.
One of the things I love about tba is how much excitement PICA seems to build around this festival each year. "Community outreach" and "engagement" and all those terms always make me throw up a little bit in my mouth. But tba and Portland seem to have (and correct me if I'm wrong, I'm just a tourist here) a really good, unforced relationship going—especially compared to a city like New York, where the density of cultural offerings tends to lead to stratified audiences.
So, well … I'm sure lots of the folks crammed into The mOuth for tEEth (is there some strange oral/capitalization fixation happening in Portland?) loved it.
I was not one of those folks. I've been hearing a lot of buzz about this troupe in recent months, including a positive prior review from Anne Adams on this very blog. This was my first time seeing the work, and I felt utterly shut down by it. The duet was dishearteningly cliché-laden in its depiction of the paradoxical thickets of emotions and impulses individuals must navigate within intimate relationships. Manipulation, vulnerability, tenderness, violence, silliness, alienation … check check check. Nudity. More nudity. Yelling and screaming and nonsense talk and a little more nudity. Messing around with microphones. And then some polished dance technique.
This is an utterly reductive encapsulation. It is not a happy thing to write. The only thing I can say is that Home Made struck me as utterly reductive in its encapsulations of the human experience. It was not a happy thing to watch.
For more about Portland arts events, visit PoMo's Arts & Entertainment Calendar, stream content with an RSS feed, or sign up for our weekly On The Town Newsletter!