Mudroom
The Lost World of Gus Van Sant's My Own Private Idaho
Twenty years later, Gus Van Sant reflects on My Own Private Idaho's vanished city of flophouses and hustlers.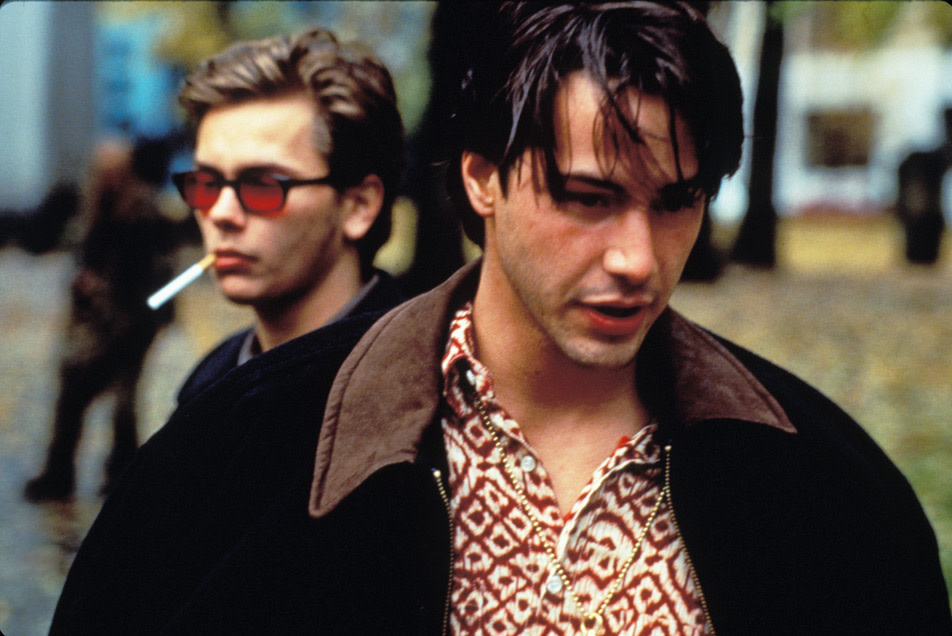 TWENTY YEARS AGO this month, an idiosyncratic film by a gay 39-year-old director opened on exactly two screens. My Own Private Idaho reflected life on the cheap. Gus Van Sant made his tale of homeless Portland street hustlers for just over $2 million, and shot his male leads, Keanu Reeves and River Phoenix, in a palette of urban grime and porn-store neon. Grainy title cards signaled changes in location. Just to add odd epic grandeur, Van Sant wove Shakespearean dialogue and plot (mostly Henry IV) into the story.
Perhaps predictably, Idaho won critical acclaim but made just $6 million. The film endures, however—in part because of the tragic-iconic Phoenix, who died in 1993. In 2005, the Criterion Collection added Idaho to its line of definitive art-house DVDs. In 2010, actor James Franco sifted through Van Sant's raw footage to recut his own versions of the film.
To a Portlander watching two decades later, My Own Private Idaho is most striking as a vision of a vanished bohemian city. Van Sant's half-condemned landscape of questing rent boys and itinerant prankster-kings is hardly visible beneath today's downtown, where youthful "creatives" tap iPads at Prohibition-esque cocktail bars and homelessness seems anything but romantic. Reeves's and Phoenix's flannel-clad apparitions might wonder where to cruise for johns, but they could sell their wardrobes at vintage stores for hefty sums.
Van Sant himself—now 59 and fresh from the release of his newest Portland-shot film, Restless—says that even at the time, Idaho was intended as an ode to the past. "It was more about the '70s than the '80s or early '90s," he says. Cobbled ?together from architecture and urban legend, the film's Portland is a distorted landscape infused with uncanny touches. The heroes have free rein of boarded-up flats: an amalgamation of the Lotus Card Room, the Widmer brewery on Interstate, and the then-derelict Governor Hotel.
In Idaho's first image of the city, Reeves coddles a narcoleptic Phoenix at the base of Lownsdale Square's inimitable elk fountain—but the elk carries a weird elfin rider. ("We painted one of our production assistants green, and put him on top," Van Sant says.) The engraving at the base is also changed to "The Coming of the White Man," an inscription lifted from a Washington Park monument known, in the '70s and early '80s, as a marketplace for late-night male company.
This mashed-up cityscape reflects Van Sant's diverse influences: Portland gave him a setting that coalesced early scripts inspired by Hollywood Boulevard and John Rechy's '60s book City of Night. "There was this whole scene that the police sort of overlooked," he says, "a lot of boys walking up and down streets." The intersection of SW Third and Taylor was a nest of porn stores, video arcades, and male prostitutes. The hustlers called themselves Camp Kids—a holdover from the Depression, when a homeless camp occupied a nearby block. "The camp was a place where West Hills guys picked up young men," says Van Sant. "They would take them away, then drop them back off at the camp."
Van Sant feels that today's Portland reflects "a desire to push the underbelly somewhere else." Still, the city's most famous filmmaker says Portland's fringy past has simply been replaced by different brands of transcience.
"If you come to Portland to work at an ad agency for three months," he asks, "is that different than working at a cannery for three months?"