Out and About
Documentation of Home Life
Nikki McClure is a DIY maven, but her art is museum-worthy; see it at the Museum of Contemporary Craft.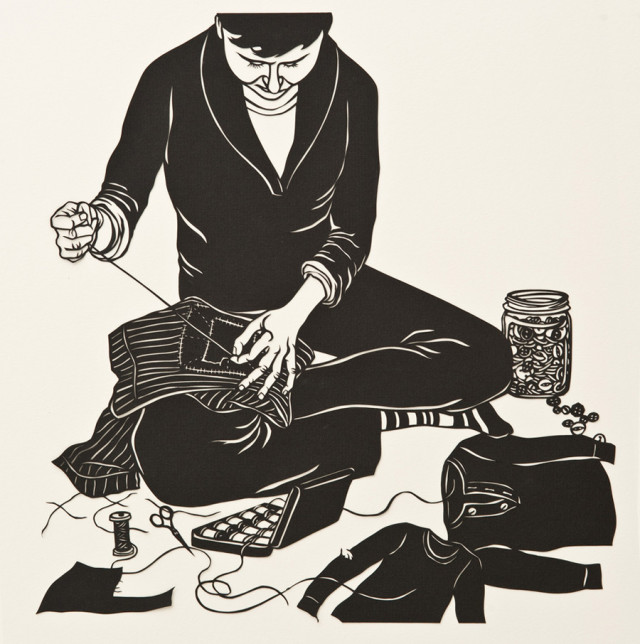 In some ways, Nikki McClure is the poster child of DIYers, but the DIY part of her story might be a distraction from the beauty and power of her art. Yes, she makes art that is accessible to all and regularly hangs in people's kitchens – her annual calendar, which she's done for the past dozen years. She's self-taught, starting out in the free-wheeling 1990s Oly,WA scene, home of Evergreen State College, K Records, and (back then) Riot Grrrls making music.
And yes, she has worked long and hard to develop her unique talents, gradually gaining recognition from the grass roots up, by word of mouth and the pure artistry of the humane visual art she makes. Her artistic technique? She cuts paper with an x-acto knife. Simple, right? Anybody can cut paper. It's totally DIY-able.
But more broadly, what she does is depict and record home life, expressing its simple and timeless pleasures, in ways that many of us can relate to, if wishfully at times. She also helps us record our own home lives, with her books on a child's first 1000 days, cooking at home, and other humble, universal activities.
It is great to see that a mainstream museum has mounted a retrospective of 15 years of her work. The museum is here in Portland, not far from what is still her home base, about 110 miles north up I-5 from here, in Olympia, Washington. The Museum of Contemporary Craft exhibit continues through October 29. McClure's depictions of harvests and home chores seem especially well timed for autumn viewing.
Her by now well-known annual calendar is both timely and timeless. It used to be you had to search it out (off the beaten track places like Reading Frenzy and In Other Words were dependable sources). When I saw it at New Seasons a few years back, I knew she'd arrived. I've got stacks of her old calendars, or at least certain pages of them, in my future-projects-files. Somehow, I can never throw the old calendars away. They beg to be reused as wrapping paper, stationery, framed artwork, gift tags…
About the first calendar she produced, in 1998 (she printed it at Kinko's), she says, "I focused on things that could be foraged for during each month. It provided direction plus I liked the idea that it would be utilitarian. A calendar also ends up in kitchens and I like thinking of all the kitchens they are hanging in and all the goings on and good food they are witness to…"
She is so right. Always the new calendar goes in my kitchen. Flipping the page to a new month is a ritual of my family home life, and I thank her for helping me appreciate that life.