vox populi
Occupy Portland: Read The Signs
On the first day of an indefinite "occupation" of downtown Portland, here are some messages that protesters wrote on their placards.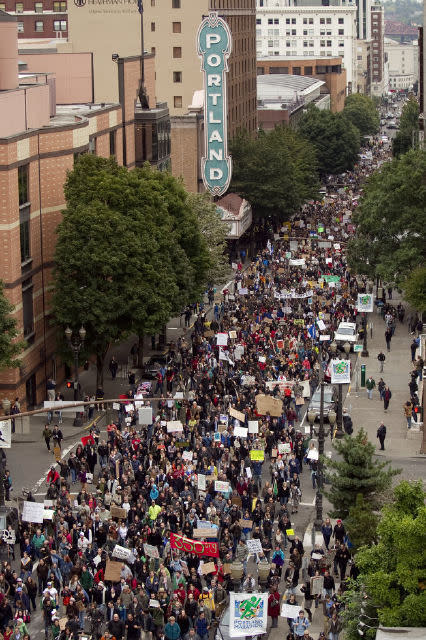 We heard it was coming, from the internet, phone-pole flyers, and even the office of Mayor Sam Adams: a Portland protest in solidarity with the Occupy Wall Street movement. By noon, helicopters were circling the waterfront as a large crowd carrying placards began to converge for a march that sojourned at Pioneer Square and then processed through the city. By 4pm, an estimated 10,000 people* reassembled around Lownsdale Square and revealed plans to move to Terry Schrunk Plaza and set up a long-term occupation site.
Organizers huddled against a statue pedestal and delivered their intended message in two- to five-word sound bytes, pausing after each phrase so the massive crowd could repeat their words a few times. This epic game of "telephone" allowed most of the audience to catch roughly half of what was being said, but phrases about unity and fairness won the biggest cheers. The organizers also hinted that they were in talks with official factions of the city to facilitate the peaceful protest, a sentiment that echoed Sam Adams' statement earlier today: "I support Portlanders in their right to protest and exercise free speech rights, and I encourage all who participate to do so peacefully and with respect to the rights of others." Adams also met up with the march and walked alongside protesters for a block or so as they passed City Hall. Later, city officials forbade the occupation of Schrunk and threatened arrest, but conceded that the demonstrators could remain in Lownsdale overnight.
In the shadow of this oversight, protest organizers aren't taking any chances. They've announced a phone number to call in the event of assault or arrest, and repeatedly begged the crowd to remain peaceful and stay on the sidewalks or in the designated occupation areas.
Culturephile has never seen fewer frills at a Portland parade. The city that usually loves to "Keep It Weird" seems determined to keep this event no-nonsense, and at the time of this post, there's hardly an offleash dog or a zany hat in sight. Portland, you seem to mean business today, and in honor of your effort, Portland Monthly cedes the floor to your sometimes differing, sometimes dissident—but largely overlapping—political views.
The following statements have been transcribed from placards designed by members of a public protest. While they are in no way intended to reflect the opinions of Portland Monthly or its parent company, Sagacity Media—they do represent individual voices from the multitude at today's Occupy Portland event.
SIGNS

:
THIS IS OUR VOICE, THE VOICE OF THE PEOPLE
STOP FORECLOSURES
TAX THE RICH
I'M JUST HERE FOR RADIOHEAD
REVOLUTION
WHOSE SIDE ARE YOU ON? THE RICH, OR THE REST OF US?
WE THE PEOPLE; TOO BIG TO FAIL
AMERICA, STOP PAYING CRIMINALS TO STEAL FROM YOU [BANK LOGOS]
FIGHT GREED
CAPITALISM IS A PYRAMID SCHEME
GREED RULES A NATION OF FOOLS!
THE JERK STORE CALLED; THEY'RE OUT OF CEO'S [SEINFELD REFERENCE]
THEY TOOK OUR JERBS [SOUTH PARK REFERENCE]
STOP THE WAR ON WORKING PEOPLE
DEBT IS SLAVERY
END CORPORATE PERSONHOOD
WALL STREET GAMBLERS CRASHED THE ECONOMY, NOT AMERICAN WORKERS
YOU'RE AFTER THE WRONG GOLD
STOP FUNDING ISREALI APARTHEID
END THE OLIGARCHY
HOLD WALL STREET RESPONSIBLE
UNF-CK AMERICA
WPA NOW! REAL REFORM
IF THE SYSTEM IS ONLY WORKING FOR 1%, THE SYSTEM ISN'T WORKING
BAIL OUT THE PEOPLE
END CORPORATE WELFARE
THE 1% CREATED THE PROBLEMS, THE 99% WILL CREATE THE SOLUTIONS
WAGE PEACE
RISE UP
NO BORDERS, NO STATES, NO WARS, NO BANKS, NO DEBT, ANARCHY
TRABAJOS CON JUSTICA
EAT VEGGIES LIVE LONGER
REMOVE THE CORPORATE REGIME
HEALTH CARE IS A RIGHT
REMEMBER MARIE ANTOINETTE?
LET JUSTICE ROLL DOWN LIKE WATERS
KNOW YOUR FOUNDING FATHERS; THEY SAW THIS COMING
DELETE THE ELITE
THE SKY IS FALLING [CHICKEN SUIT]
WORKING FAMILIES. I WANT MY COUNTRY BACK
TYRANNY ROBBED US OF OUR FUTURE
NEVER GIVE UP
AL QUAIDA IS CIA
GET $$ OUT OF POLITICS
JOB CREATOR
THE POLICE ARE PART OF US 99%
99% SOYLENT GREEN [FILM REFERENCE; DEPICTION OF DOLLARS]
CAN ORDINARY PEOPLE REALLY CHANGE A GOVERNMENT?
_
POVERTY MUST NOT BE A BAR TO LEARNING; LEARNING MUST OFFER AN ESCAPE FROM POVERTY
–
TO PRESERVE INDEPENDENCE, WE MUST NOT LET OUR RULERS LOAD US WITH PERPETUAL DEBT; I AM FOR A GOVERNMENT RIGOROUSLY FRUGAL AND SIMPLE
_
OUR LIVES BEGIN TO END THE DAY WE BECOME SILENT ABOUT THE THINGS THAT MATTER ~MLK
–
CLEARLY YOU CAN'T HEAR US, CONGRESS, SO WE CONTINUE TO RISE & UNITE
_
END FRACTIONAL RESERVE BANKING WITHOUT THE GOLD STANDARD, END THE FED, ESTABLISH FULL RESERVE BANKING OR ENABLE A GOLD STANDARD, CREATE AN HONEST MONEY SYSTEM
–
WE EVOLVE W/ THE HELP OF CRISIS



*Unofficial early estimate cited by speakers at the event.


For more about Portland arts events, visit PoMo's Arts & Entertainment Calendar, stream content with an RSS feed, or sign up for our weekly On The Town Newsletter!