Long Story [Short]
The Villain
Russell Bruner, 30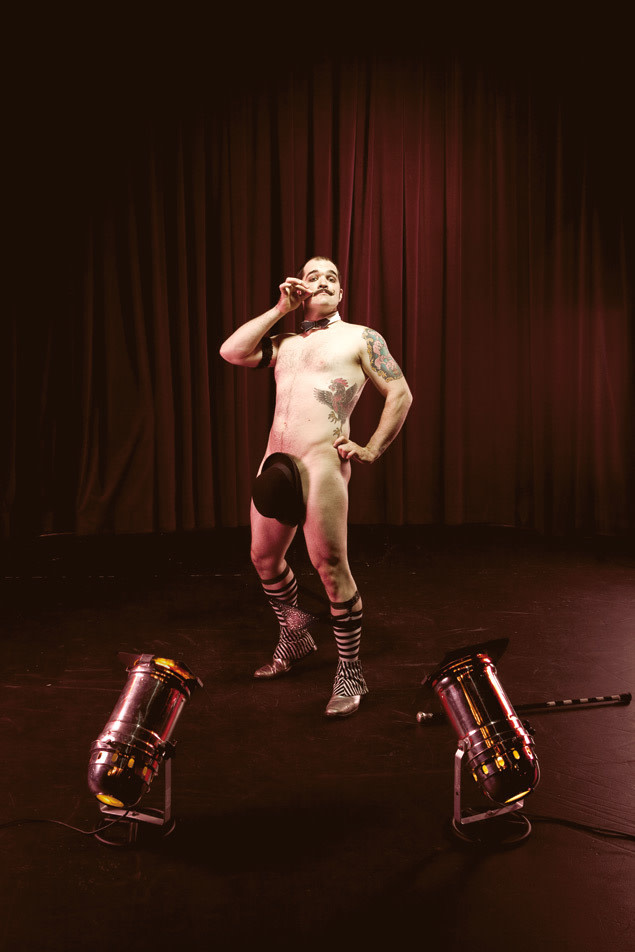 WHEN VANCOUVER, WASHINGTON, native Russell Bruner quit the high school football team and joined the cheer squad, his path to adult notoriety began. In 2006, Bruner won the Balboa Tempo Marathon, a national swing competition. But it wasn't until the Great Recession in 2008, when Bruner lost his job as an electrical designer at Intel, that his hobby became a profession. These days, Bruner plays the role of the Villain in the Wanderlust Circus and performs swing, acrobatics, and a very racy male burlesque striptease act up and down the West Coast.
As told to Georgia Perry
• • •
WHEN I WENT UP ONSTAGE for the first time to do burlesque, I thought that I was just being funny—but what I learned is that I'm sexier than I thought. Guys watching my act can catch a glimpse of how they can be sexy, too. I feel sexy while I'm up there, but I think it's all somewhat mellowed out by the fact that, even if you can't tell, it's really somewhat uncomfortable for me to have that sock on my dick.
I WAS BROUGHT UP MORMON. My family is still practicing, but I've abandoned it. I'm the one that ran away and joined the circus. If any of my brothers ever wanted to do bad things—like sneak off in the middle of the night and toilet-paper somebody's house—they knew I would think it was fun. I definitely embrace things that are wrong but right.
I'VE DEFINITELY HAD TO minimize my living situation. When I was working my "regular job" at Intel, my pockets were full, but by doing performing arts my spirits are more lifted. You're constantly in a situation where you're feeling out different exaggerations of yourself, and you find yourself in these moments where you realize who you are more and more. And then you're praised and recognized for it. I feel like I am somebody.
I THINK THAT BEING ONSTAGE is also an extension of who you really are. If you see me out on the street these days, I'll actually have a cane and a hat with me and I'll be doing various hat tricks—and I'll also be doing villainous type things as well. Pulling chairs out from under people, or attaching a dollar bill to a fishing line and watching people try to grab it. I think that stuff is hilarious.
I FEEL A BIT LIKE TOM WAITS. In his early career, he played the role of an older, washed-up character. As he got older, he just became more believably that character. Right now, I'm playing a villain. The balder I get, the older I get, the more suitable for the role I become. I imagine I could stay a villain for a while. And if that's what's in the cards I'm all for it. Or I can finish up schooling for engineering and hop back in the rat race.
I REALLY LOVE JUST PLAYING a supporting role in a burlesque show. When you watch Fred Astaire dance, he's really brilliant about the way that he showcases his partner. He's dancing with the most beautiful women in the world, and he'd be a damn fool if he thought it was his moment in the spotlight. He's just dancing, shining the light on them. Being a supplement in the burlesque shows is a blessing—these are brave women to express themselves sexually in public.
BEING AT A BURLESQUE SHOW, it is about expressions of sexuality, especially in Portland. You might see a great burlesque act and you don't even realize till the end that you're watching a guy. There's a certain comfort that you find in Portland that just doesn't exist in other places. Mormonism would say that getting up in front of people and stripping in front of them would be a bad thing. For me, being who you are and having people embrace it and accept it and enjoy it is a really powerful thing.