from the heartland
The Real Americans
Dan Hoyle has a benevolent take on his conflicted countrymen.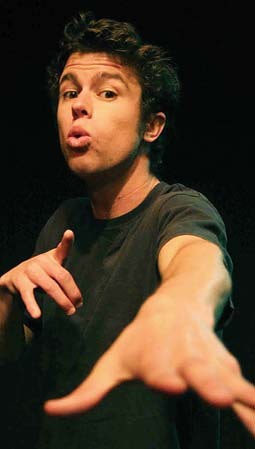 "Why is there no federal agency to combat ignorance? Why am I a stranger in my own land?" begs Dan Hoyle during an unassuming stripped-down acoustic guitar solo during PCS 's The Real Americans. The only song in an hour and a half of constantly shifting monologues, "Why?" is a ballad about the postmodern alienation that lays the groundwork for one man's quest to discover "The Real America."
In his travels from Mexico to Thailand to Africa, Dan Hoyle has met a lot of real characters—and in the tradition of shows like Eve Ensler's The Vagina Monologues, Bust, and recent TBA offering The Method Gun, his one-man show is composed of a series of impersonations of the people he's encountered. This performance style, which Hoyle dubs "journalistic theater" is essentially documentary film translated to the stage, and like most good documentaries, The Real Americans puts a human face on a universal concern: America's political polarization.
In the wake of two wildly successful prior solo shows about the world abroad (Circumnavigator and Tings Dey Happen), Hoyle returned to his native San Francisco in a funk, feeling trapped, bored and alienated by the contented indifference of the "latté liberal bubble." Between this production and Third Rail Rep's concurrent The Pain and the Itch, such angst is emerging as a popular theme. In a stressful culture of war, racism, and ever-impending economic collapse, it's still too easy to tune everything out and snuggle into a cocoon of creature comforts and entertainment diversions. Hoyle's solution? Buy a van and plan a three-month expedition into The Great Beyond, The Heartland, this reviewer's own old bittersweet home: The Midwest.
In a poignant, refreshing, and downright impressive journey, Hoyle lets his audience vicariously experience his many travels. Sleeping in yards, eating barbecue, and getting prayed for in Texas. Chatting up Vietnam vets at gun shows and Iraq vets at home. In one scene, he's a fast-talking New York Dominican at a gas stop, in the next, a memorably incomprehensible old mechanic in Louisville, Kentucky (mercifully subtitled for the audience's comprehension). These disorienting shifts are executed seamlessly with gorgeously minimalistic lighting design—stark silhouettes of an Alabama swamp, an urban street corner, a starry night—and vivid soundscapes that capture everything from the crickets of a humid Southern twilight to the chaotic sprawl of a Texas Fourth of July.
As masterful at mimicry as he apparently is at meeting new people, Hoyle introduces us to some unique, heartwrenching, and hilarious characters. While his experiences were not tape recorded, and Hoyle admits he "drew from" everyone he met—some of the characters directly portray real-life people (like the Crow family in Texas). To his credit, Hoyle steers clear of the tempting traps of sketch comedy and pity party, even when portraying downtrodden good ol' boys and outwardly racist Alabamians. Instead, he delivers a poignant love letter to the complicated nature of a polarized nation of Americans who are—mostly—good at heart.
For more about Portland arts events, visit PoMo's Arts & Entertainment Calendar, stream content with an RSS feed, or sign up for our weekly On The Town Newsletter!