film, music
Filmusik's New Silent Series
Portland's cinema soundtrack performance group tones it down a bit for Organ Grinders, a new series of silent films.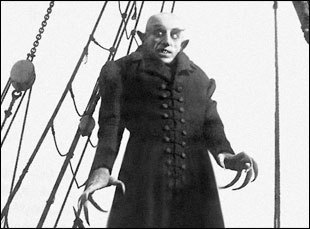 Smashing crates to bring monster attacks to life, or revving chain saws make it seem like the dystopian biker gang on screen is actually wreaking chaos in the theatre, the Filmusik collaborative routinely takes over the Hollywood Theatre with their inventive re-imagings of classic b-movie treasures.
But while their established brand of sensory overload pairs perfectly with extravagant, kitschy 60's B-movies, it may be a bit gratuitous for older, silent titles. With its new film series entitled Organ Grinders, Filmusik is pulling back on the stunts, returning to the simpler standard of the silent film era: live music. "[Organ Grinders] is harkening back to the original purpose of the movie theatre," says Producer James Dineen. "Which was to show movies and have live orchestras or musicians playing in the pit. But we're updating it for this century." Dineen worked alongside the founder of Filmusik, Galen Huckins, pairing Huckins' "encyclopedic" knowledge of obscure film with his own special expertise in the local music scene. "Portland is the type of town that can support this weird project, and nobody [was] really showing a lot of silent film."
Dineen explains his selection process is less about finding a fit for a particular film, and more about choosing artists he feels would benefit from being pushed out of the comfort zone of a regular performance. "Usually, the [artists] I'm working with are used to playing your standard set: do a song, stop; do a song, stop," Dineen says. "But with a silent film, they have to come up with this constant, ongoing sonic pallet. I try and take bands that don't really feel like they fit that milieu, to then do this." Dineen adds that he prefers the artists to choose which films they score, rather than choosing for them, which allows them to open up creatively and have as much fun as possible.
On October 14th, Organ Grinders will present a stop-motion classic: Vladislaw Starewicz's The Cameraman's Revenge (1911) , "a story of infidelity as told through the lives of insects."


Portland instrumental duo Sallo will provide the score for evening. "Sallo wanted to do something very 'left of center,' I showed them a couple of options, and they were drawn to The Cameraman's Revenge," says Dineen. "If a movie speaks to them and we can use it–great."
Ordinarily, a century-old stop-motion film starring dead insects is a bit of a hard sell, but Dineen is confident that Portland's oft-expressed love for the inventive and ground-breakingly weird will draw people in.
"By today's standards, watching this kind of stop motion animation is sort of–whatever–you can see stuff that is done way better, but this was really groundbreaking stuff for the time. Maybe one other person was doing it at the time," says Dineen. "This guy really started it all. "
Over the next few months, Organ Grinder has planned an eclectic array of pairings. A November screening of Faust will feature a score by the 1939 Ensemble, featuring Jose Medeles of The Breeders. In January, Boston-based Bent Knees will provide the soundscape to the groundbreaking German Expressionist film The Cabinent of Dr. Calligari. And in February, the Strangled Darlings will accompany the silent vampire masterpiece Nosferatu.
For more about Portland arts events, visit PoMo's Arts & Entertainment Calendar, stream content with an RSS feed, or sign up for our weekly On The Town Newsletter!