humor hunting
Portland Comedy-Goer's Guide
Let Portland's burgeoning comedy scene put a little mirth into your work-week. Culturephile wrangles together a short list of the best recurring showcases. Intro: Anne Adams Listings: Rebecca Waits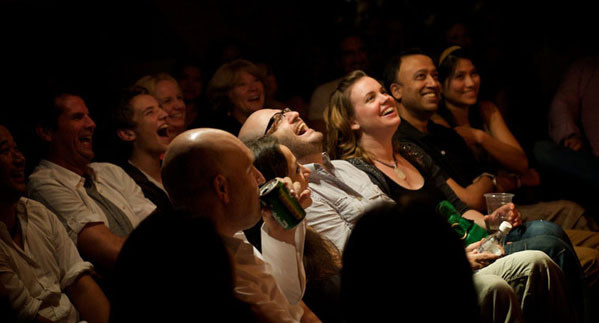 Not too long ago, Portland was a one-horse comedy town. If you wanted to see stand-up, you drifted into Old Town's brick-and-mortar laugh shack, Harvey's, to watch road hacks chew well-worn chunks of comedy cud, á la, "Women! What are they thinking?" or "Air travel sucks! Am I right?" In all likelihood, this schlock sent you clamoring home to your TiVo, vowing never to catch live comedy again.
But at some point, there was Suki's. And then there was Curious. And Bridgetown. And Helium. (And Dawner! And Blitzen!) And all of a sudden, weeknight open mics are packing in participants citywide. There's no question among comics and bookers that Portland's in the throes of a comedy renaissance—but audiences, bless their hearts, are still warming to the trend. If you've yet to seek out a good laugh at a local club, trust us: it's high time.
Before we get into the nitty-gritty, grab your sharpie and black out April 2012 for Bridgetown Comedy Festival, the can't-miss 200-act comedy juggernaut that has already hosted household names like Patton Oswalt, Margaret Cho, and Maria Bamford. (Last year, Bridgetown even unleashed a disoriented Andy Dick into the PDX streets, where he reportedly wasn't found for days. Don't hold that against them.)
Now then: To lighten the long, dreary winter slog that stands between us and Bridgetown (yet mercifully buffers us from the dangers of Andy Dick), Culturephile's resident comedy correspondent Rebecca Waits has compiled a pretty thorough list of regularly-recurring local open mics and showcases. Often cheap, usually free, and always fun, there's something in here for everyone (unless you're under 21 or a humorless curmudgeon). And if you fancy yourself funny enough, you can even sign up and try your turn at the mic! (No airline jokes, please.)
Note: Even though many of the following shows are "regular," schedules are subject to change. We suggest you use this list as an overview and confirm details with individual venues.
MONDAY
Down to Funny
Every first and third Monday
Free, 21+
East Burn, 1800 E. Burnside.
A straightforward showcase, Down to Funny features 5-7 hand-picked, organic, farm-raised performers who each do 10-20 minute stand-up spots. A reincarnation of Beauty Bar's "A Lukewarm Mess" showcase, this amusing array of comics is a great way to laugh off your Monday blahs. Plus, it's free! Hosted by Katie Brien and Danny Felts.
Boiler Room Open Mic
Every Monday
9pm. Free, 21+
The Boiler Room, 228 NW Davis St, 503-227-5441.
This downtown mainstay is always a trip. Surprise guests tend to include ambling Chinatown folk, such as homeless dudes selling weird trinkets and drag queens waiting around to sing Tina Turner at Karaoke, which starts at 11 after the mic. Touring headliners sometimes stop in here to do a quick set.
Signup protocol: Send host Kevin-Michael Moore a facebook message the day before or day of to request a spot on the list. Hurry, as this mic is popular and fills fast—the show is now capped off at twenty performers.
TUESDAY
Helium Comedy Club Open Mic
Every Tuesday
8–10pm, Free with 2-item minimum, 21+
1510 SE 9th Avenue, 888-64-FUNNY
Portland's newest comedy club and most "formal" feeling comedy stage consistently boasts one of the best open mic crowds in town. Hosted by rotation, usually by established locals like Gabe Dinger, Ron Funches, Ian Karmel or Virginia Jones. Fair warning, teetotalers: Helium's vigilant staff will sweat you for your drink order every three minutes or so.
Signup protocol: Get there around 6pm to sign up, because this one's a competitive meritocracy. Many comics are eager to try out their stuff in a professional club, and not everyone who signs up gets put on. Amateurs and newbies get a 3-minute set; known headliners often get more time. The official list gets posted at 7:30.
Dante's Comedy Open Mic
Every Tuesday
9–10pm, 21+
350 W. Burnside, 503-226-6630
Dante's is like your Satanic uncle's glammed-out den, and host Rochelle Love-Cox—yep, that is her real name—always keeps things colorful, short and sweet. Plus, a live taping of the excellent sketch-improv-bizarro public access show "Ed Forman Show with ME! ED FORMAN!" follows. This is also a good option for comics who get bumped from the Helium list or just aren't ready to brave Suki's yet.
Signup protocol: Send Rochelle Love-Cox a message on Facebook by mid-day Tuesday, as the show is short and the list fills up quickly.
Suki's Legendary Open Mic
Every Tuesday
9pm, free, 21+,
Suki's Bar & Grill, 2401 SW 4th Ave, 503-226-1181
Usually, when a comedy event is described as "hit or miss", you're not talking about throwing punches….but at Suki's aptly-titled "legendary" open mic, things often get literal. Hosted by the jovial and jocular Jimmy Newstetter and faithful keyboardist Ira Novos, this weekly jokefest is infamous for Springer-style antics, both in the audience and onstage. The room may be packed with college meat-heads or filled only with other comedians. A clown may get into a fistfight with a stripper (seriously). Slurs may be shouted, groan-worthy puns may be lobbed across the plate. Regrettable decisions may be made by all parties involved. Above all else, Suki's is always an experience. Now with remodeled bathrooms!
Signup protocol: Check in with Jimmy early in the evening to put your name down. This list gets LONG, so order something cheesy and a drink special, because you might be sitting around for awhile.
WEDNESDAY
The Weekly Recurring Humor Night!
Every Wednesday
9pm, pay what you will ($3-5 suggested donation), 21+
Tonic Lounge, 3100 NE Sandy Blvd.
What's that? A night of humor that, in fact, recurs weekly? With a vague dinosaur-and-unicorn theme? Sign me up! Hosted by the sparkly-eyed and sharp-tongued priestess of puns, Whitney Streed, this evening might include music, sketch, or other surprises in addition to stand-up sets from locals of all ilks. True comedy warriors will wait it out until the drunken improv games that usually "wind things down". An open mic follows this pre-booked show.
THURSDAY
Funny Over Everything (formerly known as "Cheap Date")
Every month (usually), dates differ
Hollywood Theatre
$6-10, 21+
Hosted by Ian Karmel, Sean Jordan and Shane Torres, this well-crafted showcase features excellent headliners from the Pacific Northwest and beyond. Has hosted performances from Moshe Kasher, Ron Funches, Timmy Williams and more.
The Smutty Clown
Every Second Thursday
10pm, Free, 21+
The Saratoga Bar, 6910 N. Interstate
Regular comedy nights not "blue" enough for ya? Promising "fine performances of the comedic persuasion," The Smutty Clown is Portland's newest—and dirtiest—open mic comedy night. At each showcase, a $40 bar tab will be awarded to whichever comedian the audience deems most worthy/filthy. Dirty improv games follow. Hosted by Whitney Streed and Sterling Clark. For November's installment, come early at 8pm and enjoy a new comedy event, CHAD Chats : Satirical Presentations on Various Important Things (a la the popular Internet series TED talks).
Signup protocol: Show up at 9:30 and get your name on the list.
Open Court (improv)
First and Third Thursdays
8–9:30pm, $5 donation to play or watch
Curious Comedy Theater
5225 NE MLK Blvd.
503-477-9477
Where most events are standup-centered, Open Court is an 'open mic' for long-form improv. You'll find the evening much more engaging and exciting if you sign on to perform, especially if you're looking to brush up your on-the-spot thinkin' skills.
Signup protocol: Tell the folks at the door you want to play when you show up.
Comedy At the Bulldog
Every Thursday
8pm, free, 21+
Bulldog Tavern, 1650 W. Burnside
Hosted by Brady Echerer, The Bulldog is yet another hybrid comedy event: a planned showcase kicks off at 8, followed by a late-night open mic. All sorts of locals show up here and take advantage of the cheap well drinks.
Space Room Lounge Monthly Stand-Up Showcase
Every First Thursday
9–11pm
4800 S.E. Hawthorne Blvd, 503-235-6957
If you haven't experienced the surreal alien kistch of the Space Room, comedy is a great excuse to check it out. This new-ish showcase boasts local up-and-comers, drink specials, and a kitchen that's open 'til close! Hosted by Kevin Clarke Strauser.
FRIDAY
Fly Ass Jokes
The first and third Friday of every month
10pm, $6, 21+
The Brody Theater, 16 Northwest Broadway
Portland Mercury calls Fly Ass Jokes "the best showcase in Portland." Combining seasoned performers with the best up-and-comers the scene has to offer, its a safe bet you'll have a knee-slappin' good time in this intimate but casual downtown theater.
Comedy Night at The Bagdad
Every Friday Night (usually)
10pm, $5, 21+
Hosted faithfully by Tristian Spillman, this weekly showcase is a late-night affair, which means it's perfect if you're already ambling around Hawthorne and want a fun way to cap off your evening. Around since 2005, this stage has hosted familiar national headliners like Art Krug, Susan Rice and Dwight Slade. With a new format of 5-7 comics each week (and the occasional guest drop-in), you're bound to see someone who tickles your fancy and/or funnybone. Once you get over the awkward acoustics of a booming P.A in a gigantic theater, the Bagdad's comfy seats make you feel right at home—as will the pizza, beer, and good-natured rants about the absurdity of daily life.
For more about Portland arts events, visit PoMo's Arts & Entertainment Calendar, stream content with an RSS feed, or sign up for our weekly On The Town Newsletter!