"cloud rock," indeed
Sufjan at Hollywood Theatre Tonight!
The popular indie folk star will lay low in the spotlight, performing soundtrack music for a father/son bike flick.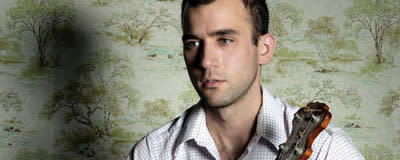 Sufjan In The House
Well, well. Between last month's James Franco appearance and today's arrival of Sufjan Stevens, it seems like The Hollywood Theatre's become quite a mooring point for film-friendly indie dreamboats. Alongside Castanets' Ray Raposa, Suf will perform a live soundtrack for Beyond This Place, a father-son bicycle documentary. At the time of this post, tickets are still available for the 9:30 showing.
The Film
We have all romanced the notion of the 'open road,' of selling everything off and living a life without constraints or suffocating responsibilities. For most of us, that idea dissipates into fantasy as the hard realities of the world snap us back. In Beyond This Place, director Kaleo La Belle places the lens on a father who was nothing but an idea, and tackles the question of how freedom and responsibility can coexist, and at what cost. The film-fest favorite documents a 500-mile bike trip Kaleo took with his whimsically-named father Cloud Rock after close to 30 years of the pair rarely speaking. La Belle, about to be a father himself, tries his best to connect with a man who's perfectly content drifting along—cloudlike—on a bike, smoking pot, dropping LSD and neglecting the responsibilities of fatherhood. Beyond This Place removes the rose colored glasses from an aging generation that grew up under the guise of peace, love and the rejection of societal obligations dictated by 'the man', to show the lack of character and connection that unchecked personal freedom can enable.
Official Trailer Beyond This Place from LA BELLE FILM on Vimeo.
For more about Portland arts events, visit PoMo's Arts & Entertainment Calendar, stream content with an RSS feed, or sign up for our weekly On The Town Newsletter!