Desirables
Temporary Beauty
Portland Art Museum lets you bring home fine art without making a long-term commitment.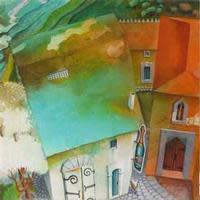 Art is such a personal thing, and purchasing an original piece can be a big step, to say nothing of spendy. And depending on your tastes, you may or may not find what you like at the local crafts fairs or galleries. The Portland Art Museum (PAM) offers another option, especially tailored to art lovers who have a hard time making up their mind.
The Rental Sales Gallery at PAM allows museum members to take art off its walls without being thieves. The gallery shows more than 250 regional artists (from Oregon and Vancouver, WA), offering some 600 original, juried pieces at any one time. The choices include two- and three-dimensional work in a range of media. Paintings, photographs, collages; oil, acrylic, watercolor, wood; and a huge spectrum of styles, abstract to photo realist.
Prices vary by artist, but range between $40 and $400 for a three-month period; a wide selection is in the lower range. If you live with the piece a while and decide life's not worth living without it, 50% of what you've paid in rental fees can be applied to purchase price. And yes, the pieces are for sale – unlike those on the rest of the museum's walls.
The Rental Sales Gallery website offers an artist directory, or you can search the catalogue by media, size, type of subject, price, or even whether it's out on loan or not. For instance, if you want to impress your relatives this holiday season with the original artwork hanging in your humble abode, rent a sweet little European landscape to hang at the top of the stairs, or an oil painting of Portland for the guest room.
Or rent for a friend who could use a little beauty in their life, by giving them the gift of a quarterly rotating regional art display in their home for the new year.
Periodically, the gallery hosts receptions and artist's talks. This Saturday, December 3 from noon to 3 p.m. Susan Cowan, Jane Pagliarulo, Walt Padgett and Kara Pilcher will be on hand; they'll speak at 1 p.m.
The Portland Art Museum Rental Sales Gallery is located at 1237 SW 10th Avenue (at Jefferson). Hours are Tuesday – Saturday, 10 am-5pm, and Sunday noon to 4 pm. Call 503.224.0674 for more info, or just drop by to browse.