among friends
Tender Loving Empire's 2011 Comp
Today, the local music and craft house releases its favorite local and not-so-local indie rock of 2011.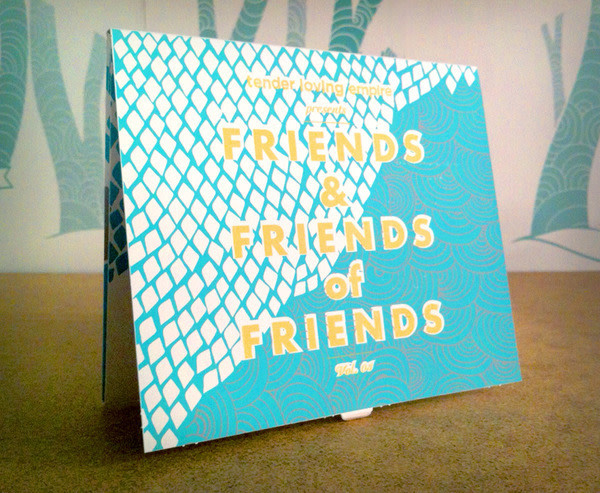 No matter how much we want to fight it sometimes, the signs of another year about to come to a close are popping up left and right. Daylight savings has passed and the creeping specter of Holiday shopping is slowly on its way. Yet, the coming of a new year doesn't always have to be about bringing us down, not when there is a year's worth of music to celebrate.
Portland's own record label/consignment shop/screen-printing studio, Tender Loving Empire, wants to help you celebrate the year in indie music with the release of Friends & Friends of Friends Vol. 4, their annual compilation featuring the best tracks to come out of our lovely little neck of the woods, and a few other well known Music Meccas, spanned over 2 discs bursting with 40 tracks.
Read more about TLE's founders, Jared and Breann Mees.
The usual TLE regulars; Typhoon, Y La Bamba, Jared Mees & The Grown Children, Radiation City, Loch Lomond, Boy Eats Drum Machine and Finn Riggins all kick off each disc featuring a laundry list of local talent (Spesus Christ, E*Rock, Ascetic Junkies). But this isn't just about celebrating our own, it's about celebrating the music, with tracks from artists as close by as Eugene (Adventure Galley and Sea Bell) to Californian acts (Social Studies, Fierce Creatures, Slow Trucks and Multineers) to far-flung friends from Asheville, NC (Tiny Mtns) rounding out the release. Ultimately, the Friends & Friends of… series seeks to connect musicians and listeners not just locally, but in every city the scene finds itself calling home.
Though the bulk of the tracks adhere closely to the label's signature sounds, some of the tracks do venture further afield, like the bouncy synth pop of Jeffrey Jerusalem's Smiling & Tender, the bluesy riffs in Agent Ribbons I'm Alright or the gritty southern-laced Americana of The Builders and the Butchers Rotten to the Core. A standout track from this reviewer's perspective is Sea Bell's Grima, a wonderful cabaret-inspired number.
The release features hand silkscreened cover art by Portland's own Sam Guerrero, and a unique pop-up packaging design by Elaine Fong (turning the cover into makeshift campsite with a pop-up tent and two guitar-slinging figures). The compilation can also be purchased online for $14.99. View the complete tracklist below.
---
Friends & Friends of Friends, Vol. 4
Disc 1
1. Typhoon – The Honest Truth*
2. Brainstorm – Forms Without a Frame
3. Y La Bamba – Abducted*
4. Wild Ones – You're a Winner
5. Jared Mees & The Grown Children – Inaudible Song II
6. Adventure Galley – Knife in the Sail (Eugene, OR)
7. The Builders and the Butchers – Rotten to the Core
8. Spesus Christ – Tits Up
9. Upsidedown Cat – Library Books
10. Social Studies – Run With Fever (San Francisco, CA)
11. Jeffrey Jerusalem – Smiling & Tender
12. Fierce Creatures – Satan Is a Vampire (Fresno, CA)
13. Lida Husik – Nuclear Soul
14. Leviticus Appleton – Swim Wheels
15. Slow Trucks – Bad Energy (San Francisco, CA)
16. Alameda – Silver Hands
17. Quiet Countries – Go To Bed
18. Sean Flinn & The Royal We- Salt That's In Our Blood
19. The Woodlands – Anymore (Heavy Hands Remix)
20. John Heart Jackie – Hook In My Arm
21. And And And – Buy You
22. Dinosaur Feathers – Please, Please George (Brooklyn, NY)
Disc 2
1. Radiation City – The Color of Industry*
2. Loch Lomond – Blue Lead Fences*
3. Boy Eats Drum Machine – Silverskate Gateway*
4. Agent Ribbons – I'm Alright (Austin, TX)
5. Finn Riggins – Parkour (Boise, ID)
6. Doctor Ew – I'm Not Mad At You Anymore (Toronto, CA)
7. Adventures! With Might – Heavy Hevvy
8. Yeah Great Fine – Rise
9. Lovers – Boxer
10. Skip Roxy – Mouth Party
11. Archers – I Forgot
12. ERock – Centrifical Farce
13. Lee Corey Oswald – Waltzes With Wolves
14. Tiny Mtns – Small Towns (Asheville, NC)
15. Soft Hills – River Boat (Seattle, WA)
16. Sweater – Sweater Employment Bored
17. Mnemonic Sounds – Keeping It Quiet
18. Pigeons – 1000 Miles
19. Campfire OK – Strange Like We Are (Seattle, WA)
20. Sea Bell – Grima (Eugene, OR)
21. Mutineers – Give It A Rest (Santa Barbara, CA)
22. Black Whales – Books on tap (Seatlle, WA)
23. Besties – Sydney Don't Leave
24. Light For Fire – NY (By The Hand)
25. The Ascetic Junkies – Thought Thief
For more about Portland arts events, visit PoMo's Arts & Entertainment Calendar, stream content with an RSS feed, or sign up for our weekly On The Town Newsletter!