Out and About
Eames: the Architect and the Painter
Charles and Ray Eames – and their innovative designs – star in this vivid new documentary.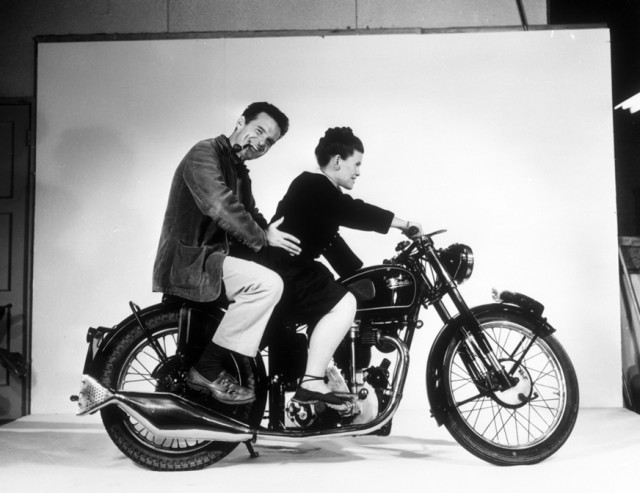 Usually we don't go to the movies in this column, but – for anyone interested in design, at least – this flick is too good to let pass by. It's a new documentary about the rightfully iconic designing couple, Charles and Ray Eames, and it's playing at the Clinton Street Theater through Thursday December 8. (If you prefer movies at home, you can watch it on OPB-TV December 19 at 10 pm, where it'll air as part of the American Masters series.)
The Eames's work, lives and aesthetic are a touchstone for countless young and not so young designers working now, and their ideas seem as fresh today as when the two were hatching them out of their warehouse studio in Venice Beach, CA in the middle decades of the last century.
Their molded plywood chair vaulted them to success in 1948 (the same year Pietro Belluschi's Equitable Building in Portland was completed), and "the architect and the painter" continued to experiment in multiple media their entire working lives. Charles died in 1978, Ray in 1988.
The architect and the painter rarely designed buildings or painted canvases, but their polymath talents and respective ways of seeing and designing made them a complementary creative couple. At their circus-busy office at 901 Washington Boulevard, they designed everything from chairs for the Herman Miller company to propaganda films (for the US government to show in Moscow in 1957, for IBM to explain computers); from toys for children and adults (the famous House of Cards) to a US Bicentennial exhibition in Philadelphia on Franklin and Jefferson.
Their home in Santa Monica (Case Study house No. 8, from 1949) is an icon of modernism with its use of industrial materials, prefabricated steel structure, and open plan. The two of them as a married couple are also an icon by now, known to us in countless images as the happy, quirky, brilliant creative team.
Yet, then and now, many of the people who would recognize their work – particularly the leather lounge chair with stool and the many variations on the plywood chair (and indeed, have probably sat in their work) – assumed that Charles and Ray were brothers.
Actually, they'd met at the Cranbrook Academy of Art, the polymath paradise of design education and practice run by architect Eliel Saarinen. Charles had already dropped out of architecture school, established an architectural practice (including a church published in Architectural Forum), married and fathered a child in his native St. Louis in 1938, when Saarinen invited him to come up to Michigan for a fellowship. Two years later, California native Bernice Alexandra "Ray" Kaiser, a painter who had trained with Hans Hoffman in New York, ventured out to Cranbrook to further her art education.
She ended up helping make models and drawings for Charles and one of his cohorts, Saarinen's son Eero, for their (winning) entry to the Museum of Modern Art's "Organic Design in Home Furnishings" competition in 1940. Charles and Ray married in June of 1941 and moved to California the next month.
The movie focuses on their work, not their personal lives, but it does address the time and place they were a part of, including the particulars of a woman designing at the time and a couple melding work and home life so thoroughly. Interviewed by the patrician Arlene Francis on her home show (in 1956, long before HGTV), Charles mentions "our" work and what "we" designed, until finally Francis says, "almost always when there is a successful man there is a very interesting and able woman behind him, and a better case could seldom be found but in Ray and Charles Eames. Come on in Ray…" and Ray comes alongside (not quite behind) Charles. (Watch the entire show segment online; it's priceless, plus they unveil – literally from behind a curtain – the now-ubiquitous Eames Lounge Chair and Ottoman.)
If you are in Los Angeles before June 3, 2012, oddly enough you can see the Eames house living room at LACMA. As part of its big exhibit on mid-century California design, the museum has installed all 1,864 items from the living room in a replica of the room's structure. They're taking advantage of the fact that the house itself is being renovated, preserved, and restaged by the Eames Foundation to reflect how the designers used it in their first years living there.
How to see the film:
At Clinton Street Theater this week through Thursday December 8 – shows at 7 pm and 9 pm ($6, except Tuesday $4). See the trailer online.
On PBS TV nationally this month as part of the American Masters series (OPB December 19 at 10 pm).
On DVD (86 minutes), for sale starting December 13, 2011.