Long Story [Short]
The Blacksmith
Darryl Nelson, 58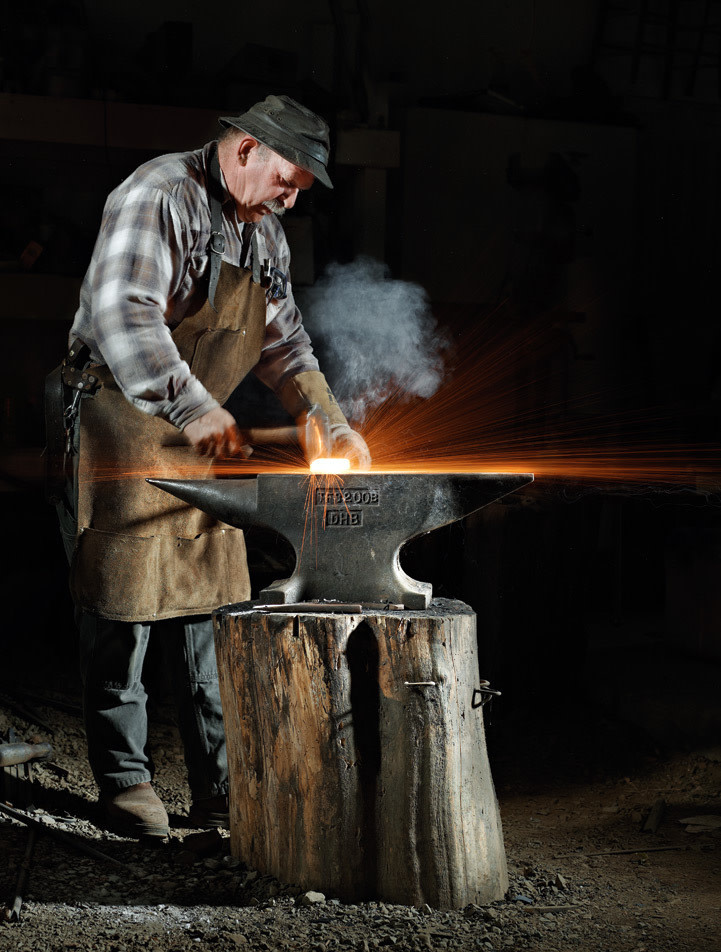 Timberline Lodge blacksmith Darryl Nelson wears his soot proudly, his calloused hands betraying 40 long years hammering at the forge. Nelson's custom ornamental metalwork, including signature ram, bear, and wolf heads, can be found all over the world, from the Oregon Coast Aquarium and the Oregon Zoo to London's Globe Theatre. This winter, 75 years after Franklin Delano Roosevelt christened a newly finished Timberline Lodge, we talked to Nelson about art, Cascadian architecture, and teaching a new generation of blacksmiths to honor the timeless craft.
PEOPLE IN THE NORTHWEST like to spend time in the mountains, and that's what they want in their architecture and art. If a student doesn't know what a bear looks like, then he's not ready for the classes I teach. You can't teach anyone what a bear looks like. I ask folks to study nature; you won't find many smiths living in Manhattan who can produce bears or rams or trilliums. We want what we see around us.
I ORIGINALLY THOUGHT I wanted to be a veterinarian. I ended up going to horseshoeing school, and in some of my farrier courses I met a guy who went to blacksmithing school as well. I had no idea such a thing as bending metal to create art existed! I was immediately taken. I spent 13 years working as an equine podiatrist while learning to become a blacksmith.
"MOVE THE METAL till the metal moves you"—that's BS, but it's a great corny thing you hear uttered by people who believe that blacksmithing must have a spiritual dimension. Lots of folks go into the arts expecting to find some kind of mystical awakening or revelation.
THERE IS SOMETHING primal and elemental about working with fire that has always attracted me. That's why I gave the name Fire Mountain Forge to my business, situated in the sunup shadow of Mount Rainier. I was born under the fire sign of Aries, and the majority of the good blacksmiths I've met have been born under one of the fire signs. I have learned there is no end to what you can do with hot metal.
AT TIMBERLINE, I never get to originate new motifs. The lodge gives me my guidelines outright. Everything in it is a product of the Works Progress Administration. Cascadian ironwork is medieval craftsman style, and that's the way I describe my work—it adds to the craftsman style a rougher finish and line that is less clean. Adze marks remain, chamfering remains. Scrolls don't fit in the craftsman or Cascadian style because they're not geometric enough. Craftsman style is about straight lines and angles.
THE WPA ARTISANS—Americans out of work, most of them from heavy industrial forging backgrounds, many of them from the shipyards and railroads—were asked to create decorative elements for the first time. The scale of their work on the great lodges and other projects seems large to us now but was probably small to them. Once Timberline was completed, Orion B. Dawson, the first-
generation smith, tried to plead with the docents and federal overseers that the older workers in his Portland shop not be let go again. They had to head back to relief lines.
TIMBERLINE IS THE FLAGSHIP of the Cascadian fleet. Everything inside was handmade: the drapes, bedspreads, throw rugs, furniture, cabinets, chairs, dressers, beds, and lighting. The scale and the grandeur of it still stuns me, the gothic arches out of stone, the huge hand-hewn timbers. We live in an age where too many things are easily discarded. It feels important to be able to make something that will last for generations. When I see my work up, it's a proud and humbling experience.