DIY
Prints Charming is in the House
Yellow Owl Workshop helps stamp out boredom over the long school holidays.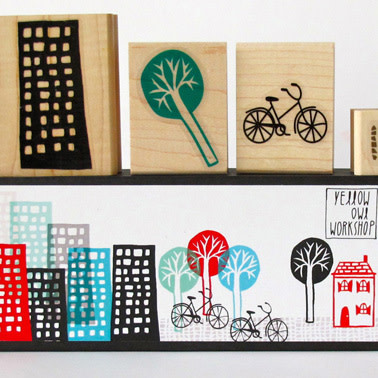 Holidays from work and school are welcome, but sometimes they can wear out that welcome. What to do when the are kids home from school and Aunt Myrtle and Uncle Lenny, in from Minnesota, are perched on the sofa wondering what to do today? One option is to put them to work stamping.
Yellow Owl Workshop makes adorable rubber stamp kits that are perfect as a gift under the tree or even before Christmas, as an activity for the kids rattling restlessly about the house or glued to your iPad. Get them onto the rubber stamps.
Cityscapes, mountain horizons, seaside, beach scenes, and circuses all have their day in the world you can create with Yellow Owl stamps. Paris, London, Italy, San Francisco, and New York are captured in economical, whimsical drawings that are like freehand icons symbolizing each city. Paris, for instance, is the Eiffel Tower plus a café table and chairs. London is Big Ben and a double decker bus. Italy: the leaning tower of Pisa and a motor scooter.
Christine Schmidt is the designing half of Yellow Owl, which is based in San Francisco. Her delightful Print Workshop book is available at Powell's, as are the Cityscape, Winterscape, and Beach stamp kits. The book walks you through the simple and satisfying art of "printing images of things onto other things."
So get some stamp sets and assign tasks: make place cards for the holiday dinner, or wrapping paper for the gifts, or have the kids be pro-active and create thank you cards to send out after Christmas – that is, if they've been good enough to get any gifts. Use textile ink to create unique t-shirts or tote bags.
At Powell's, the stamp sets (with five rubber stamps) are $30, ink pads $4.50, and the book is $20. Yellow Owl's website has a full selection, including the city stamps ($12), printed cards and boxed "correspondence sets." Anyone can be an artist, or just print like one.