ashes to ashes
Eulogy for The Woods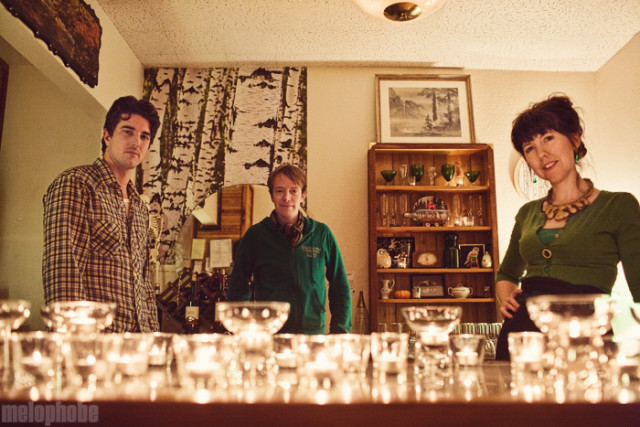 This Friday is your last official chance to mourn the loss and celebrate the life of former Sellwood funeral home The Woods, a venue that's spent the last 3 years putting Portland club-goers on their best behavior. Opened by Loch Lomond's folk troubadour Ritchie Young and friends, a space that had previously hosted myriad memorial services gradually transformed into an old-money parlor atmosphere fitted with claw-footed antique furnishings, twinkling candlelight and sensitive staff. Unique as a classy mid-sized club that was neither Danish modern sleek (Doug Fir) nor swing-dance centric (Secret Society), The Woods created a niche for post-hipster, grown-up, even dressed-up* events like the kitsch Bingo & Bourbon, the lively retro Soul Night, the uncannily star-studded Baby Ketten Karaoke, and recently, the avant garde All Night Dance Party.
Cult celebrity visits are also legendary: Robyn Hitchcock favoring a capacity crowd with some of his songs while sipping a cup of tea at the piano, Fred Armisen lobbing his quirky jokes through the high-ceilinged room, and Sean Lennon reportedly raving about the ambiance while playing the space with his band Ghost of a Saber Tooth Tiger. But apparently an era is ending, ground to a sudden halt by reported rent disputes and managerial schism.
"The Woods is my favorite venue in town," lamented The Mercury's Ned Lannamann last month—a sentiment echoed by his colleague Alison Hallett as well as this reviewer.
Bingo & Bourbon host Brian Perez was reportedly reduced to tears at his final Woods event this Monday. Upon early whispers of possible closure, he'd expressed a fleeting wish that antique architecture conquistadors McMenamin's would buy the business out and keep its doors open—but such salvation wasn't in the cards. "I owe it all to the Woods," said another regular event host Scott Magee, aka DJ Cooky Parker, who started his popular soul nights at the space and will close the club spinning his record collection. "Please join me tomorrow night, where we can dance all night and say goodbye together."
The Woods is survived by three co-managers, Vivien Lion, Yoni Shpak, and Ritchie Young, as well as a cadre of displaced revelers in search of a new local haunt that will half as readily inspire them to shine their shoes.
*Dressed-up by Portland standards, meaning button-ups, skirts and/or dress shoes.
For more about Portland arts events, visit PoMo's Arts & Entertainment Calendar, stream content with an RSS feed, or sign up for our weekly On The Town Newsletter!