Road Trip
Weirdness Carolina Style
Portland isn't the only city keeping it weird.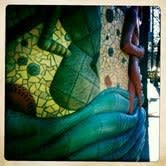 Here in Portland, we pride ourselves in being weird, but of course we don't have a patent on that precious, perfect weirdness. Most of us know that Austin is weird, but have you heard about Asheville? (Not Ashland, OR, but Asheville, NC.) As far as North Carolina is concerned, or even the southeast in general, Asheville Is quite clearly located on the Portland to Austin axis of willful weirdness. Which is meant as a compliment.
The weirdness in western Carolina goes back a long way.The city of 83,000 is a stones throw from the town of Black Mountain, where the famously pioneering Black Mountain College operated from 1933 until 1957. The school was founded by a refugee from nearby Rollins College, John Rice, who wanted to create an interdisciplinary, community-based alternative to the typical post-secondary school education. Some of the first instructors were refugees from Hitler's Germany: Josef and Anni Albers left the Bauhaus and were hired to teach painting and textile design, respectively.
The new college was an experiment with "education in democracy." It thrived through the mid-20th century, with teachers and students from all disciplines in the arts. Merce Cunningham formed his dance company while he was on the faculty at Black Mountain in 1953. Buckminster Fuller designed and built the first geodesic dome on the college grounds while in the late 1940s while he taught there. John Cage staged his first "happening" at Black Mountain College.
While the college itself folded in 1957, its spirit lives on in several alternative colleges inspired by it and founded since then, including UC Santa Cruz and Evergreen State College. And the town of Asheville keeps alive the heritage of those innovative artists in many ways, from its lively River Arts District to the exhibits and performances held at the Black Mountain College Museum and Arts Center in downtown.
Find out more in the PBS documentary about Black Mountain College in its American masters series, and'/or read the book published by MIT press.