play it cool
Review: West Side Story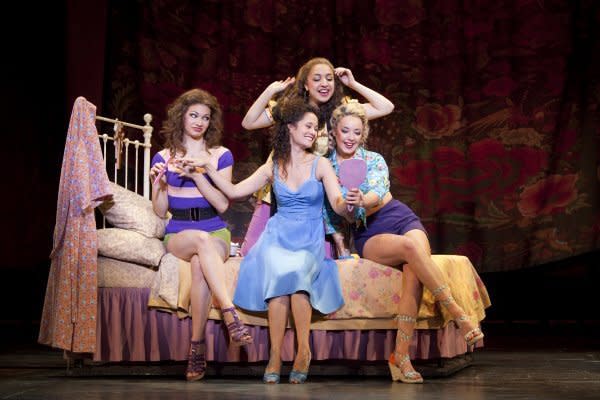 We all know the story: Maria and Tony love each other, the Sharks and the Jets hate each other, and it all culminates (like the Shakespearean tragedy it reprises) in a handful of regrettable deaths. Yet remarkably, this Romeo & Juliet redux has maintained its popularity for half a century, thanks in large part to its glorious Bernstein/Sondheim songbook that people literally still sing all the time. Girls named Maria are frequently regaled with their namesake song "Maria," "There's a Place for Us" remains a standing anthem for a legion of misfits, and "One Hand, One Heart" is practically as common as Canon in D at weddings. (And let's not overlook the occasional embarrassment of hearing a primping woman burst into "I Feel Pretty.") On merit of the material's popularity alone, this year's Broadway production of West Side is sure to hammer the heartstrings.
That said, there's room for improvement, thanks in large part to a recent production of Billy Elliot upsetting the Broadway bell-curve. Where Elliot tore into the politcally-relevant topics of gay pride and labor dispute with razor-sharp political teeth, West Side doesn't hook into its parallel opportunity to address the immigration debate with quite the same veracity. The choice to go with the bilingual 90's rewrite of the original script is a step in the right direction, legitimizing the Puerto Rican characters as realistic Spanish-speakers, but under-enunciation in both languages ultimately compromises Sondheim's witty political commentary, especially during critical number "America," while arcane 50's gee-whiz vernacular is delivered sans modern spit, keeping the narrative firmly rooted in a bygone time and place. Maria's "I can kill now because I hate now" is the sole line that pierces through the quaintness of the past with heart-stopping significance.
Realistic casting has always been a stumbling block for Story; famously saddled with the challenge of presenting "gangsters" who also gracefully jazz-dance, the play delivers more of the latter than the former. Lead Jets Riff (Drew Foster) and Tony (Ross Lekites) could borrow a little more attack from the world-class 10-year-olds who did Elliot 's "angry dance," or from their pugnacious costar Action (Jon Drake). Lead Shark Bernardo (German Santiago), however, brings plenty of fuego to his gang, and ensemble Jets numbers (especially the sans-Riff "Officer Krupke") are refreshingly ragtag. Anyway, the implausibility of dancing gangsters is arguably part of West Side's kitschy fun, even lampooned in the late 90s by a few winking GAP ads.
While the cast's synchronized snapping mostly remains tongue-in-cheek, scenic designer James Youman's sets are seriously stunning and realistic. Drenched in sunset mauves, crisscrossed with chainlink, bars and bridges, they pop with a presence that feels as much Eastside industrial Portland, as West Side New York. It becomes relatively easy to imagine the Jets and Sharks rumbling right under the Morrison Bridge, somewhere in the concrete badlands around the Montage—with varying gangster intensity, but a unified devotion to these timeless, treasured songs.
For more about Portland arts, visit PoMo's Arts & Entertainment Calendar, stream content with an RSS feed, or sign up for our weekly On The Town Newsletter!