LEGENDARY
The Lion's Song
Nearly a decade ago, Afropop legend Thomas Mapfumo fled Zimbabwe for Eugene, fearing retribution for his songs blasting government repression. Now the iconic singer is reemerging with an ambitious album recorded in the heart of the Willamette Valley.
AFTER A LONG DAY AT THE RECORDING STUDIO, Afropop superstar Thomas Mapfumo sometimes likes to swing in to an unremarkable teriyaki joint in a strip mall on the southeast edge of Eugene, his home in exile for the last decade or so. Ron's Island Grill is all but empty when the 66-year-old Zimbabwean singer makes his way toward the brightly lit counter one winter night. He wears big sunglasses, a natty topcoat, and faux-alligator-skin shoes.
Just weeks earlier, Mapfumo and his band, the Blacks Unlimited, had played a much-anticipated concert in Bloemfontein, South Africa. Thousands of fans came from all over Africa for the rare chance to hear the "Lion of Zimbabwe" perform on his home continent. The chimurenga music—which translates roughly to "the music of struggle" and which Mapfumo essentially invented 40 years ago—is deeply connected to the decades of upheavals in Africa, especially those in his native Zimbabwe. But it's hardly depressing. Mapfumo's arrangements generally pair the syncopated rhythms of one or more thumb pianos, a high-spirited traditional Zimbabwean instrument, with keyboards, drums, congas, guitar, and lyrics anchored in the vernacular of freedom fighters. Sung largely in his native Shona language, Mapfumo's songs are political but ambiguous, decrying corruption or praising justice generally without naming names. 
"He has been the most popular and significant singer in Zimbabwe, with one sensation after another, from 1975 to pretty much now," says Banning Eyre, senior editor at the National Public Radio program Afropop Worldwide. "He's one of the greatest, most iconic musicians living in America."
Yet every day he passes living outside Zimbabwe, Mapfumo becomes less and less relevant to his fans back home. And here in the US, he risks retiring straight into the pages of world-music textbooks. Mapfumo hopes to change that. From his perch among the firs and fog of Eugene, he's aiming to build momentum with his new album, World on Fire. Set for release this spring, it is an ambitious attempt to attract more fans. Most significant, in a departure from previous albums, this one will be sung predominantly in English, providing an opportunity for Americans to hear, in real time, what this beloved rebel has to say about the world today.
Tonight, though, at Ron's Island Grill, he's not exactly feeling the love.
"Can I help you?" the counter girl asks, more focused on the dozens of thimble-size plastic cups she must squirt full of teriyaki sauce before shift's end.
"Yes," says Mapfumo. "I would like Ron's Sweet Curry."
"I can't hear you," she says.
"I would like the number 11, please."
A friend of Mapfumo's politely asks the girl if she knows that this man ordering the number 11 is a legend.
She sets down her squirt bottle, looks at the vast spread of tiny cups, and raises her tired eyes to him.
"Do you feel famous?" she asks.
IT'S A FAIR QUESTION. Although Afropop has been rising in popularity since the '90s (witness the recent Broadway hit Fela!), Mapfumo remains little more than a cult hero and world-music staple in his adopted home country. Over a 40-year career, Mapfumo has released more than 40 albums (even he has lost count). He's shared a stage with everyone from Bob Marley to the Kronos Quartet. Today, Afropop-influenced indie bands like Franz Ferdinand, Tune-Yards, and Vampire Weekend admire Mapfumo's sophisticated arrangements. (Merrill Garbus of Tune-Yards used to include his music in radio DJ sets.) And equally hip record labels, such as Analog Africa, expend great effort to unearth early "forgotten" recordings connected to him.
But unlike Marley or Benin's Grammy-winning Angélique Kidjo, Mapfumo has not crossed over and become anything like a mainstream hit maker. Since leaving Zimbabwe for good eight years ago, he has released two albums in the US, both of which met with minimal commercial success, and the man who once played for 100,000 people now might draw US crowds of 1,000. He does not, as he told Ron's counter girl, feel famous.
This is a new position for him.
Raised on a rural farm in the British colony of Rhodesia, Mapfumo was 20 years old in 1965 when a white man named Ian Smith seized control of the colony and declared it an independent nation—made up of mostly blacks but run by and for whites. Mapfumo's fellow natives and Shona tribesmen responded by taking up arms against the illegitimate racist prime minister; Mapfumo grabbed the mic.
Like virtually every semiprofessional bandleader in Africa at that time, he relied heavily on popular "copyright" songs—hits by Otis Redding, Sam Cooke, the Rolling Stones. But in 1969, the supervisor of a remote copper mine hired Mapfumo and a handful of other ragtag musicians to play for employees in the canteen on weekends. The Hallelujah Chicken Run Band, as it was called, quickly exhausted its set list and began to search for its own musical identity. They found it, during the heady days of the early liberation struggle, in the thumb piano, or mbira, an ancient and sacred wooden box with plinky metal springs that tribesmen used to summon the spirits of ancestors and guardians.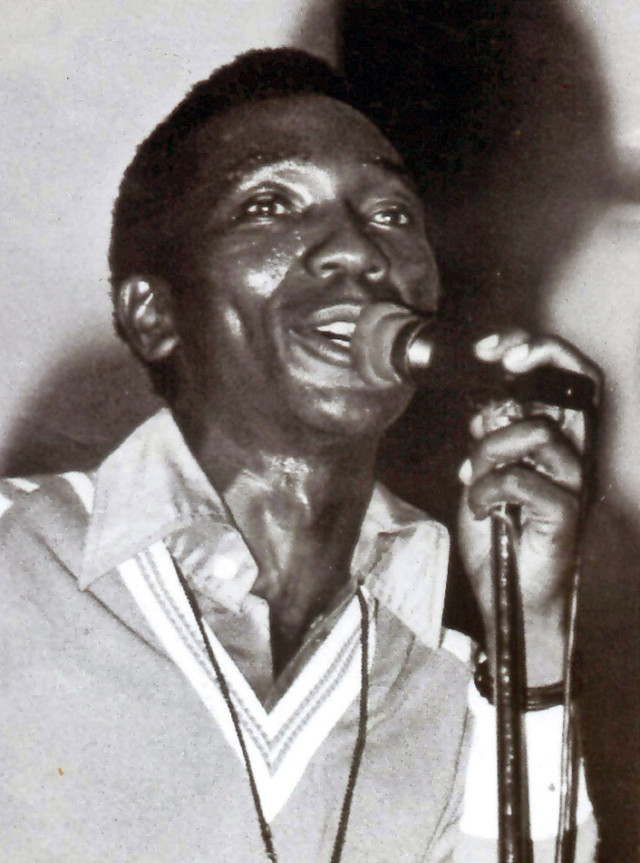 "The mbira is like the bagpipe to the Scottish people," says Gilbert Zvamaida, Mapfumo's electric guitarist, "or maybe the relationship is even deeper than that."
The band first used an electric guitar to play a traditional mbira song, a farmer's melody called "Ngoma Yarira." Listeners were delighted, at least partly because the 12/8 guitar rhythms were, in the words of one critic, "so precise and intricate that listening to it is like watching someone knit lace." "Ngoma Yarira" became the A-side track of Mapfumo's first single.
The B-side track on that single proved equally central to his new identity. On "Murembo," or "Elephant's Tusk," Mapfumo took a traditional melody, shuffled the music a bit, and added a few of his own words. "All the children have perished / The war has come," went one of the phrases. Released on Teal Records in 1974, the record became a hit—and the combination of political lyrics with tradition-tweaking music became Mapfumo's signature chimurenga style.
"That is where it really started," says Mapfumo. "What gave the music a lot of support was the struggle itself."
Here in the States, though, there is no such comparable "struggle" from which to draw support, making the odds that Mapfumo crosses over from a world-music standard to a big-time hit maker rather long. Few African musicians make the westward crossing. Never mind the struggles of the music business in general: fans of so-called world music tend to embrace exotic rhythms and instruments, and the escapism provided by not understanding the lyrics. Fans of commercially popular music expect a band to mirror their very American feelings and thoughts, without any weird accents. Between those two lie smaller fan bases, and a deep, dark void that can swallow a career whole.
MAPFUMO HAS CERTAINLY FACED TOUGHER STRUGGLES. By the mid-'70s, his celebration of the ever-bolder freedom fighters had become wildly popular with the people of Zimbabwe. But the Rhodesian government despised anthems like "Mothers, Send Your Children to War," a call for new recruits to the revolution.
First, the Ministry of Information outlawed his music on national radio. When that didn't quiet him, officials jailed Mapfumo for three months. Lastly, in a desperate attempt to co-opt his message, they blared his songs from the loudspeakers of helicopters that bombed rebel camps.
It didn't work. In April 1980, Mapfumo and Bob Marley shared a stage in capital city Harare's Rufaro Stadium, playing to a crowd of 100,000 in celebration of the new democratic Republic of Zimbabwe. "Thomas Mapfumo embodied the seven years of struggle," writes Frank Tenaille in Music Is the Weapon of the Future: 50 Years of African Popular Music.
Independence, though, proved a false summit. By the late '80s, the cycle rebooted. The bespectacled "president" Robert Mugabe was already on the road to perpetrating the flagrant injustices that would spur Parade magazine to rank him as the world's worst dictator in 2009: rigging elections, jailing homosexuals, allowing unemployment to peg 85 percent while plumping his coffers with profits from steel exports.
Mapfumo spelled out his growing disillusionment in no uncertain terms. "People, there is corruption" he sang in the 2000 hit "Disaster." "People, there is corruption here." Unsurprisingly, police raided kiosks in the markets of Harare and destroyed Mapfumo's albums, and Central Intelligence Organization agents threatened to beat Mapfumo if he played protest songs in concert. His family—Thomas and his wife, Verna, son and daughter Tai and Chiedza (then teenagers), and daughter Mati (then a toddler)—no longer felt safe.
In 2000, the family boarded a plane out of Zimbabwe.
At the encouragement of a friend in Eugene, the Mapfumos relocated to the home of the fighting Ducks.
"We did not need to see more tall buildings," Mapfumo says. "We needed a quiet place where the kids could go to school."
Moving didn't end the harassment, though. In 2001, the administration accused Mapfumo and Verna of involvement in the alleged theft of several BMWs; conviction of a similar crime had earned fellow Zimbabwean musician Simon Dendera four years behind bars. Still Mapfumo continued to visit Zimbabwe.
But in 2003, the government stepped up its arrests of real and supposed dissidents, including five Lutheran aid workers: two Germans, a Finn, an American, and a Kenyan. Mapfumo became uneasy about his visits. "You don't know who's gonna do something bad to you because there's no rule of law in Zimbabwe," Mapfumo reflects. He made a final trip to Zimbabwe in the spring of 2004 and hasn't been back since. 
WITH MOST OF THE FAMILY AWAY ON vacation in California, Mapfumo has their rental house in Eugene to himself.
He and his 59-year-old brother, Lancelot, who plays keyboards and congas, watch a European soccer game in the living room of the four-bedroom split-level home perched high above town. Guitarist Zvamaida cooks, as always. An ashtray sits on the coffee table; a pool table dominates a nearby room. Three aging rad-mobiles—a dual-cab Ford F150, a British racing-green Jaguar sedan, and a teal Mercedes SL500 AMG coupe—jam the driveway.
"This is a place where you can do whatever you want, so long as you're not hurting someone," Mapfumo says.
The transition to life in Eugene wasn't easy. A late-night stranger wandered into their first home. Feeling unsafe, they moved into another house, where mold left their drummer laid up sick for months. Mapfumo's wife traded her lucrative old job as a real estate agent in Harare for caregiver in a retirement home. And Mapfumo's musical output slowed from roughly one new album release per year to just two in six years, the result of contract problems, lengthy recording sessions brought on by his own perfectionist streak, and difficulty finding and keeping savvy handlers. The first song on his last album, Exile, sung mostly in Shona, reflects on this time. "I'm always thinking about Zimbabwe, since I'm so very far from my friends and relatives," go the lyrics to "Ndangariro," or "Memories."
"He's part of a very threatened fringe of an already traumatized music industry," says Eyre. "I think he needs more help; he needs a really good manager."
Indeed, Bob Marley broke into the American charts, for example, only after years of publicity and generous financial support, including the gift of a home in Jamaica, from the founder of cash-flush international label Island Records. While those days of long-term faith and fat contracts are gone forever, Mapfumo, allegedly a sometimes challenging business partner, hasn't been able to hold on to even small-time managers and agents, or woo a large record label that he trusts. The new album will be released on his own, Chimurenga Music.
But still, he says, the decision to go into exile was a good one, and Eyre agrees, with a caveat. "I think that as a person, he did a very honorable thing—he put his family first—and he has nothing left to prove as a musician," he says. "But he's been away long enough now that the culture back home is starting to move on."
With much of Mapfumo's music still outlawed on national radio and his CDs difficult to find, few fans in Zimbabwe's cities hear his recent work, and even fewer do in the countryside. Instead, older crowds embrace the latest nonpolitical pop music from Mapfumo's former touring partner Oliver Mtukudzi, whom UNICEF recently named a Goodwill Ambassador. And the younger generation listens to "urban grooves," a homegrown version of rap and hip-hop. Artistically, Mapfumo is at risk of becoming a man without a country.
And there in his living room, as his baritone refrain emanates from a dusty old sound system, it becomes clear that his lyrics—from the new album's fourth track—don't sound specifically Zimbabwean. In fact they don't sound so different from the slogans of Eugene's celebrity tree sitters or the chants of its Occupiers in the city below. 
AT THE CRACK OF NOON, MAPFUMO stuffs a sandwich in his mouth, smokes a joint, climbs in his Ford pickup with Zvamaida and his brother, and races toward the recording studio. They're late for their session to put the final touches on World on Fire at Studio bCd.
Abbey Road it ain't. Electrical cords and instruments and flocks of microphone stands clutter the studio, a chilly 25-foot-by-25-foot garage in a humble country home. Mapfumo spritzes his mouth with an herbal vaporizer called Singer's Secret, sits on a couch at the back with his brother, and promptly falls asleep.
Two hours later, after Zvamaida has virtuosically reworked two of his solos, it's Mapfumo's turn. He stands at the mic, swaying unsteadily with sleep and weed, headphones over his wool hat, hands clasped in front of him. He yawns. Sniffles. When the engineer is ready to record, Zvamaida signals and Mapfumo sings.
He chokes on the second syllable.
He tries again and doesn't reach even the fourth syllable before his voice breaks. He clenches his fists, genuinely frustrated that his cold, smoked-out, 66-year-old vocal cords can't hit the high notes that wiser musicians might avoid. "Can I please do that again?" he asks.
"Again please."
"Again, again."
"I'm sorry, again."
And so it continues.
A quick listen of the rough album, though, reveals that however long it may take to record the songs, many of them are good. Great, actually. While mbira-inspired guitar-work is largely gone, Mapfumo and the band have sketched out tunes that nonetheless seem to pull the best from his past and combine it with adventurous new ideas. World on Fire will feature some political tracks and some cuts that are just fun, all of them embracing far-ranging themes and styles, from chimurenga to rock.
The first song, "Are You Ready," is happy, slow pop about jamming till the wee hours, with Zvamaida's clean, almost-effect-free guitar sounding like Dire Straits. The second song, "Celebration," has another easygoing riff, almost reggaeish even though the chord progression is typical of a traditional Shona song. The third song signals a return to Mapfumo's quintessential themes of equality and revolution, its earnest lyrics paired with a simple, powerful, solo guitar. The song's central question of "What's going on?" could be about life in Oregon, the US, Zimbabwe, or anywhere.
An hour after his first failed notes, Mapfumo finally finds his voice, and he looks back at his brother, who grins. He continues repeating verse after verse on another track, singing, "God bless Africa / god bless the continent / god bless the world." And he still warbles. And there's no telling if the vibrato is intentional or a sign of age.
But it doesn't really matter. As Mapfumo stands there—bouncing now, hands swaying like a sea chanty singer, paying a heartfelt tribute to Africa from a cold garage in Eugene—he's belting it out, and the slight breaking of his voice sounds … real. As if the striving in his singing is actually what's important, a testament to hard years and the fact that this simple "god bless" sentiment is well-earned. The voice itself is full of history and lends a much deeper meaning to the almost clichéd request for a bit of grace, not just for himself but for Africa and for the world. And maybe that isn't so different from what the counter girl at Ron's Island Grill wants, too.