Out and About
Tile One On
Explore "A Glaze of Glory—the Artistry of Art Tile" at the Architectural Heritage Center's new exhibit.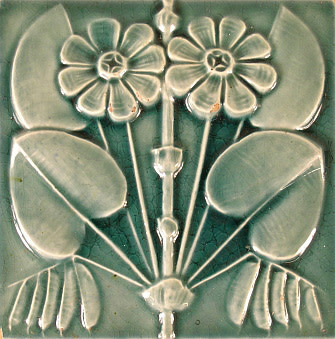 Tiles are basic, but they aren't necessarily boring. And they certainly can be beautiful, though you wouldn't know that by walking past the Portland Building. But probably even Michael Graves wouldn't say that's his best work, and neither would anyone argue that the aqua blue tiles cladding that building are a good example of how to use tile.
The Architectural Heritage Center's new exhibit of tile is a perfect antidote to any dingy views of the Portland Building or memories of tiled high school gym showers. The Center has a collection of fine architectural and ornamental tile from the later 19th and early 20th centuries, and they've put together an exhibit, "A Glaze of Glory – the Artistry of Art Tile" opening Friday January 20, with a special evening reception from 6-8p.m.
The exhibit is curated by Seattle tile expert Ron Endlich (of Tile Antiques), and much of the collection consists of pieces salvaged by AHC founders, Jerry Bosco and Ben Milligan, as well as pieces from Endlich's own stash. Numerous American tile companies are represented in the show, including California's Batchelder and Gladding McBean, Ohio's American Encaustic Tiling Company, and Pennsylvania's Moravian Tileworks. The AHC collection also includes European tiles from England, Spain and France.
The regional aspects of tile are interesting – after all, it's an earthen material, and soil is different all over the world – or even in one's front and backyards, as we know in clay-soil-rich Portland. Colors and consistencies vary, and so tile in California isn't quite the same as Ohio tile or Pennsylvania tile. And turn of the century tile companies found their production defined not just by the soil available but also by the market they could easily transport the (heavy) tiles to. They weren't concerned with the carbon footprint, but the cost of delivery sometimes kept companies from expanding.
Manufacturers came and went, often leaving a larger company to strike off on their own. Some of these start-ups transplanted to California – the early 20th century bungalow boom in Southern California enticed a lot of Eastern and Midwestern tile makers to move west, since tile was a prominent architectural feature in that style of homes. The popularity of tile has also come and gone – and come and gone again, in a cycle starting in ancient Egypt to the middle ages to the Gothic Revival and Arts and Crafts…
The AHC exhibit will offer a good look at a part of that cycle especially relevant to us in the Northwest.
In a related event, curator Ron Endlich will be back Saturday February 11, at 10 a.m. to give his lecture on History of American Art Tile. Program attendees are welcome to bring in any their own tile, for Ron's review and answers to questions, and to share with the entire group.
Architectural Heritage Center
701 SE Grand Ave.
Hours: Wednesday – Saturday 10 a.m. to 4:30 p.m.
Reception Friday January 20, 2012 is free
(AHC admission otherwise is free to Members, $3.00 for public)
Phone 503-231-7264
History of American Art Tile lecture
Saturday, February 11, 2012
10:00 am ($10 members, $18 public)