Article
Absurd Garfunkel & Oates Quotes
Two lucky commenters will win tix to see this mouthy musical duo!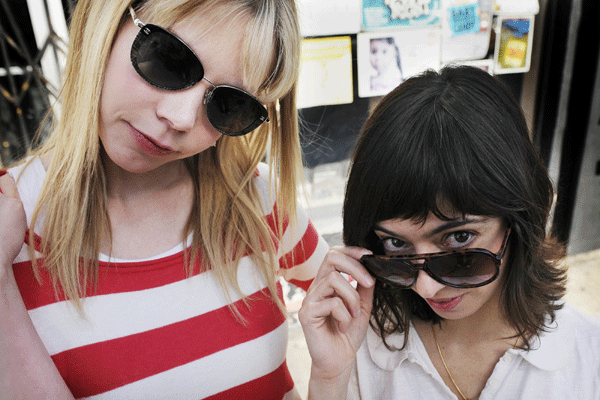 Riki Lindhome (Garfunkel) and Kate Micucci (Oates) were young actors before finding their true calling in 2009: writing snarky songs and performing them in viral home videos. Quickly racking up click-rates in the millions, the pair has gone on to comedy fests, celebrity cameos, and even a gig on Late Night with Jay Leno. Set to release a new album, Slippery When Moist, on February 21, the pair hits Helium Comedy Club this weekend.
But wait! Before you go trotting off to YouTube for a laugh, read a few of their choice quips below (warning: they're irreverent) and LEAVE A COMMENT of your own. Two lucky readers who do so will WIN TICKETS TO SEE THEM AT HELIUM!
"Pregnant women are smug. Everyone knows it, but nobody says it, because they are pregnant. You're just giving birth now. You're not Mother Earth now."
"I don't know who you are; I don't have a freaking clue. So get a catchphrase, get an accent, hook your face up with a tattoo. You don't even look a little familiar to me, and I blame you."
"Okay, okay, I said my boyfriend's gay, but what does it matter anyway? He hasn't come out of the closet yet; 'til then, I'll take all I can get."
"I wanna be a nun, so I can marry a priest and we'll have a baby and call it Jesus."
"Pat Robertson once said it's a long downward slide that will lead to legalizing sex with ducks. God, I hope he's right!"
"Where do I look when someone's serenading me? I look him in the eyes and it feels really awkward. He plays guitar as well as me—and that's not saying much."
"I used to dream that I would marry a guy that looked like Charlie Sheen, and he would have a name like Gary."
For more about Portland arts events, visit PoMo's Arts & Entertainment Calendar, stream content with an RSS feed, or sign up for our weekly On The Town Newsletter!