a new dimension of dance
Director of the Documentary Pina at Cinema 21
The Academy Award nominated director Wim Wenders will talk on Thursday, Feb 16 before Cinema 21's final screenings of Pina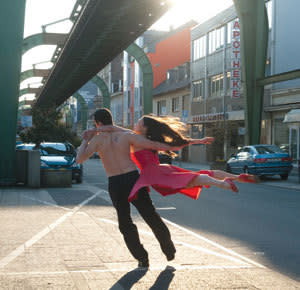 The director of arguably the year's most remarkable documentary, the 3-D dance film Pina, will be at Cinema 21 to introduce the film and answer questions next Thursday, Feb 16 in a special co-presentation between the theater and the Portland International Film Festival. Werner Herzog might have made the pioneering push of 3-D filmmaking into documentaries with his beautiful Cave of Forgotten Dreams, but Wim Wenders has ventured even further, exploding the boundaries not only between dimensions, but between film and performance. More than just a documentary or just a performance recording, his tribute to the late legendary choreographer Pina Bausch is a series of scenes of members of her dance company performing in both theaters and unusual outdoor settings, from the edge of a quarry to the inside of a tram, interspersed with interviews. And it's earned him an Oscar nomination for Best Documentary, in addition to winning the Best Documentary awards at the European Film Awards and German Film Awards.
Wenders will be at the theater to introduce the film and do a Q&A at the 7:00 pm screening and to introduce the 9:40 pm screening. This is the last day Pina will play at Cinema 21 before it moves on to Living Room Theaters.


For more about Portland arts events, visit PoMo's Arts & Entertainment Calendar, stream content with an RSS feed, or sign up for our weekly On The Town Newsletter!