gallery grazing
First Thursday Sampler

Sculpture + watercolor
Mel Katz's Anodized Aluminum and Henk Pander's Worlds Apart at Laura Russo Gallery
Katz, one of Portland's best-known sculptors for over 40 years, imparts his latest exhibition of large aluminum pieces with his trademark use of vivid colors and odd, organic shapes. In Worlds Apart, Pander, another veteran local artist, unveils his uncanny plein-air watercolors depicting somber expressionist landscapes.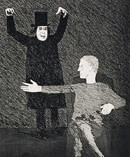 Prints
David Hockney at Augen Gallery
British Printmaker Hockney has been compared to artists like Jasper Johns and Andy Warhol. This collection features etchings, screenprints, and lithographs from a career that spanned 1965 to 1998, when Hockney left conventional media printmaking to focus on digital and traditional painting.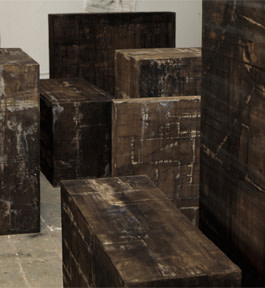 Sculpture
Joe Thurston's Nothing Leading Anywhere Anymore Except to Nothing at Elizabeth Leach
Having established himself as as one of the Northwest's most versatile painters, from portraiture to gestural abstraction, Thurston is leaving the two dimensional behind, and his shift to sculpture promises to be monumental. His rugged, monolithic containers will take over the gallery and possibly invade the viewer's space as well—mentally, if not physically.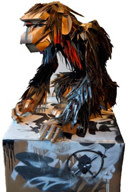 Big art explosion
The 100 Show at Wieden+Kennedy
Never short on good ideas, the folks at W+K asked hundreds of artists to submit a 10"x 10" piece of art with no restrictions on medium, with the plan of displaying them in the building's gallery and pricing each at $100, of which half will be donated to MercyCorps and half will go to the artist. Apparently even less short on friends, they've received over 900 pieces from local and international artists, photographers, illustrators, painters, and more. Seems the only thing they are going to be short on is wall space. (Or you can shop online.)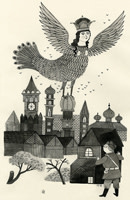 Smaller art explosion
If 900 pieces of affordable art strike you as a little overwhelming, but you still want to support a good cause, head to Compound for Deadstock. Referencing the retail term for merchandise that does not leave the shelves or the warehouse, the show invites artists to dust off some of their disregarded products and works—their surpluses of creativity, if you will—with part of the proceeds going to the Right Brain Initiative program of the Regional Art and Culture Council.





Math paint + found objects
Xylor Jane and B. Wurtz at PNCA's Feldman Gallery & Project Space
This two-artist show emphasizes the simplicity and sublimity of their artistic process. Jane utilizes mathematical algorithms as a basis for her intricate paintings on wood panels, while Wurtz adopts mundane found objects like string, socks, buttons, household implements, and plastic bags in his sculptural assemblages.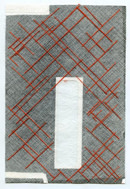 Meditations on mail
Clouds Inclose Comets: The Envelope at PDX Contemporary Art
Naysayers warn about the death of posted mail (and granted, post offices are closing), but the envelope still pervades our lives and will continue for a long time to come. In this group show, a variety of skilled artists riff on the unlimited potential forms and functions of the envelope.




The First Thursday art walk is a monthly event held by an assortment of galleries in Portland's Pearl District. For more about Portland arts events, visit PoMo's Arts & Entertainment Calendar, stream content with an RSS feed, or sign up for our weekly On The Town Newsletter!