twenty song insanity
Free Music from Menomena's Danny Seim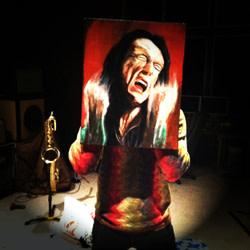 Menomena's Danny Seim undertook the Twenty Song Challenge: to record 20 songs in 12 hours. You can hear his results for free at the Menomena website. While his ultimate recording is more 20 fragments of songs that have been combined into one grand 30-minute medley of sorts, the fact remains that the man pumped out what sounds like the seeds of a fantastic album in a mere 12 hours. Twelve hours! We stand in awe.
If one were to interpret it as a musical stream of consciousness diary—for how could anyone record 20 songs in 12 hours and filter what they're writing?—it sounds like Danny's got a little positive psychology on the mind. If you're feeling down this weekend, you might repeat these affirmative Menomena mantras: "Hating people is like burning your own house down" and "I will permit no man to narrow or degrade my soul by making me hate him."
And for Menomena fans, grand news at the end of Danny's note:
"Speak­ing of hot air, Menom­ena is in the final two weeks of record­ing our fifth record. More news on that front com­ing soon, I hope."
Not bad for a Friday morning.
For more about Portland arts events, visit PoMo's Arts & Entertainment Calendar, stream content with an RSS feed, or sign up for our weekly On The Town Newsletter!