freakin' sweet, GOSH!
Exclusive Interview with Jon Heder of Napoleon Dynamite
Oregon native and star of Napoleon Dynamite talks about his new show, his career, and his sweet dance moves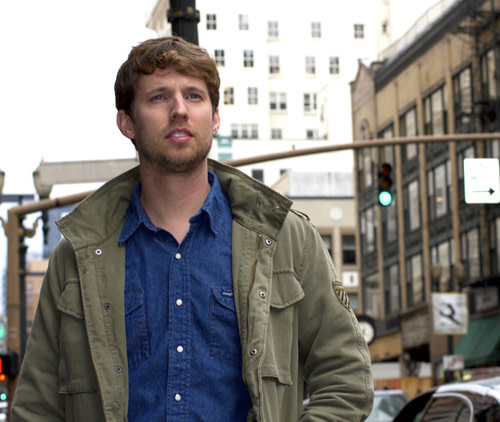 Jon Heder may not be a household name. Yet. But you'd be hard-pressed to find someone who doesn't recall his starring role in the 2004 cult hit, Napoleon Dynamite. The awkward small town geek with curly hair spawned a massive cult following, a million endlessly repeated catchphrases, and cemented Heder's status as comedic magician. Since then, Heder starred alongside Will Ferrel in Blades of Glory, alongside David Spade and Rob Schneider in The Benchwarmers, with Billy Bob Thornton in School for Scoundrels, and has even been sampled in Jay-Z and Kanye's hit rap collaboration N••••s in Paris.
Now, Heder and the rest of the Napoleon Dynamite cast are reviving the awkward world of Preston, Idaho in a new animated show on FOX (watch the trailer). The Salem-native was nice enough to sit down with us in his room at the Hotel Vintage Plaza and talk about the new show, his Oregon childhood, his religion, and his legendary dance skills.
—Martin Patail
How's it going?
Good.
You're just in Portland for the day?
Yeah, this is the very end of this press tour we're doing. We went to Boston, Chicago, Dallas, and then Portland. It was funny because I asked my publicist, "So is Portland normally on the map for these kinds of press tours?" And he's like "No." But FOX organized the whole thing, and they did it because of my connection here. And I think that's pretty cool of them.
Yeah, we usually get passed by.
(Laughs). Yeah, or they'll go to Seattle and then make their way to somewhere like Ashland.
Did growing up in Salem prepare you at all to play Napoleon?
It helped, I think, in a way. Jared Hess, who wrote and directed the film, grew up in Preston. It's like hot Idaho. We're rainy Oregon. And Salem's not small. Preston's really tiny. But it helped that we still had similar upbringings. We're both LDS. We had big families. We had younger brothers who we based so much of the character on.
Having a bit of the taste of small-town life really helped with getting the vibe of the character and the world that Jared created. Where we lived in West Salem it felt like almost farmland. It's way up there. We had four acres. It wasn't suburban living. I had what I like to think of as a very good, traditional childhood growing up. We'd ride our bikes around the neighborhood. We had a local lot that had forest where we could hike and hang out and catch crawdads.
Do you miss it?
I do. I live in LA now, and I love Oregon. I've always loved the hills and the valleys—everything about Oregon. The green, the wet cement. It's very green and grey. I always tell people that this is where I'll end up, or where I'd like to end up.
In Salem?
No, probably Portland. I'd love to live in Portland.
When was the last time you were here?
I normally come to Oregon at least once a year. My parents still live in Salem. And then we usually try to make it up to Portland for whatever. I love OMSI. I used to go there when I was a kid. So now that I have kids of my own I try to take them those places, like the Oregon Zoo. I love the Enchanted Forest, too. It's cool to take my kids to places that I loved when I was a kid.
Tell me about the new Napoleon Dynamite show. What was the impetus for bringing all these characters back?
One of the cool things about the world and the movie, Napoleon Dynamite, is there's the timelessness to it. Because there aren't a lot of pop cultural references, we always get the question, "When exactly is this movie supposed to take place." Well, it's supposed to be modern day. We have the Internet, but we don't have a lot of cell phones. It's just the small town life in America where time freezes a little bit and not everything's up to date. And so because of that, it's one that you can probably find a new audience for every generation.
But we never really saw this as a movie with a sequel. Because that's what everyone was asking for after the movie came out. You know, people, the general public, that's what they want. And then of course, the snooty Hollywood-types like ourselves felt like it was an art piece. It was a special little independent film, and it's hard to imagine a sequel to that. You give it a budget and some actual resources and you might lose some of that charm.
The only way to do this right is to get the original people involved. It would be pretty weird to have different people doing the voices. And that includes the director, Jared, who came on board and wrote the first couple episodes. It was pretty easy getting everyone back on board. It does have that same feeling of the film.
Is it carrying the themes of the movie forward or is it going in some different directions?
It's essentially freezing that moment in time in the film and just going with the dynamics of the relationships. We have Napoleon in high school. Napoleon will always be in high school. He's best friends with Pedro, who is president and will always be president. He'll always have that question with Deb like "Are they together? Are they not?" They probably are soul mates but she wants more out of the relationship.
The only major change we made is Kip is not married anymore.
To LaFawnduh.
Yeah. Which is not to say LaFawnduh isn't going to come back. But we wanted to keep this open. If he's married, he's a responsible adult, which he's not. He's living at home with Grandma. Uncle Rico's living out in the backyard. I think with those dynamics there can be a lot of stuff we can do. We're not going to see Napoleon through the years, graduating from college.
Tell me about the origin of Napoleon.
Jared had the general idea of the character. Not necessarily how he looked. But he drew so much from his personal experience. He was basically writing his two younger brothers and writing himself into it. And so when he brought me the script for Peluca [the short film on which the movie was based] I remember the first line was [Napoleon voice] "Gosh, I'll do whatever I feel I wanna do." I was like, "I get it. This is that crusty kid. It makes sense."
The idea of the look for him was a little more after the fact. Jared's wife was like, "Well, what do you think about giving Jon a perm? What if he had really tight, gross, curly hair? And maybe we should give him some glasses. That'll make him even more pathetic." And we went down to the local thrift store and went through some clothes. It was there that we created the characters. It just made so much sense. This was that awkward teenager who just doesn't have a clue.
The one part of the movie that shows him as cool is the dance scene. Did you have to learn to dance?
No. That was something they wrote in because they knew I like to dance. Jared's wife was like, "Jon, I hear you're pretty good dancer. I've seen you boogie; it's pretty sweet." And I was like, "Well, I like to dabble." I liked to mess around sometimes in front of friends and dance. But I did take pride in it. I won't be modest. I wasn't great but I did like to mess around.
Cut to two years later: after we had shot the short, they were like, "Okay we're going to have you dancing in the movie as the climax. This is going to make or break the film." It was a lot of pressure. I was like, "Oh, crap!" This isn't just a silly little scene. This is the moment where everything comes, and he's making the sacrifice for his friend. That's the whole theme of the movie. Everything leads up to this. Napoleon's been this loser. This has to be the moment where he lands a victory. He gets up there, and it's quiet: no reaction from the audience.
Any other film would have gotten a choreographer to work with me. But they were like, "No, Jon, just figure it out." So I just winged it. I danced three times and they took the best pieces from each of those.
Did you choose the Jamiroquai song?
Jared and I were really pining for Jamiroquai. We were both like, "That is sweet dance music." When you're shooting in independent film, you don't know what you're going to get the rights to. We thought Jamiroquai might be expensive. So we danced to three different songs. To that song and another Jamiroquai song, "Little L." We danced to Michael Jackson, something off of Off the Wall. Just those three. And then we got the rights to Jamiroquai. And I think that was half our budget.
So you are Mormon. How, has that affected your career?
It has a great effect. I was raised that way. It's who I am in my blood. I grew up doing this, or choosing not to do that. A lot of that is stuff that I choose not to do on the screen. Obviously, in acting you play characters that aren't you. That's the whole point of acting. But there are some things that you just aren't comfortable with.
For example?
You know. (Pause). Sexual content. I wouldn't be comfortable doing that because I don't think people would be comfortable seeing me involved in sexual content [Napoleon voice].
But I take it project by project. It's hard to nail down what "it" is. It depends on what the purpose of the content is on the screen. Is it there to tell a story or is it there to get a cheap laugh? Is it there to be exploitative? A lot of those things I have to take into consideration. There's probably been some great opportunities that I've passed up but I don't regret it. As long as you're happy with the decisions you make, that's what's most important.
What are you most proud of?
Napoleon. I'm really proud of Napoleon. I mean, Blades of Glory was great. I really enjoyed doing this film that came out at Sundance this year, called For Ellen, which is my first dramatic piece. I really liked doing drama.
But Napoleon was the most fun. It was just such a cool experience. To start your career that way and make it with a bunch of college buddies. And experiencing that ride of seeing it go from nothing… I mean that's a true success story, and it's really cool to be a part of that.
Last question: What was it like being featured in a hit rap song?
(Laughs) You don't think about it. I remember my manager saying, "Oh, you're in this thing, by the way." I'm like, "sure, why not?"
I've heard the song very briefly. I haven't met Jay-Z or Kanye. But it makes me cooler with high school students again. Like if the high school students forgot about me, they're back on board. I have some friends in high school, and they're always like "Dude, everyone in school loves that."
But what does this quote have to do with Nnnnnn in Paris? Like are they calling us that? I don't get it. But it's cool.
Tune in to Napoleon Dynamite Sundays on Fox at 8:30pm.
For more Portland arts interviews, stream content with an RSS feed or sign up for our weekly On The Town Newsletter!