titans of NPR
Radiolab and Prairie Home Companion Go on Sale this Weekend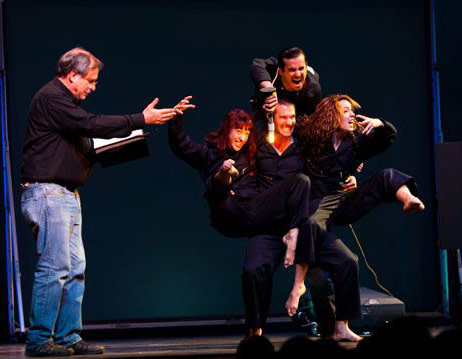 If NPR were Greek mythology, then Garrison Keillor would be a Titan, ruling the Golden Age of the radio waves, and Radiolab would be the young Gods, upsetting the celestial order. And they're both gracing we mere Oregon mortals with their presence this spring.
Garrison Keillor will be recording an episode of A Prairie Home Companion on Saturday, June 16 at the Cuthbert Ampitheatre in Eugene. Tickets go on sale Monday, February 20.
And Radiolab will be doing their brand new live show at the Keller Auditorium on Saturday, April 28. Tickets go on sale Saturday at 10 a.m., although presales are available for OPB members.
I talked with Jad and Robert of Radiolab on Monday for a "5 Questions for" column that we'll run in the April issue, but I wanted to share a little preview of what's in store. It was the first time Jad and Robert had spoken since the birth of Jad's second son on Friday, but after the baby gushing, we dived into what the show was about.
Paint a little preview for us: what's the theme, and how are you going to bring an audio show into the visual world?
Robert: It's called "In the Dark." That's the theme.
Jad: In the dark is where sexy time happens. It has that connotation.
Robert: But we're not doing that. What we're doing is our fantasy idea. This will involve: first, a comedian, Demetri Martin, who is the host. Then there's a live score by Thao Nguyen. Then we have a team of dancers from Pilobolus. We're going to take you on three adventures with musical breaks and funny stuff. It's a variety show.
Jad: The great thing about a live situation is we can make it into an experiment. The first part experiments with what it's like to emerge out of darkness from a tiny primitive eye into a full-blown eyeball. The second experiments with what it's like to be blind. And the third part experiments with what it's like to float through space and almost get fried by the sun.
Robert: Through inky darkness.
Jad: In the past our live shows have always been a derivative from the broadcast show. Like, come sit in a live theater and watch us mime the act of making radio. This is a different beast. We created it for the stage. We throw problems at Pilobolus, and they make some beautiful brilliant jellyfish out of six bodies.
Robert: At one point somebody is dangling in space from a Russian spaceship, and the dancers actually create the image of someone dangling through light tricks and odd postures. You see what they're doing, but you forget, and it's like they're in outer space. What they came up with was sophisticated and strangely beautiful. The ending we hope is gasp worthy.
Jad: The first time we saw the ending, it was a gasp from Robert and I.
For more about Portland arts events, visit PoMo's Arts & Entertainment Calendar, stream content with an RSS feed, or sign up for our weekly On The Town Newsletter!