l'a-MORE!
Valentine's Day Planner
A packed week's-worth of romantic arts happenings.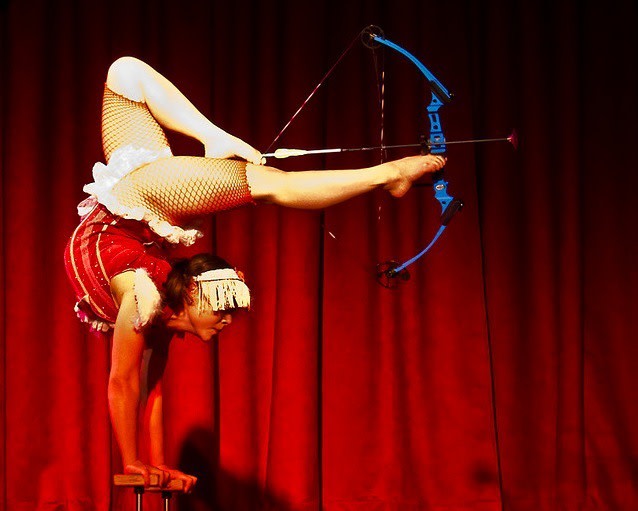 THURSDAY, FEB 9–FEB 14
Twenty Erotic Shorts: Trois! Four actors and two musicians from the Working Theatre Collective trot out a varied programme of 20 new vignettes, ranging from tender and sensual to bawdy and naughty.
FRIDAY, FEB 10
Valentine's Ball with Soundstage Rhythm Orchestra Let Walters Cultural Arts Center in Hillsboro lure you to the 'burbs and pull you onto the dance floor with a whopping 25-piece dance orchestra playing swing and Latin classics all night.
SATURDAY, FEB 11
Miz Kitty's Parlour This monthly vaudeville spectacle pulls out all the stops for V-Day weekend: Jazz jams! Uke beauties! And contortionist Brittany Walsh, who can famously shoot a bow and arrow with her legs whilst poised in a back-bent handstand!
Ethos benefit Cover Your Hearts 5 Ethos Music, a nonprofit that brings a hands-on music-making experience to kids free of charge, calls in a favor from the Wonder Ballroom and some grown-up bands. Charmparticles, Derby, Chris Robley and more will cover 80's power ballads, hoping you'll help cover the cost of youth music-making.
SUNDAY, FEB 12
Mousai Remix at Ivories Jazz Lounge A newly-formed chamber group featuring Oregon Symphony musicians Emily Cole, Shin-young Kwon, Jennifer Arnold, and Marilyn de Oliveira will play Beethoven's F Major Quartet, Op. 59, No.1 and Brahms C minor Quartet Op. 51, No. 1.
TUESDAY, FEB 14
Portland Story Theater's Kiss & Tell PBS writer Slash Coleman, comedian auGi, and Vagabond Opera's mustachioed accordion icon Eric Stern will preside over some sexily confessional hijinks at Alberta Rose, including pro puppetry and an amateur "orgasm choir."
Smalldoggies Reading Series at The Blue Monk PCC prof Emily Kendal Frey, Seattle prizewinner Jenny Forrester, PDX slam poetry champ Mike McGee, and Vegas novelist Kris Saknussemm will speak. (Full disclosure: A Culturephile blogger will play some music—but urges you not to hold that against this otherwise reputable event.)
Dia de los Enamorados w/ Pete Krebs Andina will prepare a feast "from Lima with love," while Portland's top Django-style swing group Pete Krebs Trio regales diners with classic croon-tunes.
Rontoms Rock Prom As gussied-up as the hipster set gets, this night tends to culminate in a wall-to-wall tangle of vintage crinolines, thin ties, and hastily shouted hellos. Amid the fray, Monarques, Radiation City, Youth and DJ Cooky Parker will play.
Mortified at the Mission Theater Grown adults willingly subject themselves to the inevitable embarrassment of reading their adolescent diary entries aloud while the audience snickers (but secretly sympathizes).
SATURDAY, FEB 18
BodyVox Presents Flirt w Luciana Proaño A nuanced South American seduction from the unfettered mind of the Peruvian dancer, drummer and folklorist.
Love of Portland Art Show More than 150 visual artists pitch woo to Portland via undoubtedly bike, brew, and bird-heavy PDX-themed pop art. What's not to heart?
For more about Portland arts events, visit PoMo's Arts & Entertainment Calendar, stream content with an RSS feed, or sign up for our weekly On The Town Newsletter!