gallery grazing
First Thursday Sampler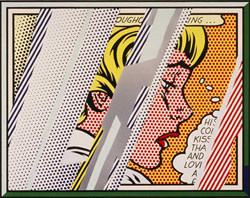 Pop Art
Keith Haring, Roy Lichtenstein, and Andy Warhol + Mary Chomenko Hinckley at Augen Gallery
These three giants of the Pop Art movement transposed images from popular culture into gallery settings, playing up irony, parody, and kitsch, while tearing down the elitist walls of the arts establishment. One can easily see the link then between their colorful prints and the contemporary work of Hinckley, who puts a bird on her vibrant fused glasswork.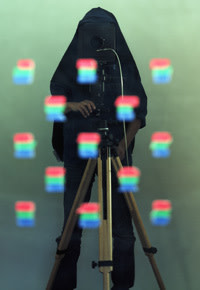 Portland2012 Biennial
Portland2012 Biennial: Ben Buswell and Akihiko Miyoshi at PDX Across The Hall
At the second Portland2012 Biennial opening (see the full schedule), work by Miyoshi and Buswell seems to be in a heady conversation about the relationship between the abstraction of their subject matter and the physical natures of their media (photography in Miyoshi's case and photography and various sculptural materials in Buswell's). Also, Miyoshi's artist statement is a work of art in itself (Hello choose-your-own-adventure flowchart! Can you tell that he was on his way to completing a computer engineering PhD at Carnegie Mellon when he discovered the joy of art making?)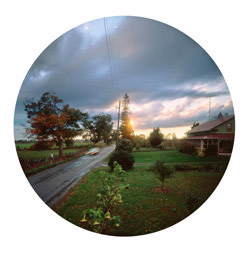 A Year in Photo
Andrzej Maciejewski's Weather Report at Blue Sky Gallery
Photographer Andrzej Maciejewski built a rather ingenious walk-in camera obscura near his home in rural Ontario, Canada and proceeded to take a series of photographs over the course of a year. The result is a beautiful narrative of sorts documenting the change of time and clime on a single fixed geographic locale. "During the summer, when looking at the green grass and flowers, it was easy to forget that in the winter the entire landscape had been covered with snow," he said. "Even in the evening it was hard to remember how the view from my window had looked in totally different light of the morning. . . . Living in the country, you look at the weather with much more attention and much more awe than in the city."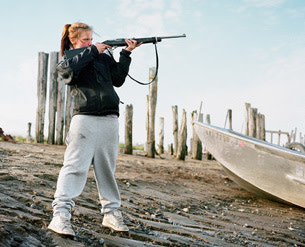 Bang!
Gun: A Collection of Photographs at Hartman Fine Art
Few inventions play such a loaded role in the culture, history, and mythology of America as the gun. This collection of historic and contemporary photographs is a tour of our barrel-riddled landscape—gun as sustenance, gun as defense, gun as violent crime—that features images both beautiful and unsettling, and sometimes beautifully unsettling. The exhibit includes classic images by photographers such as Frederick Sommer, Danny Lyon, William Klein, Elliott Erwitt, and Berenice Abbott, as well as recent works by gallery artists Mark Steinmetz, Raymond Meeks, Jason Langer, and Corey Arnold.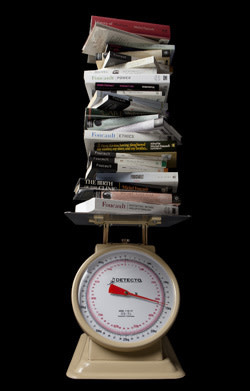 Philosophy Jokes
Jim Riswold's Philosophy Is Not Funny at Wieden+Kennedy
A show that makes you feel like your $120,000 liberal arts education wasn't good for nothing. At least you can be tickled by philosophical art allusions from the retired WK creative director with titles like "Foucault Is Some Heavy Shit." That's worth something, right? Right…?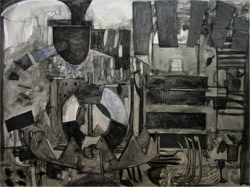 Juxtaposition
Aithan Shapira's Migration + Joe Feddersen's Role Call at Froelick Gallery
Making his west coast debut, Shapira creates sprawling, graphic paintings and prints drawing from a personal iconography that is equally sprawling in its global scope: shapes and patterns from his father's New Jersey fabric cutting shop, an Israeli heritage, and three years spent living and painting with an aboriginal community in Australia's Northern Territory, where he learned to make his own paint pigments and char wood into charcoal. Feddersen, a member of the Confederated Coleville tribe, creates his own juxtapositions between his ancestral heritage and contemporary urban imagery—flat screen TVs and parking lots—in his newest prints, glass panels and vessels.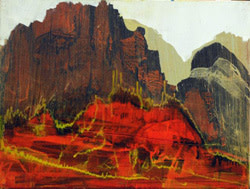 Abstract Landscapes
James Lavadour's The Interior at PDX Contemporary
Hailing from the Umatilla Indian Reservation in Northeastern Oregon, James Lavadour's Interior paintings are vibrant, powerful explorations of the Oregon landscape that are simultaneously abstract and representational. Expressive brush strokes combine with bold colors to channel the spirit of the land as much as the topography.


The First Thursday art walk is a monthly event held by an assortment of galleries in Portland's Pearl District. For more about Portland arts events, visit PoMo's Arts & Entertainment Calendar, stream content with an RSS feed, or sign up for our weekly On The Town Newsletter!