iCare
Mike Daisey Spreads Agony/Ecstasy in Free Download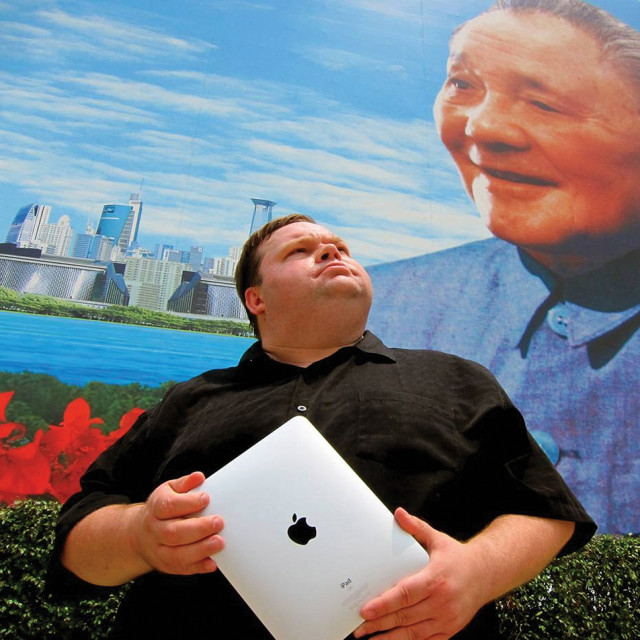 Monologist Mike Daisey is a well-known personality among Portland arts audiences, and especially fans of Portland Institute of Contemporary Art's annual Time-Based Art Festival (or TBA), who marvelled at his 2011 effort, a 24-hour monologue called All The Hours in the Day . But prior to this exhaustive oration, Daisey had picked up a lot of steam as a Mac Products whistle-blower, attempting to hold the company to task for its inhumane treatment of Chinese factory workers. Having visited the factories in person and seen the conditions for himself, Daisey crafted and staged a powerful 2-hour speech, The Agony and the Ecstasy of Steve Jobs . Now, after a nearly two-year run, he's ready to—not so much retire the production, as disseminate it.
"We have now given away the transcript of AGONY/ECSTASY under an open performance license, so that it can be performed royalty-free, anywhere, anytime, by anyone," announced a recent press release from Daisey and his wife and producer Jean-Michele Gregory. "Want to read it? Perform it? Adapt it?"
In the first week it was made available, the Daisey camp reports that the work was downloaded over 60,000 times, "more than any new American play has sold over the last decade," apparently spawning over twenty productions all over the world, from Chicago to Kurdistan.
For more information about Daisey's work and the conundrums of conscience posed by Mac products, visit Daisey's website or catch him on NPR's This American Life with Ira Glass.
For more about Portland arts events, visit PoMo's Arts & Entertainment Calendar, stream content with an RSS feed, or sign up for our weekly On The Town Newsletter!