reel women
POWfest 2012 Preview
From hard-hitting documentaries to light-hearted shorts, this film festival honors female directors' full range.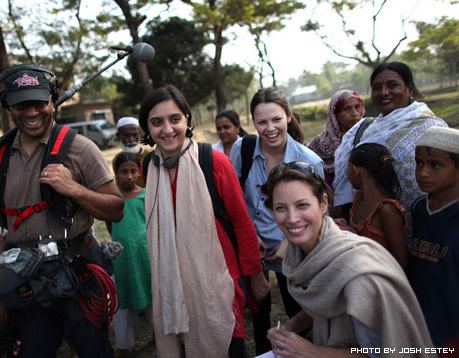 Mar 8–11 "We really want to encourage more women to take the director's chair," says Tara Johnson-Medinger, director of the women's film showcase affectionately known as POWfest that presents a range of works by female filmmakers, from world-conscious documentaries to self-conscious shorts. The four-day forum, which also offers workshops and talks, boasts an impressive rate of director attendance (as many as 30 of the films' creators are scheduled to show up) and a deep commitment to building community between women who share a cinematic vision. Past luminaries include Kathryn Bigelow (The Hurt Locker_) and Jillian Armstrong (_Little Women).
This year's A-list is probably topped by former supermodel Christy Turlington Burns, whose documentary Every Mother Counts exposes the dire medical risks of third-world childbirth. Another documentary, Lori Petchers' Life Model, features an aging nude figure model who continues to serve as a maturing muse, while equally world-wise narratives A Reluctant Bride and The Wind Is Blowing on My Street will grapple with Middle Eastern gender politics.
For themes closer to home, Portlander Megan Johnson will premiere the feature-length Stealing Roses, a satire about a man who begins bankrobbing to pay for his dying wife's cancer treatments, while Jacqueline Gualt debuts Dinner Party, a short from her five-part Revenge Series. Stella's Flight, a dramedy by OPB Live Wire host Courtenay Hameister, has also been added to the bill.
More titles that might ring true are How To Be Alone, a pseudo-tutorial (and YouTube sensation) for modern hermits narrated by indie-rock poet Tanya Davis, and Missed Connections, where shy Craigslist posters commiserate about their failure to swoop resolutely on would-be paramours. Meanwhile, those with a taste for nostalgia will surely recognize Fast Times at Ridgemont High and Sleepless In Seattle —perhaps even more readily than the fact that both classics were directed by women.
Individual events $7.50–14, festival passes $40. Hollywood Theatre, 4122 NE Sandy Blvd. For more information, visit powfest.com
For more about Portland arts, visit PoMo's Arts & Entertainment Calendar, stream content with an RSS feed, or sign up for our weekly On The Town Newsletter!