Article
Raincoats Live
Nearly thirty-five years of history comes together at the Star Theater.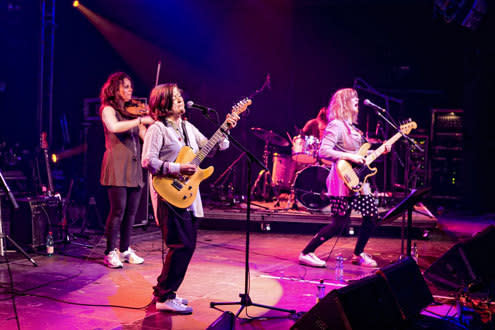 MAR 17 For a band of women best known for a few albums in the early '80s, the Raincoats remain shockingly vital. Last Saturday, Decked out in their signature mid-80's eclectica (gold sequins, a drum major jacket) Ana de Silva and Gina Birch also wore surprised expressions, glorying in their own punk-rock racket as well as the Star Theatre's packed turnout. The songs don't surprise—they're nearly 35 years old at this point—but the Raincoats' particular shambling grace continues to come alive onstage more than on record.
Formed in 1977, The Raincoats became notable in '79 for being the first all-female punk band. Their sound—at turns precocious and triumphant, always reveling in the joy of turning a guitar up loud—announced the end of the male-dominated punk scene and drew threads of inspiration all the way from 90's "riot grrl" acts like Bikini Kill to Saturday's opening act, Grass Widow.
The Raincoats' choice to include Grass Widow seems like a conscious passing of the torch, and certainly comparisons can be drawn musically. But while the Raincoats' nothing-to-prove enthusiasm at times upsets their rhythmic momentum, Grass Widow's steely focus never errs from their sleek, insistent take on punk. The elders tend to pile on outré noise, while the young punks excise all elements until you can see the bones of every song, each band shoring up the other's weaknesses.
For the culminating coup de grace, the Raincoats burst into a rendition of the Kinks' "Lola," joined by the women of Grass Widow. All seven onstage turned what could have been a tossed-off encore into a sloppy celebration of the past thirty-plus years of women in punk. In a year when political lines have been drawn across women's bodies time and time again, the raw power in each set came across as especially righteous this Saint Patty's night.
For more about Portland arts, visit PoMo's Arts & Entertainment Calendar, stream content with an RSS feed, or sign up for our weekly On The Town Newsletter!