painting the town...
Review: Red
Portland Center Stage's bold but monochromatic production runs through March 18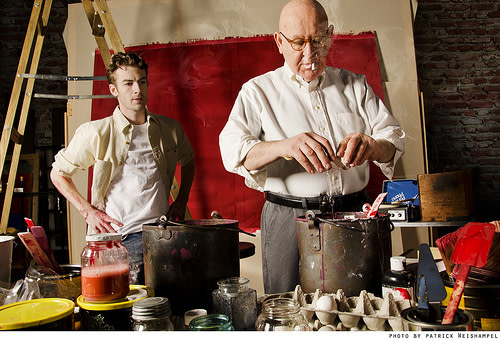 We're reaching the vibrant red peak of what the mayor may as well declare Mark Rothko Appreciation Month. Portland Art Museum's 45-piece retrospective of the revolutionary abstract expressionist has garnered raves; Third Angle Ensemble will perform Morton Feldman's meditative homage "Rothko Chapel" this Saturday, March 10; and Portland Center Stage's production of Red is half way through it's run. It's a grand assemblage of the art, the musicality, and the personality of one of the century's most important artists, who also happened to call Portland home during his formative teenage years in the 1910s (read Portland Monthly's profile).
But fast forward to the late 1950s, the setting for the Tony Award-winning play Red. Rothko labors on a series of commissions for New York's Four Seasons restaurant in his sepulchral studio on the Bowery, when he takes on a naïve but earnest young assistant, Ken (a fabrication of the playwright, John Logan). Spanning two years in one act, the play delves into the meaning of art, the role of the artist, the Oedipal changing of the artistic guard, and, to a lesser extent, the relationship between these two men in a beautifully staged production, aptly directed by Rose Riordan, that brushes between exhilarating, provocative conversation and pompous, art history-seminar pontification.
Opening with Rothko asking his assistant "What do you see?" as he stares at a painting on the fourth wall between him and the audience, Logan's script is a combative Socratic dialogue bordering on monologue. Rothko lectures, questions, and rants on the meaning of color, the history of Western painting, and the importance of Nietzsche, Freud, and Shakespeare. But mostly he talks about himself and the purpose of his art. "Just like that, I'm a noun," he says during one tirade against the commercialization of art bought to match a sofa. "A Rothko….It's cheaper than a Pollack."
Ken's responses, at least in the beginning, function merely as commas between Rothko's paragraphs, thin stripes between his color blocks. But as time passes, Ken learns from his disdainful master and begins to fight back, accusing Rothko of being "the high priest of art…decorating a temple of consumption," until finally he trades places and forces Rothko to question himself instead of others.
At times, this intimate portrait of a brilliant painter feels like a sacred glimpse into the complicated relationship between a master and his work. Golden Globe-nominated actor Daniel Benzali, playing Rothko with a bombastic misanthropy that paints a thick coat of narcissism over a desperate need to be understood, captures the troubled nature of a man whose only true relationships are with his paintings—a man to whom selling a painting is like "sending a blind child into a room full of razor blades." But after a while, his monologues sag under their own weight until it feels like you're stuck in an art history seminar that simply won't end.
Unfortunately, the character of Ken, played by San Franciscan actor Patrick Alperone, does little to introduce the human drama that might be the glue to Rothko's monologues, serving mostly as a sounding board and mirror with little but a tragically absurd childhood story to flesh him out. Alparone shouts his lines with such emphasis that it feels like he's shooting his syllables out with the staple gun he uses to stretch canvasses. When he finally does get angry, it lacks real strength since he's been shouting all along.
The sad result for me is a play that feels ironically monochromatic, lacking the tonal and emotional variations and shifting nuance of the paintings that made Rothko famous.
Which isn't to say it isn't worth seeing, particularly if you're a fan of the artist and enjoy lengthy artistic rumination. The set, designed by Daniel Meeker with lights by Diane Ferry Williams, is a layered character unto itself, where you can see the light of the day shift in the high windows, and where Rothko's commissioned paintings progress and multiply through the play. The interstitial moments between scenes, when Ken is clearing the studio or prepping a canvas, serve as deep breathes between bombasts. One particular scene change, when all the paintings rise and shift like some giant, blood red, Abstract Expressionist, inside-out rubrics cube, is a moment of such beauty it's almost worth the ticket price alone. And the most powerful, emotional moment in the play is a scene in which the two men prime a large white canvas with red paint in a frenzied duet of sorts set to Mozart's Symphony No. 25 that leaves both covered in sweat and paint. Although there are no words, it seems one of the few moments where they're truly engaging each other in dialogue. Which makes one wonder if this play, for all of its heady bluster about art, might have done better to follow the old, clichéd adage: show, don't tell.
For more about Portland arts, visit PoMo's Arts & Entertainment Calendar, stream content with an RSS feed, or sign up for our weekly On The Town Newsletter!