sour apple
The Agony and the Ecstasy of Mike Daisey
Daisey's investigative performance about Apple turns out to be more performance, less investigation.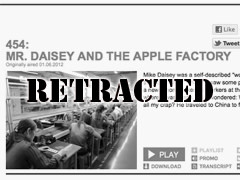 Originally published March 16, 2012 at 5pm. Reposted here with addendum.
We recently blogged about monologuist Mike Daisey making the transcript to his one-man show about Apple and Steve Jobs, The Agony and the Ecstasy of Steve Jobs, available for download and unlicensed performance. It was a bold move, particularly after the show gained a huge international audience by being turned into a This American Life episode that became their most downloaded show ever (over 888,000). The show got so much attention that many news outlets credited it with playing a major role in Apple's decision, after years of stalling and silence, to have its factories audited by an independent monitor and to reveal its suppliers—a huge win for Daisey and for workers rights, not to mention a testament to the political power of performance. Daisey wrote in a letter to fans: "The truth is that telling stories, person to person, is the best way we have ever had of connecting to the human—and whatever this show may or may not have achieved, it has come out of the conversations happening night after night after night."
Turns out it was more of a story telling performance than everyone thought. A reporter for the public radio show Marketplace tracked down Daisey's translator in China, only to learn that the most visceral and moving stories he tells never actually happened, including meeting underage workers, workers poisoned by toxic gas, and the worker with a crushed hand who marveled at Daisey's iPad. Daisey admitted that they were "dramatic license" (read his statement).
Ira Glass of This American Life wrote a letter retracting the episode, and TAL will spend this week's episode interviewing Daisey about why he lied to them and then separating fact from fiction in the original episode. The radio show has built a reputation in the last few years for rigorous reporting and investigative stories about everything from the economic crisis to healthcare, but it seems even the most diligent can fall sway to a well-told story.
Glass writes at the TAL website:
"We're horrified to have let something like this onto public radio. Many dedicated reporters and editors – our friends and colleagues – have worked for years to build the reputation for accuracy and integrity that the journalism on public radio enjoys. It's trusted by so many people for good reason. Our program adheres to the same journalistic standards as the other national shows, and in this case, we did not live up to those standards."
Although his story was in many ways made up—adding Daisey to the ranks of James Frey (who, ironically, he did a show about)—many of Daisey's facts stand. What remains to be seen is whether Apple, which may as well sponsor Portland, will take this as an opportunity to step back from its promises.
Addendum March 19, 2012
If you haven't listened yet, the show makes for compelling radio and journalism. I've sat in the editing booth with Ira (and coincidentally was in the office while he had Daisey in the studio for the first go around). The man is made of steel, albeit with a nice sheen of insecurity, but you can hear the pinch and suppressed anger in his voice, particularly as he closes the show, saying he's not in the mood to hear from Torey Malatia (the normal ending where they put a quote from the story in a new, humorous context and attribute it to the station's executive producer).
Daisey to his credit sits down for interviews with both Glass and Marketplace reporter Rob Schmitz—interviews marked by incredibly awkward silences, evasions, and convolutions of logic. Those who've been fans of Daisey's storytelling recognize how hypnotic his voice is, even when it's rationalizing enormous lies. But he never really takes responsibility, saying more that it was a mistake to put his story on a journalistic outlet than to make up parts of the story in the first place.
I think This American Life's quick and incredibly thorough response, including ending the episode with an interview with New York Times reporter Charles Duhigg about what we really know about Apple's manufacturing process, will go a long way to correct the show's mistakes. But sadly, I don't believe we'll ever be able to listen to Daisey with the same rapture and faith again.
For more about Portland arts, visit PoMo's Arts & Entertainment Calendar, stream content with an RSS feed, or sign up for our weekly On The Town Newsletter!