top books
2012 Oregon Book Award Winners
Joe Sacco wins first graphic novel award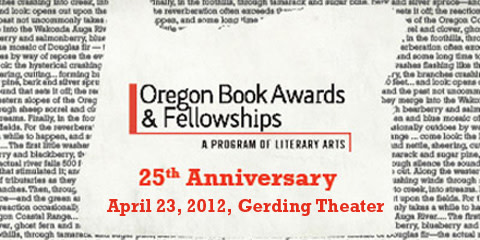 Last night, Literary Arts announced the winners of the 25th annual Oregon Book Awards. Standouts include Joe Sacco's meticulously reported and drawn Footnotes in Gaza winning OBA's first ever graphic novel award (yes, it took them 25 years to acknowledge that graphic novelists deserve a seat at the literary adult table—the book also won a 2010 Eisner Award), and Patrick deWitt's novel about two murderous brothers, The Sisters Brothers, winning the Ken Kesey Award for Fiction (it was also a finalist for the Booker Prize).
Eloise Jarvis Mcgraw Award for Children's Literature
Graham Salisbury of Lake Oswego
Calvin Coconut: Hero Of Hawaii
Leslie Bradshaw Award for Young Adult Literature
Emily Whitman of Portland
Wildwing
Frances Fuller Victor Award for General Nonfiction
Kenneth J. Ruoff of Portland
Imperial Japan At Its Zenith: The Wartime Celebration Of The Empire's 2600th Anniversary
Sarah Winnemucca Award for Creative Nonfiction
George Estreich of Corvallis
The Shape Of The Eye: Down Syndrome, Family, And The Stories We Inherit
Stafford/Hall Award for Poetry
Carl Adamshick of Portland
Curses And Wishes
Ken Kesey Award for Fiction
Patrick Dewitt of Portland
The Sisters Brothers
Pacific Northwest College of Art Graphic Literature Award
Joe Sacco of Portland
Footnotes In Gaza
Readers Choice Award
Lidia Yuknavitch of Portland
The Chronology Of Water
Walt Morey Young Readers Literary Legacy Award
Dr. Ulrich Hardt of Portland
For more about Portland arts, visit PoMo's Arts & Entertainment Calendar, stream content with an RSS feed, or sign up for our weekly On The Town Newsletter!