Article
Art World Rabble Rouser Assume Vivid Astro Focus to Talk at PNCA
Thursday, April 12 at 6:30pm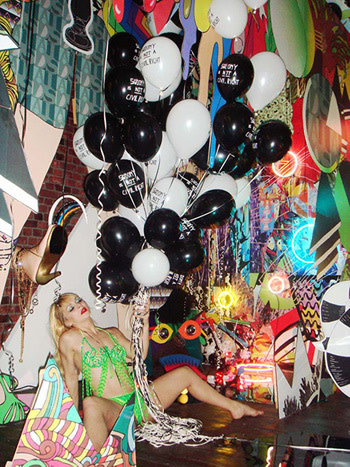 One of the highlights of my three years in New York was witnessing the multimedia art collective Assume Vivid Astro Focus take over Deitch Studio's 12,000 square foot Long Island warehouse. The show was called "absolutely venomous accurately fallacious (Naturally Delicious)," and it was a full sensory psychedelic explosion consisting of sculpture (a giant woman laying through the façade of a house), their trademark frenetic 3-D wallpaper prints, bust your imagination avant garde performance involving cavemen outfits, live music, enough strobes and shiny objects to fuel a hundred strokes, and paper masks for the hordes of viewers to wear, just to give a truncated list.
avaf and its primary constituent, Eli Sudbrack (he's like the lead singer in a band of rotating performers and visual artists), have made waves in the international art world with these maximalist, neon, psychedelic happenings. Sudbrack, a lover of lists and compilations, even curated a night of film at the semi-legendary, now-retired, local Fruit Farm Film Festival. Now he's visiting PNCA to create a series of limited edition prints with the assistance of printmaking faculty and advanced students. He'll also give a free talk open to the public on Thursday at 6:30pm at the main campus.
Here's a video of Sudbrack talking about the graffiti murals he created for Art Basel 2010 in Miami's Design District.
For more about Portland arts, visit PoMo's Arts & Entertainment Calendar, stream content with an RSS feed, or sign up for our weekly On The Town Newsletter!