Gift Giving
Prints of the City
Indulge in affordable art as graduation and wedding gifts this spring.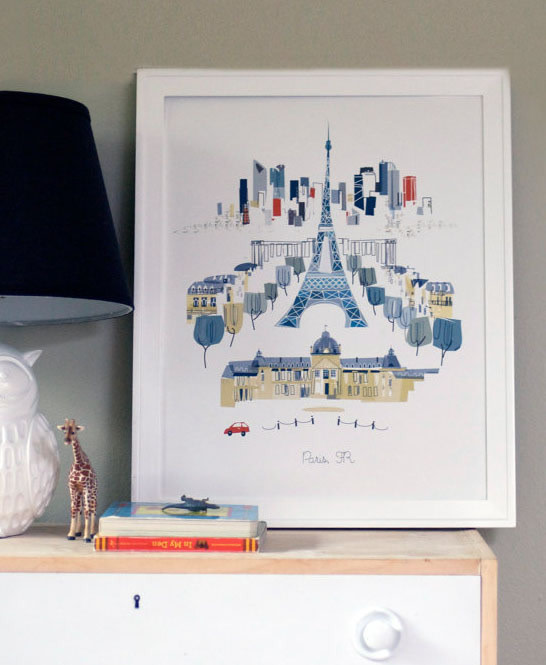 Are you one of those people who, despite an obvious lack of wall space, still falls in love with new works of art for the wall? I can't be the only one; after all, the visual appeal of what people create doesn't wane once our own walls are covered.
All the more reason to be glad that wedding and graduation season is upon us. Such celebrations are a perfect excuse to purchase affordable, fun art like the city-inspired graphics from local company Albie Designs.
Kim Sly is the artist behind Albie. She's created a series of city prints with a simple graphic style that evokes 1950s and '60s-style color-blocked advertisements or children's books. Her work reminds me especially of Miroslav Sasek; he's the Czech born illustrator of a series of now-classic children's books about cities. You probably don't know his name (and he signed his books as "M. Sasek"), but you may know the images.
Sasek's series began in 1959 with Paris, and grew to a list of 18 places including London, Rome and New York. He never got to Portland, so perhaps Sly is picking up where Sasek left off. If so, it's a good thing.
A Portland native who now lives in Lake Oswego, Sly has explored beyond Portland to depict Eugene and Bend as well as San Francisco, Seattle and L.A. (but no L.O. so far?). Further from home, she's illustrated London, Paris, Pittsburgh, Boston, New Orleans, New York City and several other favorite places.
Sly draws first and then adds color on the computer to create the whimsical, abstracted city scenes, capturing the character of each place with concise lines and blocks of pleasingly flat color. The drawings are based on research or first hand experiences, and would be perfect as mementos of time spent somewhere or visual wish lists of places to go.
The prices are equally appealing, with 11" x 14" prints going for $30-35. Smaller and larger sizes are also available, as are a cute series of smaller (and $12) foodie prints with phrases like "unwind" alongside a corkscrew and "all heart" accompanying an artichoke. There's plenty to like, and probably enough cities and food items to match the likes of any of the soon to be grads or honeymooners you'll be congratulating this spring.