Passing Thru
The Importance of Being Ernest Borgnine
Oscar winner gets a cinematic salute at NW Film Center tonight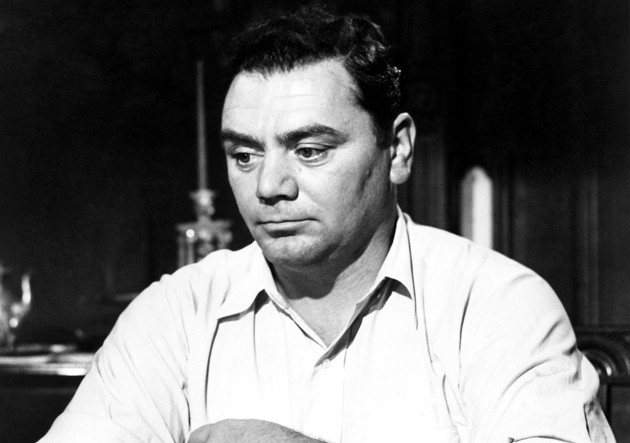 Ernest Borgnine is not conventionally handsome. He doesn't sing. He can't dance like Fred Astaire. His voice lacks the dramatic resonance of James Earl Jones. And yet this son of Italian immigrants has been a distinctive presence on the big and small screen for 62 years, and he's still going strong at age 95! He tormented Frank Sinatra in From Here To Eternity; he gets punched out by Spencer Tracy in Bad Day at Black Rock; he helps lay waste to an entire army in Sam Peckinpah's The Wild Bunch; he's eaten by rats in Willard. And he won an Oscar for Best Actor in 1955 for his moving portrayal of a lonely butcher in Marty, the movie that screens tonight at Whitsell Auditorium, as part of Turner Classic Movies' "The Road to Hollywood" tour. The evening will be emceed by TCM host Ben Mankiewicz, whose grandfather, Herman, cowrote a little picture called Citizen Kane. I was fortunate to get a few moments to chat about the life of a screen legend with Borgnine and Mankiewicz in the lobby of the Nines Hotel.
You used to live in Southern Oregon, is that right?
EB: I used to drive my bus-motorhome up to the Rogue River. I'd just park it, plug it in, and watch the salmon go by. I fell in love with Oregon when I was in Cottage Grove to make a movie called Emperor of the North. I learned to drive a train in that one. What a thrill!
What's the best thing anyone ever said about you as an actor?
EB: Bob Aldrich (director of The Dirty Dozen, among others) was asked about Marty after he read Paddy Chayefsky's script, and he was asked who could play that part. He said, "There's only one fellah. Ernest Borgnine." And they said, "Ernest Borgnine? He's a killer! He kills people for a living!" And he said, "Don't kid yourself. This guy's an actor." That made a big impression on me.
BM: I think Ernie is forgetting what Grace Kelly said about him. "And the winner is … Ernest Borgnine!" That was a nice moment.
Who's the best director you ever worked with?

EB: I would hesitate to point the finger at one because there were so many wonderful directors, all the way from Fred Zinnemann (From Here To Eternity ) to Bob Aldrich (The Dirty Dozen, Emperor of the North) to Michael Curtiz. The only time I ever worked with Curtiz was in a musical called The Best Things In Life Are Free. And after we finished, he gave me a money clip that said, "To the finest actor I've ever worked with."
BM: Yeah, but he never worked with very many great actors. (Note: Mankiewicz is kidding. Curtiz directed Casablanca, The Adventures of Robin Hood, and White Christmas, among other classics).
You're often cast as the bad guy, the heavy. What do you do to liven up a generic bad guy part?
EB: It all depends on the premise. It all depends on what kind of guy he is. He could be a hell of a nice guy, and still be a villain. It's hard to say. It comes down to what happens in your mind when you read the script and what was happening in the writer's mind when he was writing it. What kind of a fellah did he have in mind? If you can somehow make the writer's imagination come to life, you got it made.
Are there any parts that you played that really stay with you, even after all these years?
EB: I did a film in Cottage Grove, Oregon called Emperor of the North. I'd go home at night and say to my wife, "Honey, you saw me do a couple of scenes today. Am I really that kind of a person?" There were things coming out of me that I'd never done in my life. I'm not sure where it was all coming from, but it was kind of frightening. (Note: In Emperor of the North Borgnine plays Shack, a sadistic Depression-era train conductor who kills any hobo that dares to ride his train. The film costars Lee Marvin as his mortal enemy.)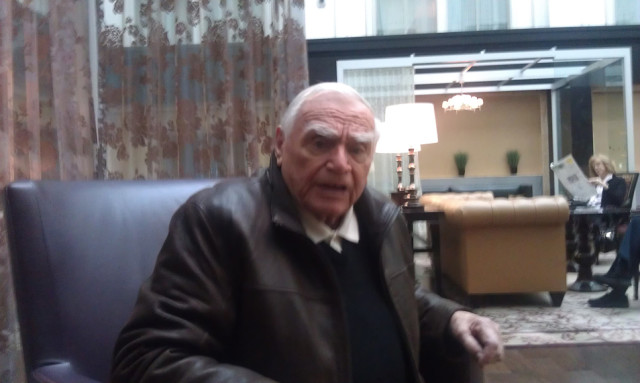 What projects have you got coming up?
EB: I'm hoping for a sequel to Red, that movie I did with Bruce Willis. There's talk about it. But I told 'em if they do it, I want to carry a gun this time. And I just got a script for a movie called See You Tomorrow. We start filming in May in Italy. Terrible place. The people are great, the food is great, but it's a terrible place. And I say that as someone who speaks the language!
What advice do you have for young actors just coming up?
EB: I tried to attend Yale's drama department at one time. But I didn't have two years to spare for studying. But I went for a while anyway, and all the actors in the department were asking me about my "method." What's my method? I told 'em, "There is no method to my acting. It's all about two things: the head and the heart."
So, just learn your lines, and show up on time?
EB: Yeah! And don't bump into the furniture while the camera's rolling.
When was the first time you realized, "Wow, I can make a pretty good living with this acting thing?"
EB: Never said it. I still marvel at what I do. But I can't stand looking at myself on the screen. It sounds crazy, but it's true.
BM: Do you ever watch yourself?
EB: Sure, but then I'm liable to criticize myself. I could have done better. I should have done this, should have done that. It's almost like I become a method actor after the fact.
BM: Could you have played Marty better?
EB: I don't think so. Because I was working with two wonderful people, (director) Delbert Mann and (writer) Paddy Chayefsky. Working with Mann was like getting an acting lesson every day. And Chayefsky told me, "I don't care about the lines. Just keep talking!" So we filmed it that way.
BM: And there are scenes in Marty where you stumble, but it really works, because you're playing a guy who's nervous around girls.
Speaking of which, who was your favorite leading lady?
EB: Bette Davis. She was the best. You can't do any better. We did that movie The Catered Affair. We were working with that director who was famous for eating actors alive. What was his name?
BM: William Wyler?
EB: No, it wasn't Willie. It was the guy who did the movie where Burt Lancaster plays the preacher. (Note: Elmer Gantry)
BM: Oh! Richard Brooks!
EB: Richard Brooks! And we were rehearsing the first scene in the movie and it was coming out all wrong. It wasn't the script, it was the rhythm of the thing. So Brooks says, "Work on this damn scene! I'm going to go see what's going on behind the cameras." And he left. And Bette says, "What are we going to do?" And I told her, "Ma'am, I think the timing is all wrong. It's a little off." So we tried it another way, and it worked fine. So when Brooks comes back to do the scene, Bette says, "Richard you weren't watching. Ernie here figured it all out." And he looked at me and says, "Goddamn thinking actors!" And I thought, "Oh my God, what have I done?" So we do the scene, bam, bam, bam, thank you, and that was it. And we're setting up for the next scene and he gathers everyone around. All the technicians, the lighting guys, everyone. And he says, "Alright Mr. Borgnine, what do you have in mind for this scene?"