gallery grazing
First Thursday Sampler
Photo: The Garbage Collectors
Nigel Dickinson's Smokey Mountain, Cambodia at Blue Sky Gallery
At the Smokey Mountain rubbish dump in Phnom Penh, Cambodia (so named for the perpetually burning garbage), over 2,000 unofficial workers, including some 600 children, climb and burrow into the mountains of trash, scavenging for plastic, metal, paper, and anything else they can sell for recycling. In an exhibition that won The Critical Mass 2011 Solo Exhibition Award, photographer Nigel Dickinson documented the lives of whole communities that live amidst the endless landscape of rubbish and fumes. His photos are expansive, ethnographic, heartbreaking, and to the extent that such a thing can be beautiful, beautiful.
Artist Talk by John Faier: Saturday, April 7 at 2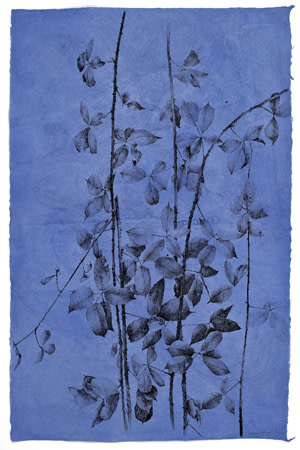 Line and Paint: From the Thicket to the Kitchen
Sarah Horowitz's Das Stachliges Dickicht? (The Thorny Thicket) + Benny Fountain's Kitchen Paintings at Froelick Gallery
Sarah Horowitz's etchings and sumi ink drawings on a variety of dyed papers exhibit exquisite line work in her exploration of botanical subjects. She finds formal structures in nature's brambled growth—some wilting in defeat, others, as the exhibition name implies, creating natural prisons of crossed branches and barbed thickets. In contrast, Benny Fountain's first Froelick solo exhibit explores the domestic, finding visual delight in the seeming banality of the kitchen, where brightly colored kitchen accoutrements inhabit muddy toned cupboards and counters.
Exhibit tour with the artists: Saturday, April 14, 11am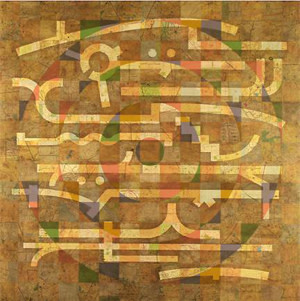 Paint and Collage: Mapping Formalism
Robert Calvo's Silent Partner + Emilio Lobato's Noche y Dia at Elizabeth Leach Gallery
A two-time recipient of the National Endowment for the Arts Fellowship, Portlander Robert Calvo's stunning work consists of abstract symbols, colorfields, and shapes painted over collages of old maps. Looking like the work of some tribal cartographer, they explore relationships of place, boundaries, and migration, channeling something almost mystical from the geographical. Influenced by the cross-cultural landscape of the remote San Luis Valley in southern Colorado, where his family has farmed for 16 generations, prominent Colorado artist Emilio Lobato's first show in Portland also explores an interest in formalism. His colorful paintings and collage of circles and grids themselves resemble an abstraction of farmland and rural geography seen from a plane.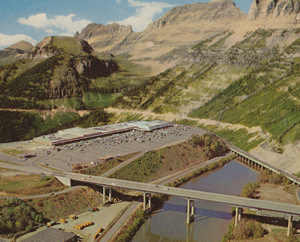 Group Show: Don't Quit Your Day Job
Day Job at Philip Feldman Gallery + Project Space at PNCA
Often, artists talk about their day job as something that gets in the way of their art ("I wait tables, but really I'm a painter/actor/printmaker/DJ"). But what if we flipped it and thought of day jobs as being an inspiration for art? After all, there's a long precedent of artists whose creative work played off their careers: Alan Saret, who worked for New York's Port Authority engineering division; Rosalyn Drexler, a wrestler; Andy Warhol, who worked in advertising and magazine illustration. This exhibition from the Drawing Center, New York explores the ways artists' day jobs can inform and influence their creativity.
Artist Talk by Nina Katchadourian: Monday, April 2 at 7:30
Shattuck Hall Annex, SW Broadway and Hall, Portland State University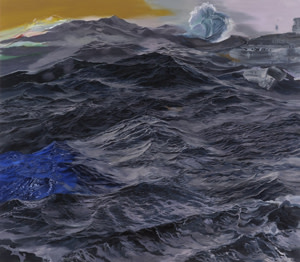 Paint: Fluid forces
Eva Speer's Superficial Injuries at Charles A. Hartman Fine Art
Some of Portland artist Eva Speer's paintings depict roiling ocean surfaces in glossy colors, like an oil-slicked sea, where waves seem to blend into mountains. In other paintings, bright color fields fade into each other, sometimes with overlaying herringbone patterns, like psychedelic Rothkos.
For more about Portland arts, visit PoMo's Arts & Entertainment Calendar, stream content with an RSS feed, or sign up for our weekly On The Town Newsletter!