the marc festival
Marc Maron in Portland
The in-demand comic discusses comedy festivals v. solo shows, favorite Portland foods, and the impending demise of hipster culture. by Sara Gates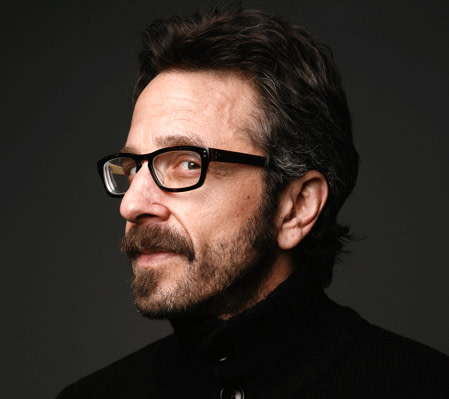 APRIL 19–21 After performing stand-up comedy for decades, it seems like Marc Maron's officially "blowing up." Ubiquitous on late-night shows like Real Time with Bill Maher and Late Night with Conan O'Brien (which he's visited 47 times), he signed a deal with IFC to produce a semi-autographical show amid anticipation of his forthcoming memoir, Attempting Normal.
As if that weren't enough, Maron tapes two "WTF with Marc Maron" podcasts a week out of the garage in his Los Angeles home, hosting a different fellow comedian, writer, or performer each time and capturing intimate revelations (Louis CK, Robin Williams, Norm MacDonald) and tense confrontations (Dane Cook, Carlos Mencia). Loyal "WTF" listeners turn out in droves when he performs live, providing an enthusiastic and engaged atmosphere that's usually reserved for marquee names in big theaters.
This weekend, Maron will bring that energy to Helium Comedy Club on SE Hawthorne, performing five shows between Thursday and Saturday. As a stand-up, Maron's act is considerably more mature, cerebral, and brutally forthright about his inner struggles than many of today's pop-culture-obsessed comics. In anticipation of his trip to Portland, Culturephile spoke with Maron by phone.
First off, congratulations on the recent announcement of your IFC show! You'll be in good company with Portlandia. What can you tell us about your show?
Thanks. Well, it's a single-camera, scripted comedy, with me as a guy who's been divorced twice and who does a podcast in my garage and has a younger girlfriend and a crazy father with mental issues. So, basically, my life.
Comedy fans want to know: how much will the podcast itself feature in the show?
The podcast will be a part of it, as an opportunity to pull in guests to the show, but it's not like we'll be taping me recording the actual podcast. It'll be a heightened version of reality, sort of like a Larry Sanders Show type of thing… if that's possible to achieve within the confines of my garage.
So we just wrapped up Bridgetown Comedy Festival, but you were playing shows in New Jersey over the weekend. Was it an intentional choice to come to Portland the week after the festival?
No, not that I know of. It wasn't intentional. Hopefully Portland isn't too comedy-ed out by the time I get there….
As a comic who's played at plenty of festivals, how would you say a large festival compares to doing your own thing at a comedy club?
Each festival is different, but you're usually doing a shorter set and a lot of different kinds of performances and at different venues. You share the stage with a lot of people, and get to hang out with a lot of fellow comics, so that's fun. But when it's just me, doing my hour-and-change set, it's just the Marc festival. Which, you know, is more fun for me.
You recently had Carrie Brownstein on the podcast, and talked a little about Portland. You mentioned feeling like an outsider when you come to visit … how so?
I think it's just the culture there is so specific and so niche that it seems nearly impossible to come into that and not feel like an outsider. I've lived in cities like San Francisco and New York where this was this element of a really specific culture, and Portland seems to be made up entirely of that kind of thing. But I'm not judging. I like Portland. You guys have some really good food.
Any favorites?
Love Bunk Sandwiches, I usually end up there. And I've been to that biscuit place that's really good.
It's not unusual for your WTF listeners to bring you baked goods when you perform in their towns. So on behalf of Portland fans, I'll ask: Any allergies? Do you do gluten-free? Vegan?
No, none of that. I'm not like that. I can be a little hard on vegans, although my girlfriend's a vegetarian, so I'm not judging and I'm certainly not unfamiliar with it. I do know when it's a vegan baked good, it sometimes tastes denser than it normally tends to be. When it's a vegan entrée, there's usually something mysteriously chewy.
Well, we also have the other Portland trend of putting bacon on everything.
You know, bacon's one of those things that we love, but it's always been horrible for us. Bacon has never been good for us. No one's ever said, "Oh, a little bacon, a little pork belly is good for you." But we've decided to say f*** it in the name of flavor. It just tastes too good, so we're going to eat it even though it may kill us.
You know, our most famous food here in Portland is a bacon-maple doughnut—
—Then that may be the great undoing of the hipster culture. But yeah, I'll eat it.
For more about Portland arts, visit PoMo's Arts & Entertainment Calendar, stream content with an RSS feed, or sign up for our weekly On The Town Newsletter!